Arguments for and against the Iran Nuclear Deal
Former diplomats warn that time is running out to revive Barack Obama-era agreement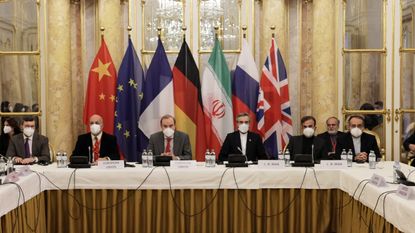 (Image credit: Delegates at the nuclear talks in Vienna, Austria)
Sign up to our 10 Things You Need to Know Today newsletter
A free daily digest of the biggest news stories of the day - and the best features from our website
Thank you for signing up to TheWeek. You will receive a verification email shortly.
There was a problem. Please refresh the page and try again.
A fresh round of negotiations aimed at salvaging Tehran's 2015 nuclear deal with Western powers has ground to a halt over a sanctions row.
The Joint Comprehensive Plan of Action (JCPOA), a framework of restrictions on Iran's nuclear programme, was effectively scrapped in 2018 when Donald Trump reimposed "punishing sanctions on Iran's economy", Reuters reported.
Tehran "responded by breaching many of the deal's restrictions and pushing well beyond them", the news agency continued, and has repeatedly insisted that "it is up to Washington to make the first move by agreeing to lift sanctions" in order to resolve the row.
Subscribe to The Week
Escape your echo chamber. Get the facts behind the news, plus analysis from multiple perspectives.
SUBSCRIBE & SAVE
Sign up for The Week's Free Newsletters
From our morning news briefing to a weekly Good News Newsletter, get the best of The Week delivered directly to your inbox.
From our morning news briefing to a weekly Good News Newsletter, get the best of The Week delivered directly to your inbox.
The latest
Former diplomats from 14 countries have teamed up to make a public plea for Washington and Tehran to show more flexibility in talks to revive the deal.
A failure to agree to fresh terms threatens to create a "corrosive stalemate" that will result in "a cycle of increased nuclear tension", warned an open letter signed by high-profile figures including Jack Straw and six other British former foreign and defence ministers.
The letter, released by the Brussels-based International Crisis Group, said that a final draft text of a renewed agreement was ready. "For US and European leaders to let slip the opportunity to defuse a nuclear crisis in the Middle East would be a grave mistake," the signatories added.
Year-long talks in Vienna aimed at salvaging the deal agreed by Barack Obama back in 2015 "have in effect ground to a halt in a dispute over whether the West will lift the foreign terrorist organisation designation, and sanctions, against the Islamic Revolutionary Guards Corps (IRCG)", The Guardian reported.
The US has argued that the sanctions "do not relate to the nuclear deal", but rather to the IRGC's "long-term terrorist behaviour in the region", including in Syria, Iraq and Lebanon.
1. Pro: no nuclear weapons
The text of the original agreement stated that the US would drop hugely damaging sanctions on Iran's oil and financial sectors in exchange for "limits on Iran's nuclear production capability and fuel stockpile over the next 15 years".
Under the terms of the deal, "international restrictions on Iranian arms exports would remain in place for up to five years and the ban on ballistic missile exports could remain for up to eight years", the Cato Institute think tank's Christopher Preble explained.
Tehran had also "been building a heavy-water nuclear facility" that world powers insisted should be "dismantled because of the potential military use", the BBC reported. Spent fuel from such a reactor "contains plutonium suitable for a nuclear bomb".
As a compromise, "Iran said it would redesign the reactor so it could not produce any weapons-grade plutonium, and that all spent fuel would be sent out of the country as long as the modified reactor existed", the broadcaster continued.
So all the wrangling resulted in a deal that largely "limited the Iranian programme to reassure the rest of the world that it would be unable to develop nuclear weapons", said The Guardian.
2. Con: loss of influence
The US "paid a tremendous cost for what can only be described as a narrow – if understandable – focus on the minutiae of Iran's nuclear programme" under then president Barack Obama's deal with Tehran, according to Shadi Hamid, a senior fellow at the Brookings Institute research group.
In an article in The Atlantic, Hamid argued that getting the deal over the line meant "dissociating" Iran's nuclear ambitions from its "other activities in the region", lessening US power to put an end to Tehran's destabilising acts. US allies in the region were left feeling that Washington "hasn't done nearly enough to counter Iran's ambitions in the region".
"Iran, due to its deteriorating economy, needed a deal more than the United States did," Hamid continued. "Too much was subsumed and compromised" by Obama "due to the desire for a deal, an administration priority that took precedence over nearly everything else".
Trump agreed that the deal "fell short of addressing Iran's regional behaviour or its missile programme", The Guardian said. He was "emboldened by a group of Iran hawks in his inner circle", including John Bolton and Mike Pompeo.
3. Pro: more oil supplies
Iran's economy was in a dire state when the deal was agreed, in part because the Middle Eastern country was unable to widely export its key natural resource, oil. But after the deal was agreed, government officials from major nations began visiting Iran to explore opportunities.
What followed was "the movement of huge supplies of oil from Iran, which was thought to be sitting on large stockpiles due to years of imposed sanctions", Investopedia said. And this in turn "drastically improved" the economic situation for Iranian citizens.
The resumption of the talks in Austria this week fuelled hopes of "more oil exports" from Tehran, with oil prices sliding "more than 2% from recent seven-year highs", Reuters reported.
4. Con: likely to collapse
According to United Against Nuclear Iran (UANI), a pressure group led by a former Democratic senator and an ex-US ambassador, the 2015 deal was a failure from day one, because it "fails to guarantee the peaceful nature of Iran's nuclear programme".
The group argues that clauses in the original agreement give "Iran a clear pathway to nuclear weapons", and cites the so-called "sunset clause" that would end "restrictions on its uranium-enrichment and plutonium-processing capacities" between 2026 and 2031.
Far from ensuring regional stability, "the deal emboldens and enriches an extremist anti-American terror state thereby furthering Iran's expansionist and destabilising activities", UANI argues.
And getting a new deal off the ground may also prove difficult for Joe Biden. Republican senators have "pledged to thwart a new Iran nuclear deal" if the president "does not present its terms to Congress for approval", Al Jazeera reported.
The 33 lawmakers "opposed the initial 2015 deal", the broadcaster said. A letter sent by leader Ted Cruz stated that they would use the "full range of options and leverage available" to ensure the government adhered to US laws governing any new agreement.
5. Pro: bargaining power
Greater economic cooperation with Iran would increase US influence in Tehran, and the deal also served to slow down North Korea's missile testing.
The two pariah states have a "long history of cooperation", said Mark Fitzpatrick, former executive director of the London-based International Institute for Strategic Studies.
Iran "acquired Scud missiles from North Korea during the Iran-Iraq War in the 1980s," he explained, and went "on to acquire the North Korean Nodong and Musudan systems in the 1990s and 2000s, respectively".
This mutual cooperation "is a reason for ambitious diplomacy", according to Fitzpatrick. "Resumed missile cooperation" between Iran and North Korea "lends itself to alarmism, but also offers further reasons to negotiate with Iran over its missile programme".
6. Con: untrustworthy regime
A mainstay of Trump's attacks on the deal was the suggestion that "Iran was cheating on the agreement" by maintaining covert nuclear facilities, The Guardian reported.
In 2015, then Israeli prime minister Benjamin Netanyahu, who had previously said the agreement gave Iran a "path to the bomb", unveiled "tens of thousands of secret files" that he said proved Tehran was developing nuclear weapons, USA Today reported.
He alleged that "Iran lied when it said it never sought to develop nuclear weapons", and then "cheated by failing to reveal all its weapons programme information to an international watchdog group charged with monitoring the deal", said the news site.
At the time, European guarantors of the agreement "pushed back against this, saying the documents underlined the importance of keeping it", The Guardian reported.
Israel argues that the economic growth that lifting sanctions would bring is "a platform to fund and nurture a nuclear-capable, religious-extremist country", Investopedia said, and that "a strengthened Iran could hinder peace and security in the region".
Continue reading for free
We hope you're enjoying The Week's refreshingly open-minded journalism.
Subscribed to The Week? Register your account with the same email as your subscription.
Sign up to our 10 Things You Need to Know Today newsletter
A free daily digest of the biggest news stories of the day - and the best features from our website