Jihadi John's death confirmed by Islamic State
Eulogy to British militant Mohammed Emwazi published in terror group's Dabiq magazine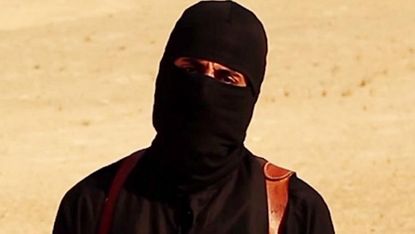 The Islamic State magazine Dabiq has published a report confirming the death of Mohammed Emwazi, known as "Jihadi John".
The article confirms earlier reports that the US military was "reasonably certain" the British militant had been killed during a drone strike on a vehicle convoy in the Syrian city of Raqqa in November 2015.
Referring to him as Abu Muharib al-Muhajir, the nickname given to him by the group, Dabiq announced: "On Thursday, the 29th of Muharram, 1437, [12 November 2015] Abu Muharib finally achieved shahadah [martyrdom] for the cause of Allah, which he had sought for so long, as the car he was in was targeted in a strike by an unmanned drone in the city of ar-Raqqah, destroying the car and killing him instantly."
Subscribe to The Week
Escape your echo chamber. Get the facts behind the news, plus analysis from multiple perspectives.
SUBSCRIBE & SAVE
Sign up for The Week's Free Newsletters
From our morning news briefing to a weekly Good News Newsletter, get the best of The Week delivered directly to your inbox.
From our morning news briefing to a weekly Good News Newsletter, get the best of The Week delivered directly to your inbox.
It added that his "harshness towards the kuffar [non-believers] was manifested through deeds that enraged all the nations", reports Al Jazeera.
The eulogy was published on page 22 of the 13th issue of Dabiq, under the headline: "Among the believers are men." The article also offers a potted history of Emwazi's movements, including his travels from London to Syria, during which, it alleges, he was detained and released by a number of European authorities.
Emwazi appeared in a number of propaganda videos for the terror group that showed the beheading of Western hostages, including UK aid worker David Haines and taxi driver Alan Henning.
He was given his nickname by hostages under IS control, who took to referring to three of their British-sounding captors as "The Beatles", with Emwazi as "John".
The confirmation of his death comes as defence chiefs from the coalition of countries fighting IS meet in Paris today to discuss the military campaign in Iraq and Syria. Ministers from the UK, US, France and Germany are among those at the meeting, which is the first of its kind.
'High degree of certainty' Jihadi John killed in US air strike
13 November
There is a "high degree of certainty" that a US air strike targeting the British Islamic State militant known as Jihadi John was successful, according to a high-ranking military official.
The Syrian Observatory for Human Rights also said sources had confirmed that a British jihadi had been killed. Rami Abdulrahman, director of the British-based group, said: "All the sources there are saying that the body of an important British Jihadi is lying in the hospital of Raqqa."
However, the Pentagon and Downing Street have yet to confirm whether Mohammed Emwazi was killed in the drone strike on a vehicle near the Syrian city of Raqqa, the de facto capital of IS.
Emwazi, who was born in Kuwait but grew up in London, appeared in videos of the beheadings of Western hostages, including US journalist James Foley and British aid worker David Haines.
David Cameron said British officials had been working closely with their US counterparts to track Emwazi. He defended the attack, calling it an act of "self-defence" and a strike "at the heart" of IS.
"Emwazi is a barbaric murderer. He was shown in those sickening videos of the beheading of British aid workers," the Prime Minister said."He posed an ongoing and serious threat to innocent civilians."
But Labour leader Jeremy Corbyn said Emwazi should have been captured alive. "It appears Emwazi has been held to account for his callous and brutal crimes," he said. "However, it would have been far better for us all if he had been held to account in a court of law."
His view echoed comments made by Reg Henning, whose brother Alan was beheaded in Syria last year. He said he was "glad" that Emwazi was dead but "would have preferred him to have been brought to justice".
Foley's mother Diane said the strike gave her no sense of justice or solace. "It saddens me that here in America here we're celebrating the killing of this deranged, pathetic young man," she told ABC News. "Jim would've been devastated with the whole thing. Jim was a peacemaker."
Several Middle East experts have downplayed the significant of his death, if it is confirmed. Shashank Joshi, from the Royal United Services Institute, said it would be more of a symbolic win.
"He was symbolically extremely important because he has a British accent, he was perfectly placed to deliver the message to the audience ISIS wanted it delivered to," he told the Daily Telegraph.
"But he wasn't a senior figure in the group. He didn't have specialist skills, he wasn't playing a key battlefield role."
Jihadi John: the life of Mohammed Emwazi
Educated in Britain
Emwazi is believed to have grown up in West London after moving to the UK from Kuwait at the age of six. Quoting from his primary school yearbook, The Sun says that at the age of ten his favourite band was S Club 7 and his best book was Goosebumps' How to Kill a Monster. Asked what he would like to be doing at the age of 30, the schoolboy wrote: "I will be in a football team and scoring a goal". He later graduated from the University of Westminster with a degree in computer programming. According to the Daily Telegraph, he was the eldest of six children and took pride in his appearance. He appears to have been a "diligent student", says the newspaper, and "doesn't even have a criminal record".
Detained in Tanzania
Emwazi was detained by police after flying to Tanzania in 2009, says The Independent. Local police and British security services accused him and two friends of having links to Islamic extremists and trying to travel to Somalia, where al-Shabaab operates. He was deported back to the UK, via the Netherlands, where an MI5 officer apparently attempted to recruit him. Asim Qureshi, a research director at CAGE, an advocacy organisation opposed to the "war on terror", has claimed that Emwazi was innocent at the time and it was the actions of the security services that actually triggered his radicalisation. However, one former hostage said Jihadi John had been obsessed with Somalia and made captives watch videos about al-Shabaab.
Born in Kuwait
Emwazi was reportedly born in Kuwait in 1988. Following his deportation from Tanzania, he returned to his country of birth to work for a computer company and apparently planned to marry a Kuwaiti woman. But during a trip back to London in June 2010, he was detained by British counter-terrorism officials and prevented from returning to Kuwait. He was searched and had his fingerprints taken, but was not charged. He was a suspected "core member" of an extremist network based around Camden and north-west London that allegedly provided funds, man power and equipment to terrorists in Somalia, says the BBC.
Travelled to Syria
Emwazi is believed to have travelled to Syria via Turkey in 2012 or 2013 after changing his name to Mohammed al-Ayan. A former hostage said Jihadi John worked in a team of three British men, led by a man described as "George". It emerged last year that hostages called them "The Beatles" because of their nationality. They were said to be guarding Western captives at a prison in Idlib, Syria, in 2013. Jihadi John was described as quiet and intelligent but took part in water-boarding four Western captives, said the hostage.
Authorities identified him in 2014
The FBI claimed it had successfully identified Jihadi John in September 2014, although it did not release his name. According to the Daily Telegraph, the man's build, skin colour, kit and accent would have been used by security services as clues. Interviews with former hostages also helped to identify him.
Kuwait: Jihadi John's father must apologise or return to UK
9 March
Members of the Kuwaiti parliament have called on Jasem Emwazi to distance himself and the rest of his family from the crimes committed by his son Mohammed, widely known as Jihadi John.
Abdullah Al-Mayouf, a member of Kuwait's national assembly, known as the Umma Council, said "what happened may not be seen as the responsibility of the family, but the family need to apologise and denounce their son's acts, or they better leave Kuwait".
Safa Al Hashem, a former member of the council, also asked the Emwazi family for an apology, Al Hayat Arabic newspaper reports. Al Hashem suggested that Jasem Emwazi may need to go back to Britain to cooperate with the authorities there.
Another government adviser, Fahid Al Sholaimi, who is also a retired military official, said Emwazi's presence in Kuwait is "embarrassing to the government", he said. He said Emwazi should return to Britain in the next few days.
Kuwaiti people feel angry that the father of the Islamic State beheader is living in their country, Elaph newspaper reports, and they have been disappointed and confused by Emwazi's contradictory comments.
After a few days in which he said that his son was a "dog" and he wished him dead, Emwazi told Al Qabas newspaper that "there is no evidence that Jihadi John, the same IS beheader, is really my son Mohammed".
Jihadi John's mum 'recognised voice in first beheading video'
03 March
The family of Mohammed Emwazi, known as Jihadi John, are being questioned by Kuwaiti authorities, amid claims that his mother first recognised his voice on one of the Islamic State beheading videos more than six months ago.
Emwazi was identified last week as the masked man who appears in a series of IS propaganda videos showing the execution of several Western hostages.
His parents and brother were apparently taken in for routine questioning on Sunday.
Emwazi's father, Jasem, admitted that his wife, Ghaneya, had recognised their son in a video, released last August, in which he appeared to behead US journalist James Foley, claims Kuwait's Al-Qabas newspaper.
Jasem, a former policeman, allegedly told authorities: "She was shocked. She became frantic and started screaming 'This is my son.' We were all watching the video. We were scared to watch the video. Then we carried on watching it and we saw that it was Mohammed. We are completely distraught."
The family were apparently last in contact with Emwazi in mid-2013 when he told them he was going to carry out humanitarian work in Syria.
One Kuwaiti source told The Times that the family would be held accountable for concealing this information for six months.
However, Jasem told The Guardian yesterday that the report was a "lie".
Meanwhile, a 2009 recording of Emwazi's first interview with Cage, an advocacy organisation opposed to the "war on terror", has been released.
Emwazi can be heard maintaining his innocence and recounting his interview with an MI5 officer, in which he described the 9/11 terrorist attacks as acts of extremism. However, the agent believed he was going to Somalia to train and warned that security services were going to "keep a close eye" on him.
Jihadi John was a 'strange' loner, says former IS fighter
2 March
Mohammed Emwazi, the British graduate known as Jihadi John, has been described as a "strange" loner by one Islamic State defector who met him in Syria about two years ago.
Emwazi, who was born in Kuwait and grew up in London, was named last week as the IS militant who appeared to execute several Western hostages in a series of propaganda videos.
Abu Ayman, a defector in his 20s, has told the BBC that Emwazi wanted to appear in the films.
The two men gathered alongside other foreign fighters in a town called Atmeh in northern Syria, but Ayman says Emwazi refused to join the other British fighters who were "always hanging out together".
"He was cold. He didn't talk much. He wouldn't join us in prayer," he said. "He'd only pray with his friends... the other British brothers prayed with us, but he was strange."
He added: "The other British brothers would say 'hi' when they saw us on the road, but he turned his face away."
Ayman, who says he left IS after being ordered to murder women and children, claims that the group had "professional psychologists" who decided which fighters should feature in their propaganda footage.
While some of his former comrades "love" Emwazi and see him as an example, others think he is "showing off", says Ayman.
He added that there was "nothing special" about Emwazi and that IS "play him like a piano", turning him into a "celebrity" to attract other Muslims from Europe.
It comes as one former friend told The Sun that Emwazi "smoked drugs, drank and was violent towards other boys" when he was younger. "He tries to paint himself as devout, but he doesn't know the meaning of the word. The fact that he portrays himself as a strict Muslim is laughable and shameful," she said.
In an email to one Mail on Sunday journalist, written before he left the UK for Syria, Emwazi described himself as a "dead man walking". He claimed he was being unfairly victimised by the MI5 and suggested that his only way out was suicide.
Jihadi John unmasked as Mohammed Emwazi
27 February 2015
The Islamic State militant "Jihadi John", who appeared to behead several Western hostages in a series of propaganda videos, has been identified as British graduate Mohammed Emwazi.
A senior British security official confirmed his identity to the New York Times after his name was published by the Washington Post. Neither Scotland Yard nor Downing Street has confirmed his identity and his family have refused to comment, citing legal advice.
Jihadi John was first seen on an IS video in August, when he appeared to behead American journalist James Foley, although the moment of execution was not shown on tape. His face was covered with a balaclava, but he spoke with a British accent.
The daughter of British aid worker David Haines, believed to have been killed by Emwazi, said she wants to see a "bullet between his eyes", although his widow said the "last thing" she wants for her husband's killer is an "honourable death".

Continue reading for free
We hope you're enjoying The Week's refreshingly open-minded journalism.
Subscribed to The Week? Register your account with the same email as your subscription.