Jeremy Corbyn's policies: What does he stand for?
To some he's a blast from the past, but the Labour leader's supporters say he appeals to a new generation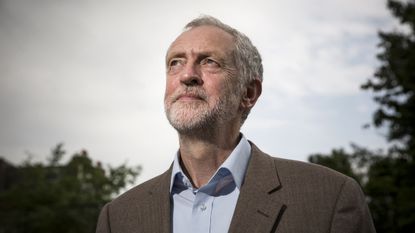 (Image credit: 2015 Getty Images)
Last year, Jeremy Corbyn became the most left-wing leader of a major political party in the UK for more than a generation.
But his leadership is now under threat after a challenge from Owen Smith and many senior Labour MPs losing confidence in his ability to take the party to victory in the next general election.
The latest Labour leadership polls gives Corbyn a significant lead over the Pontypridd MP among party members, but his chances of winning the 2020 vote appear slim.
Subscribe to The Week
Escape your echo chamber. Get the facts behind the news, plus analysis from multiple perspectives.
SUBSCRIBE & SAVE
Sign up for The Week's Free Newsletters
From our morning news briefing to a weekly Good News Newsletter, get the best of The Week delivered directly to your inbox.
From our morning news briefing to a weekly Good News Newsletter, get the best of The Week delivered directly to your inbox.
Here are some of Corbyn's policies on the key issues facing the country and what his supporters and opponents have to say about them.
Jeremy Corbyn on foreign policy
Jeremy Corbyn says he believes in a "radically different international policy", based on "political and not military solutions". He would take the UK out of Nato. He has hinted he would oppose military action in Syria but supports cutting off the flow of money and arms to Isis.
His supporters say: military action against Syria would harm innocent civilians most and worsen the refugee crisis. In contrast, his overall approach would "prioritise justice and assistance".
His opponents say: Corbyn's talk of "friends" in Hamas and Hezbollah, and his opposition to tough action against Isis, gives succour to terrorists. Rival Andy Burnham says it would be "highly irresponsible" to leave Nato.
Jeremy Corbyn on Trident
Corbyn says that he would unilaterally abolish Trident and push towards disarmament. "A secure world is not created by an arms race, and it is not created by creating more and more threats," he says.
His supporters say: abolishing Trident will save £100bn and make the world a safer place.
His opponents say: getting rid of Britain's nuclear deterrent will put the country at risk – and cost 13,000 jobs.
Jeremy Corbyn on the economy
He would end austerity, impose higher taxes on the rich, and launch a tougher crackdown on tax avoidance and tax evasion. Enhanced protection would be offered to people on welfare. He would launch People's Quantitative Easing – for "new large scale housing, energy, transport and digital projects".
His supporters say: "austerity is a policy choice not economic necessity" and his QE programme would create a million skilled jobs and "genuine apprenticeships".
His opponents say: Corbyn's policies would lead to higher inflation and interest rates. Labour's current shadow chancellor, Chris Leslie, says Britain's poorest households would pay the price. Some 55 academics from Britain's universities say his fiscal policies are "likely to be highly damaging" – although other economists have spoken in support of them.
Jeremy Corbyn on health
The leadership hopeful would scrap private finance initiative (PFI) schemes in the NHS. Using government money, he would simply buy them out.
His supporters say: the PFI schemes (ushered in under Tony Blair and Gordon Brown) are costing the NHS billions.
His opponents say: Corbyn has barely mentioned the NHS, beyond opposing its privatisation.
Jeremy Corbyn on education
His central education policy is the creation of a National Education Service. He compares the project to an NHS-style system for education, creating a lifelong service which starts with universal childcare and ends with the introduction of a minimum wage for apprentices and more funds for mature students. He would scrap tuition fees.
His supporters say: An NES could offer stability and collective nationwide support for the public service that has the biggest effect on class mobility, poverty rates, and equality.
His opponents say: The National Education Service has the hallmarks of a "short-term political gimmick" and Corbyn is unclear about whether it would be an actual body or authority, or whether it would be more of a vision.
Jeremy Corbyn's policy on Brexit
Corbyn campaigned for Britain to remain in the EU, despite previously admitting to having "mixed feelings" about the union. He has made it clear he will not push for a second referendum in the wake of the result, unlike his leadership rival.
His supporters say: He campaigned tirelessly to remain in the EU, while also admitting to the institution's shortcomings and pushing for further reforms should Britain vote to remain in the bloc.
His opponents say: Several senior Labour MPs accused their leader of having a lacklustre approach to the referendum and its immediate aftermath, prompting a flurry of shadow cabinet resignations and a vote of no confidence.

Continue reading for free
We hope you're enjoying The Week's refreshingly open-minded journalism.
Subscribed to The Week? Register your account with the same email as your subscription.