Are too many people going to university in the UK?
Ministers urge school-leavers to consider alternative paths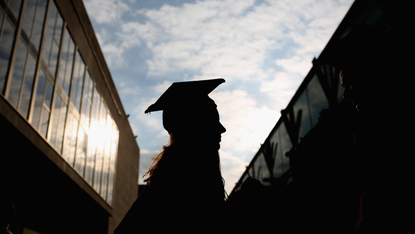 (Image credit: Dan Kitwood / Getty Images)
More than 20 years after Tony Blair declared that "education, education, education" was his government's top priority, his son has warned that the former prime minister's goals are no longer hitting the mark.
Blair's 1999 target to get 50% of school leavers into university "was a flagship part of No. 10's bid to improve education" under his leadership, says The Telegraph. But following the record level of A-level grade inflation seen following this week's results day, Euan Blair told the newspaper that the "artificial target" - achieved for the first time in 2019 - "has not worked out" as intended.
The reasoning back then, he explained, was that "the more people go to university, the more people can access great opportunities, the more we would transition people fairly from full-time education to full-time employment".
Subscribe to The Week
Escape your echo chamber. Get the facts behind the news, plus analysis from multiple perspectives.
SUBSCRIBE & SAVE
Sign up for The Week's Free Newsletters
From our morning news briefing to a weekly Good News Newsletter, get the best of The Week delivered directly to your inbox.
From our morning news briefing to a weekly Good News Newsletter, get the best of The Week delivered directly to your inbox.
But many students end up in jobs "that would not need a degree in the first place", said the former PM's son, who is the founder of a start-up that helps tech firms recruit apprentices straight out of school. He argues that a change in approach is now needed from the government to help people "figure out from a plethora of options what is in their best interest".
The case for change
The number of students securing university places this year is up by 5% on 2020, according to data from the University and College Admissions Service (Ucas).
The "fastest growth in acceptances is at leading universities, which have already accepted 20,000 more students compared with previous years" after a record number received top A-level grades, says The Guardian.
But with the number of applicants also at all-time highs, some students who have narrowly missed their grades are "receiving unanticipated rejections from universities that would ordinarily have accepted them", while other students who have performed better than expected are "struggling to trade up due to the shortage of places", the paper reports.
In a bid to "ease the places squeeze", some universities are offering students incentives to defer for a year, says the Daily Mail.
The Medical Schools Council and Department of Education have set up what the paper describes as a "radical programme" to pay £10,000 to students who agree to switch from an oversubscribed medical school to study at an undersubscribed one, with the government expected to foot most of the bill.
Prior to results day on Tuesday, Education Secretary Gavin Williamson encouraged parents to stay open to options available to young people other than university. This year's numbers may now further "embolden the government as it prepares to hone in on policies steering young people away from university", says Sky News.
Education experts have also spoken out against Blair's target, which Williamson described as "absurd" in a speech last year. The chief executive of the Association of Colleges, David Hughes, told the broadcaster that the focus on pushing young people to go to university rather than getting vocational qualifications or technical training was "just not right".
"A lot of young people don't want to spend three years away from home getting into enormous debt," Hughes said. "We want brilliant options for degree apprenticeships, technical training, and more employers need to offer this."
That view was echoed by Institute for Fiscal Studies' associate director Jack Britton, who said that "20% of higher education students are worse off by going to university over their lifetime".
Many critics have argued that the "proliferation of Mickey Mouse" degrees" has "lured undergraduates into racking up large debts without a meaningful increase in their salary prospects", The Telegraph reports.
And taxpayers are bearing the brunt of the resulting costs, warns Peter Lampl, founder of the Sutton Trust educational charity. "The students aren't going to be able to pay back the debt," he told The Telegraph's education editor Camilla Turner.
Lampl argues that many students would be "better served" by instead doing a degree apprenticeship where "you earn while you learn, you come out with no debt and you come out with skills the marketplace wants".
Time for tweaks?
While many commentators are arguing that too many people are going to university, others point to the long-term advantages that a degree can bring.
In an article for City A.M., Rob Walker, managing director of tech consultancy Cognizant, writes that university "is a well-trodden path for a reason", providing "a highly valuable route to entering the labour market".
The independence and interests that students develop during their studies are essential for them to become "a valuable addition to an economy which is rapidly changing", Walker insists.
The Times columnist Alice Thomson points out that the UK's 50% target for university admissions is much lower than those in other countries including "Finland, Sweden and South Korea, where it's higher than 75%".
Meanwhile, "almost all" of the UK politicians and policymakers advising young people to opt for apprenticeships or jobs instead of going to university "went to Russell Group universities", and their children are "now following in their footsteps", Thomson continues.
Rather than dissuading prospective students, higher education institutions should better cater to the changing work landscape with "sandwich courses, degree apprenticeships and internships" in order to "produce innovative, independent" graduates.
Walker agrees in City A.M. that "the education system needs to work closely with businesses" and encourage a level of "flexibility and curiosity" that traditional degrees do not necessarily provide.
"As the world adapts, so too must universities," he concludes.

Continue reading for free
We hope you're enjoying The Week's refreshingly open-minded journalism.
Subscribed to The Week? Register your account with the same email as your subscription.