Where schools stand legally on children's trans rights
Government's chief legal adviser says schools can 'ignore' trans students' pronoun preferences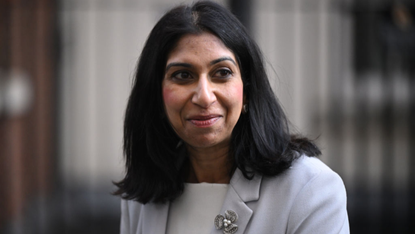 (Image credit: Leon Neal/Getty Images)
Schools must provide single-sex toilets and are legally allowed to "ignore requests" from children wishing to be addressed by a different pronoun, the government's chief legal adviser has said.
In a speech to the Policy Exchange think tank last week, Attorney General Suella Braverman said that institutions had the right to exclude transgender people from single-sex spaces, reserving "particular criticism for schools", said The Times.
Braverman said that new guidance to be issued by the Department for Education (DfE) would "make this point explicit", the newspaper continued, and that Ofsted would be responsible for holding schools to account for the new regulations' implementation.
Subscribe to The Week
Escape your echo chamber. Get the facts behind the news, plus analysis from multiple perspectives.
SUBSCRIBE & SAVE
Sign up for The Week's Free Newsletters
From our morning news briefing to a weekly Good News Newsletter, get the best of The Week delivered directly to your inbox.
From our morning news briefing to a weekly Good News Newsletter, get the best of The Week delivered directly to your inbox.
Maggie Baska at Pink News called it a "chilling" speech that used the "anti-trans dog-whistle that supportive adults are 'grooming' children by affirming their identity".
What are the legal requirements for schools?
Schools "have little official guidance to assist them" when it comes to navigating their way through trans issues, said Good Law Project. A leading expert in education and discrimination law, Dan Squires QC, provided the non-profit organisation with legal advice on the current state of play which, under the Equality Act 2010, prevents schools from discriminating against children on various grounds.
In her speech, Braverman said that under-18s are unable to obtain a gender recognition certificate and therefore schools will "generally be dealing with children whose sex for the purposes of the Equality Act is that registered at birth".
She claimed it would "not constitute unlawful direct discrimination" to refuse to admit a trans girl or boy to a single-sex school if their registered sex did not match. Squires said it would, however, be unlawful to exclude a pupil from a single-sex school because they identified with the opposite gender.
Braverman said it was also "wrong for schools to suggest that they have legal obligations which mean that they must address children by their preferred pronouns, names, or admit them to opposite sex toilets, sport teams, or dormitories".
Though a school isn't legally obligated to treat a child as being the gender with which they identify, educators "cannot prevent trans students from benefiting from the same policies as other pupils just because they are trans", said Squires. For instance, if teachers allowed for students to be referred to by a name other than the one with which they were registered but refused to do the same for a trans child, that would be "direct discrimination".
What are the rules around school uniforms?
Policies can indirectly prove to be unlawful if they "disproportionately disadvantage" trans children, said Squires. For instance, if a school has a uniform policy that requires them to wear clothes that correspond to the sex they are registered with at the school, the institution would need to identify a "legitimate aim and be able to demonstrate why it was proportionate to prevent trans children from wearing clothes in line with their gender identity".
Braverman claimed that the "inherent risks" of social transition could present an "ample legitimate aim" in itself.
But Laura Berman, a partner at law firm Stone King, told Schools Week that schools being told they are allowed to refuse a trans child the right not to wear the uniform of the gender that they are registered with was "not my reading of the Equality Act".
Must schools out pupils to their parents?
Stonewall advises that schools and colleges only disclose a student's desired gender identity if they have the individual's permission.
However, Braverman said schools that "socially transition a child without the knowledge or consent of parents or without medical advice increase their exposure to a negligence claim for breach of their duty of care to that child".
What else have legal experts said?
Transgender rights in schools "is a tricky maze to navigate", said Esther Maxwell, legal director and employment and education specialist, for Schools Week, and Braverman's comments in the past have "stoked this already controversial area".
Writing in June, Maxwell said the minister has taken a "simplistic view" of the Equality Act 2010, the Human Rights Act 1998 and the Gender Recognition Act 2004.
Lawyers and educators "at the chalkface of dealing with these issues know the legal position is actually far from simple". A student needs only to "be taking some practical steps to live in the opposite gender or proposing to do so" to be protected under the Equality Act, she argued. "In short, pupils should not be treated less favourably or experience a detriment as a result of being transgender."
Maxwell admitted that schools might, however, have to "grapple with a 'clash of rights' situation, where the rights of a transgender pupil are pitched against an individual's personal beliefs that sex is immutable" – so "it is far from straightforward".
The new DfE guidance is expected to clarify the rules. Until the guidance – which has been in the pipeline since April and is thought to be due out in the autumn – is issued, "schools will continue to set their own policies on transgender pupils", said The Telegraph's education editor Louisa Clarence-Smith.

Continue reading for free
We hope you're enjoying The Week's refreshingly open-minded journalism.
Subscribed to The Week? Register your account with the same email as your subscription.