Is climate change reversible?
US envoy says COP26 will be 'pivotal moment' in 'decisive year' for environmental issues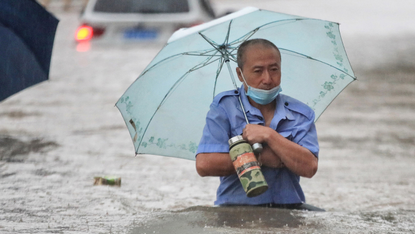 (Image credit: STR / AFP / Getty Images)
Sign up to our 10 Things You Need to Know Today newsletter
A free daily digest of the biggest news stories of the day - and the best features from our website
Thank you for signing up to TheWeek. You will receive a verification email shortly.
There was a problem. Please refresh the page and try again.
The words "extreme", "intolerable" and "record-breaking" are cropping up more and more in news headlines about our planet's climate.
The Pakistani city of Jacobabad recently officially surpassed the temperature threshold that humans can withstand - "albeit briefly", The Telegraph notes. Days later, experts in the US reported that a "heat dome" was to blame for blistering temperatures in the Pacific Northwest that saw the mercury hitting 46.6°C in the Oregon city of Portland.
On the other side of the Atlantic, more than 150 people have died as a result of extreme flooding in Germany, with hundreds more missing, and further flood-related fatalities reported in neighbouring Belgium. And in Asia, authorities in Henan province issued the highest level of weather warning this week as torrential rain swept across wide swathes of north and central China.
Subscribe to The Week
Escape your echo chamber. Get the facts behind the news, plus analysis from multiple perspectives.
SUBSCRIBE & SAVE
Sign up for The Week's Free Newsletters
From our morning news briefing to a weekly Good News Newsletter, get the best of The Week delivered directly to your inbox.
From our morning news briefing to a weekly Good News Newsletter, get the best of The Week delivered directly to your inbox.
Each of these extreme weather events has triggered fresh warnings from scientists and politicians about the ever-increasing threat posed by climate change.
As Germany and Belgium, along with parts of the Netherlands and Luxembourg, reeled from the effects of days of intense rainfall there, Potsdam-based climatologist Dieter Gerten told National Geographic that the situation was "not so surprising" to scientists.
"The increase of extreme events is something we've seen in climate model projections," he added.
So what can science tell us about the current course of climate change, and whether it can be slowed - or even reversed?
Heating up
Human activities have been heating the planet since the Industrial Revolution, a period commonly used as a baseline against which global temperatures are monitored.
Global average temperatures increased rapidly in the second half of the 20th century, and "this warming has been particularly rapid since the 1970s", says the Met Office. This acceleration has triggered calls for united action by world leaders.
The "historic, durable and ambitious" goals set out in the 2015 Paris Agreement were lauded as "the world's greatest diplomatic success" by The Guardian at the time of the signing.
But on the treaty's fifth anniversary, in December 2020, the president of this year's COP26 summit, Alok Sharma, told national leaders to be "honest" with themselves and admit that "as encouraging as all this ambition is, it is not enough".
In May, World Meteorological Organization (WMO) secretary-general Professor Petteri Taalas warned that new research findings had delivered "yet another wake-up call" about the need to fast-track commitments to slash greenhouse gas emissions and achieve carbon neutrality.
According to a WMO climate update, there is a 90% chance that one of the years between 2021 and 2025 will become the hottest on record, and a 40% likelihood that the annual average global temperature will temporarily reach 1.5°C above pre-industrial levels in the same period.
A separate WMO report published in April warned that monitoring showed that global greenhouse gas emissions increased in 2020, "despite setbacks from Covid-19" to industrial processes. And the decade from 2011 was the warmest on record, the report said.
Future outlook
Signatories of the Paris Agreement committed to limiting global warming to well below 2C and pursuing efforts to limit it to 1.5C. As the World Resources Institute (WRI) noted back in 2018, this difference of "half a degree of warming matters - a lot".
The London-based think tank pointed to research from the Intergovernmental Panel on Climate Change (IPCC), a group of the world's leading climate scientists, which found that with a 2C increase, 37% of the world's population would be exposed to severe heat waves at least once in five years, compared with 14% at 1.5C of warming.
And "at 2C warming, 18% of insects globally, 16% of plants and 8% of vertebrates are projected to lose more than half of their ranges", said the WRI. "With 1.5C of warming, this is reduced by two-thirds for insects, and by half for plants and vertebrates."
The difference of half a degree could also prove crucial in the Arctic, where global warming is triggering rising sea levels, sea ice loss and changes to permafrost.
"Over the past 49 years, the Arctic has warmed three times faster than the world as a whole," according to the latest annual update from the Arctic Monitoring and Assessment Programme, which predicts that "the first ice-free September in the Arctic could occur as early as 2040".
Global warming is also expected to lead to an increase in the frequency and severity of extreme weather events. Freak weather "such as abnormally heavy rainfall, prolonged droughts, desertification, environmental degradation, or sea-level rise and cyclones, are already causing an average of more than 20 million people to leave their homes and move to other areas in their countries each year", says the UN Refugee Agency.
Climate change has major implications for the production of goods and services needed to sustain communities too, especially in industies such as agriculture. A report published in The Lancet recently warns that "both labour supply and productivity are projected to decrease under future climate change in most parts of the world, and particularly in tropical regions".
This decrease would lead to an immediate decline in income and, in the longer term, increased inequality and poverty, "especially in low-income areas of Africa and Asia", said the report authors.
Too little, too late?
The recent flooding in Europe shows that "even rich countries like Germany are not safe from very severe climate impacts", climate physicist Kai Kornhuber told National Geographic.
But while the IPCC's 2018 report warned that limiting global warming to 1.5°C would "require rapid, far-reaching and unprecendented changes", Donald Trump's withdrawal of the US from the Paris Agreement was a significant blow to the hopes of a united global climate effort.
However, Joe Biden's administration is making up for lost time. In April, Trump's successor announced an "aggressive" goal to cut America's greenhouse gas emissions by between 50% and 52% by 2030, as NPR reported at the time.
All the same, "even if we stopped emitting greenhouse gases today, global warming would continue to happen for at least several more decades, if not centuries", Nasa experts caution.
"There is a time lag between what we do and when we feel it," the space agency explains, and increases in temperature - and the knock-on effects of these increases - will continue even if drastic changes are made in the very near future.
But crucially, we may still be able to "avoid or limit some of the worst effects of climate change", by "reducing the flow of greenhouse gases into the atmosphere" and "learning to live with, and adapt to, the climate change that has already been set in motion".
Nasa concludes that "the key question is: what will our emissions of carbon dioxide and other pollutants be in the years to come?"
US climate envoy John Kerry said during a landmark speech at London's Kew Gardens this week that 2021 will be "a decisive year" for environmental issues.
The 2021 United Nations Climate Change Conference, also known as COP26, in Glasgow in November will be "a pivotal moment for the world to come together to meet and master the climate challenge", Kerry said.
"In little more than 100 days, we can save the next 100 years," he added.
Continue reading for free
We hope you're enjoying The Week's refreshingly open-minded journalism.
Subscribed to The Week? Register your account with the same email as your subscription.
Sign up to our 10 Things You Need to Know Today newsletter
A free daily digest of the biggest news stories of the day - and the best features from our website