How carbon offsetting works
Experts question efficiency and effectiveness of unregulated schemes that allegedly cancel out travel emissions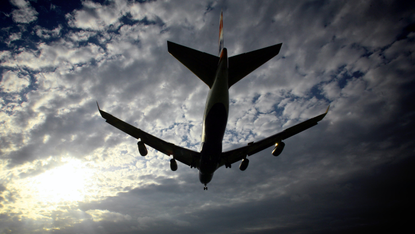 (Image credit: Matt Cardy/Getty Images)
Jet-setting public figures whose travel choices leave hefty carbon footprints have faced increasing criticism in recent years, with a series of celebrities, royals and politicians in the firing line.
Cop26 president Alok Sharma was named and shamed by the Daily Mail last month, when the newspaper revealed that he had flown to more than 30 countries since the start of the year in preparation for the climate summit, taking place in Glasgow in November.
In response, a government spokesperson said that "the UK will be offsetting all carbon emissions associated with running the event and working closely with sustainability experts to make this happen".
Subscribe to The Week
Escape your echo chamber. Get the facts behind the news, plus analysis from multiple perspectives.
SUBSCRIBE & SAVE
Sign up for The Week's Free Newsletters
From our morning news briefing to a weekly Good News Newsletter, get the best of The Week delivered directly to your inbox.
From our morning news briefing to a weekly Good News Newsletter, get the best of The Week delivered directly to your inbox.
But while some argue that offsetting schemes are "better than doing nothing", said The Guardian's Ermine Saner, critics warn that the often unregulated process "allows frequent flyers to assuage their guilt and the aviation industry to grow".
Indeed, said the Financial Times, "concerns over the quality and integrity of offsetting schemes have plagued them since they were first introduced more than 20 years ago".
What is offsetting?
Offsetting involves calculating and compensating for the amount of carbon emissions generated by activities such as flying in a plane or putting on a large-scale event.
Once an estimate of the amount of carbon produced by the activity has been calculated, individuals and organisations can invest in schemes intended to balance out the emissions.
Tree planting and forest preservation are common examples, while other options include investments in renewable energy or in projects that promote more eco-friendly farming methods.
How does it work?
As the Stockholm Environment Institute's Carbon Offset Research and Education (CORE) initiative has explained, "carbon offsetting is possible because climate change is a non-localised problem". Greenhouse gases spread throughout the atmosphere, "so reducing them anywhere contributes to overall climate protection".
That means, for example, that a flight taken in Europe can be offset by a totally unrelated scheme operating in the Americas.
Carbon offsetting activities can earn carbon offset credits, "a transferrable instrument certified by governments or independent certification bodies to represent an emission reduction of one metric tonne of CO2", or an equivalent amount of other greenhouse gases, said the CORE website.
The cost and scale of offset schemes vary hugely from project to project. In July, Shell struck a deal to supply Chinese oil and gas company PetroChina with an undisclosed quantity of "carbon neutral" liquified natural gas. The theory is that planting trees in China's Guizhou province will "cancel out" the emissions of burning the natural gas in offices and homes across the country, the FT reported.
But Gilles Dufrasne, policy officer from non-profit group Carbon Market Watch, dismissed the project as "the latest attempt to try to market fossil fuels of any type as part of the transition [to clean energy]".
"I don't think there is such a thing as a 'carbon neutral' fossil fuel, it's a bit of an oxymoron," he told the paper.
How are offset schemes regulated?
At present, carbon offsetting is "voluntary and unregulated", said the FT.
The current offsets market "operates in the shadows", with some good "but lots of bad" schemes, former Bank of England governor Mark Carney, now UN special envoy on climate action and finance, has warned. "That does actual harm," he added.
In a bid to address the problems associated with offsets, Carney last year launched the Taskforce on Scaling Voluntary Carbon Markets. The private sector-led taskforce has proposed plans for an independent regulator of carbon offsetting.
This regulator would oversee what would amount to a voluntary carbon market where carbon credits can be traded in order to help meet the goals of the 2015 Paris Agreement.
But critics have argued that the body's proposals don't go far enough in cutting future emissions. Greenpeace UK climate advisor Charlie Kronick tweeted that the plans were "a trader's charter, written by and for the companies that want to buy and sell pollution, not cut it".
And Bloomberg Green warned that "encouraging the trading of contracts without clear rules about what a high-quality offset is and how the credits should be used to account for a company's total emissions could have devastating consequences".
"Companies could use questionable offsets as a licence to keep polluting, resulting in more CO2 accumulating in the atmosphere," the climate change-focused news site said.
Reputable certifications do exist, however. The Gold Standard was established in 2003 by the World Wide Fund (WWF) and other international NGOs as a quality benchmark tool, and a handful of other widely recognised carbon-crediting bodies are also active in the market.
And the environmental impact so far?
Calculating the effectiveness of carbon offsetting is tricky. One problem, as Wired pointed out, is that scientists aren't sure how much carbon is stored in the Earth's forests at present. Although satellites can map forest growth and depletion, "they don't show whether a tree in a forest is ten metres tall or 100 metres tall, and that is a critical piece of climate information" when calculating the effectiveness of carbon capture, said the site.
Additionally, if offsetting projects contribute further carbon emissions into the atmosphere - for instance, through travel or transportation of resources - the negatives can begin to outweigh the benefits.
Given that ten hours of flying can add a metric ton of carbon to the atmosphere, according to National Geographic, what experts do generally agree is that reducing carbon emissions in the first place is better than retroactively offsetting them.

Continue reading for free
We hope you're enjoying The Week's refreshingly open-minded journalism.
Subscribed to The Week? Register your account with the same email as your subscription.