The ancient megalodon shark survival myth
Study provides clues to giant predator's disappearance and debunks social media theories of its survival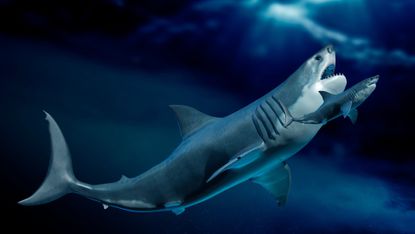 (Image credit: Victor Habbick Visions/Science Photo Library/Getty)
The ocean's most formidable cold-hearted killer, the long-extinct giant megalodon shark, may have been warm-blooded – which could have caused its disappearance more than three million years ago.
Analysis of chemicals of fossilised teeth suggests that the giant shark's body temperature was about 7°C warmer than surrounding seawater, said a report published in the journal Proceedings of the National Academy of Sciences (PNAS).
That puts the megalodon at odds with other ancient shark species that swam alongside it and were only slightly warmer than seawater. The difference "is large enough to categorise megalodons as warm-blooded", according to Science Daily.
Subscribe to The Week
Escape your echo chamber. Get the facts behind the news, plus analysis from multiple perspectives.
SUBSCRIBE & SAVE
Sign up for The Week's Free Newsletters
From our morning news briefing to a weekly Good News Newsletter, get the best of The Week delivered directly to your inbox.
From our morning news briefing to a weekly Good News Newsletter, get the best of The Week delivered directly to your inbox.
The findings may provide the clues to the mystery of why the species, Otodus megalodon (giant tooth), disappeared so suddenly. Its massive size, combined with the metabolic cost of maintaing a high body temperature, "may have contributed to the vulnerability of Otodus species to extinction", the scientists from UCLA, UC Merced, and William Paterson University said in PNAS.
This information contrasts with a backdrop of an increasingly widespread social media myth that megalodon survives to this day.
What is the megalodon?
Megalodon is believed to be the biggest member of a giant shark species (Otodontidae) "as well as the largest fish that ever lived", according to Encyclopedia Britannica. Fossil remains, mainly of its teeth, have been found along the coastlines and shelf regions "of all continents except Antarctica".
Megalodons "were faster than any shark alive today and big enough to eat an orca in just five bites", said CNN. They are believed to have resembled great white sharks, but up to an estimated 50 to 60 feet long.
Megalodon dominated the food chain in the ancient seas from about 23 million years ago (the early Miocene Epoch), hunting massive whales, orcas and seals, until its sudden disappearance at the start of the Pliocene Epoch about 3.6 million years ago.
Why is everyone talking about it?
In June, a diver off the coast of Florida found a fully intact megalodon tooth measuring more than six inches long, "adding to the ongoing fascination surrounding this ancient marine giant", said the Daily Mirror, and fuelling the "rampant…theories circulating on social media" about whether megalodon still exists.
Also this month, a necklace made of a megalodon tooth was found in the Titanic wreckage.
A fascination with surviving massive species combined with the unexplored mystery of most oceans has led to a social media obsession.
The megalodon hashtag has more than 3.4 billion views on TikTok. In 2021, musician Alex Albrecht posted a video on the platform of a massive shark, probably a basking shark, circling a cruise ship in the Atlantic Ocean. It has attracted a gargantuan 70.5 million views, with many commentators asking, "Is that megalodon?"
YouTube is also awash with videos speculating on how they might have survived, as well as explainers debunking the theories.
Could megalodon have survived?
The resaon for the sudden disappearance of such a perfect predator had previously "confounded paleontologists", said National Geographic. Although sustaining a gigantic body would require a vast amount of energy, prehistoric oceans teemed with prey.
However, the megalodon's warmer body temperature may provide the answer.
Warm-bloodedness is rare in sharks, with just five out of 500 modern species boasting "regionally endothermic" capabilities, according to New Scientist, heating only certain parts of the body.
Megalodon belonged to a group called mackerel sharks, which keep their body temperature "somewhat warmer than the water around them", said The Daily Telegraph, "but megalodon is an extreme example".
This trait allowed it to "swim faster and travel farther than other predators", said National Geographic, "pursuing whales and other blubber-rich prey into cool waters where cold-blooded hunters couldn't venture", eventually causing it to reach its massive size.
But around the time megalodon disappeared, the oceans were changing. Sea levels rapidly fell during the Pliocene period, affecting coastal marine habitats – and depleting food sources for larger prey like baleen whales. A decrease in the giant shark's prey, combined with the rise of competing smaller species like great white sharks, meant that megalodon "suddenly found itself backed into an evolutionary corner".
"Any suggestion that megalodon potentially still exists in unexplored ocean regions is complete nonsense based on not a shred of credible evidence," doctoral student and megalodon specialist Jack Cooper, of Swansea University, told Live Science.
Not only would microscopic deep sea life be insufficient to satisfy the hungry giant, but such an apex predator would have an enormous – and noticeable – impact on marine life, he said.

Continue reading for free
We hope you're enjoying The Week's refreshingly open-minded journalism.
Subscribed to The Week? Register your account with the same email as your subscription.