Pros and cons of membership ballots for party leaders
Prospective candidates need the backing of their MPs but must avoid the perception of a back-room stitch-up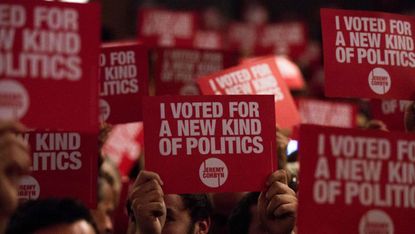 (Image credit: Getty Images)
Sign up to our 10 Things You Need to Know Today newsletter
A free daily digest of the biggest news stories of the day - and the best features from our website
Thank you for signing up to TheWeek. You will receive a verification email shortly.
There was a problem. Please refresh the page and try again.
Rishi Sunak's "coronation" as prime minister without a challenge from a rival or having to go out to the Tory party membership has been described as either an affront to democracy or a canny bit of party management that saved the country in a time of crisis.
Michael Fabricant, the Conservative MP for Lichfield who supported Boris Johnson's bid to lead the party, told Sky News he "abhors" political coronations, saying they "inevitably get it wrong". And Reform UK, formerly known as the Brexit Party, issued an open call for discontented Tory members to join, claiming: "Thousands of Tory Party members have been betrayed and we face a high-tax, Net-Zero, high-immigration Government."
While members of political parties take their role in choosing their party leader seriously it is still a relatively new phenomenon. Traditionally, Tory MPs chose their leader through internal "soundings", and then from 1965 onwards through formal elections, explained Meg Russell, director of UCL's Constitution Unit, in Prospect. "Labour also used elections by MPs until 1981." After this, things gradually opened up but it was only in the 1990s that members were asked to vote on who they wanted to lead them.
Subscribe to The Week
Escape your echo chamber. Get the facts behind the news, plus analysis from multiple perspectives.
SUBSCRIBE & SAVE
Sign up for The Week's Free Newsletters
From our morning news briefing to a weekly Good News Newsletter, get the best of The Week delivered directly to your inbox.
From our morning news briefing to a weekly Good News Newsletter, get the best of The Week delivered directly to your inbox.
The results since then have been mixed to say the least, with both major parties' MPs feeling the effect of a powerful membership body choosing a leader, sometimes with disastrous consequences.
1. Pro: no back-room stitch-ups
Tory members have been quick to voice their anger that a candidate they rejected just a matter of weeks ago has been foisted upon them by MPs. The Telegraph reported that "tens of thousands of Tory members will leave the party in anger at being denied a vote on the next leader". Ben Harris-Quinney, chairman of the Conservative think tank Bow Group, told the paper the decision to bar members was a "terrible advert" for the Conservative Party and warned that those members who remain will be less inclined to campaign for their local candidate at the next election – making a Labour victory more likely.
Sean Matthews, who served as chairman and treasurer of Louth and Horncastle Conservative Association in Lincolnshire, also voiced his anger on the i news site, describing Sunak's move as "an outrageous coup". The Guardian reported the leader of the Reform UK party, Richard Tice, is seeking to capitalise on discontent among Conservative party members aggrieved at missing out on a chance to vote for their leader.
"We have a prime minister appointed by acclamation. His party members rejected him. Democracy is in peril," he claimed.
2. Con: members pitted against MPs
While the Tories have recently found to their cost the problem of members electing a leader who does not enjoy the support of a majority of their MPs, this is a far more common problem for Labour. Under the party's system for electing its leaders, MPs have relatively little control over the outcome, serving only to narrow the field before members make the final choice.
A leader could therefore emerge who has little support from parliament, as happened in 2015, when Jeremy Corbyn was elected, or to a lesser extent in 2010 when Ed Miliband pipped his bother David to the top job largely thanks to overwhelming support from the unions. "This arrangement departs significantly from the original basis for choosing UK party leaders and has potentially destabilising effects on the whole political system, given parliament's centrality," said Meg Russell, director of UCL's Constitution Unit.
Russell, this time in Prospect, said in reference to Truss's recent defenestration by her party that "while the objective of broadening participation and enfranchising party members appears noble, her election provided conclusive evidence that the results can be catastrophic".
3. Pro: candidates present vision
The need for a prospective prime minister to be properly "road tested" is obvious. While many leadership candidates will have been stress-tested in government, a proper scrutiny of their views, skeletons in the closet and, crucially, vision for the country is a prerequisite for judging whether they are up to the job.
For example, Mark Pack, editor of Liberal Democrat Newswire and former head of innovations at the Liberal Democrats, argued in a debate on who should pick party leaders in 2019 that Tim Farron's personal religious beliefs were not properly scrutinised before he became Lib Dem leader in 2015. "If he had, he might not have been elected as leader and party policy might have gone in a very different direction. Alternatively, had he won despite a close examination of his religious views, he would have had an opportunity to prepare how to respond to similar questions when subjected to the media spotlight during the [2017] election," said the UCL Constitution Unit.
4. Con: MPs are elected
The UK is a representative not a direct democracy, so the argument goes that party leaders should be elected the same way.
Writing in The Telegraph in August, former Tory cabinet minister Norman Tebbit said "it is both undemocratic and absurd" that the decision over who becomes the next Tory leader has been left to the membership since "it gives the decision to a group of the electorate who had qualified themselves to take it merely by paying a fee to join that political party."
While MPs are elected and therefore represent the majority view of their constituency, by contrast "members tend to be more extreme in their opinions than their party's representatives – especially in parties that give them a say," said The Washington Post.
This was borne out by the overwhelming support of Labour members for Corbyn, who turned out to be too radical for both Labour MPs and the wider electorate. It was also seen in the election of Liz Truss by 160,000 or so Tory members who are "unrepresentative of the population as a whole: demographically they are middle class, over 50, white, and geographically concentrated in the South; and ideologically they generally identify as either 'fairly or very right-wing'", argued Tim Bale, Professor of Politics, Queen Mary University of London.
5. Pro: members pay dues so should have a say
Political parties are funded, to a varying degree, by membership dues. Members also play a pivotal role in managing the grassroots, local mobilisation and getting out the vote at elections.
"The ordinary members who pay subscriptions to and campaign for the party should, in exchange, have a say over its policies, its candidates, and its leader," argued Tom Quinn from the Department of Government at the University of Essex on LSE blogs. "Without this influence, they have little incentive to stay in the party, yet their efforts are vital for it to remain operational and a campaigning force. From this perspective, it is right that members choose their leaders and the latter should implement policies that reflect the members' preferences."
6. Con: it takes too long
The summer's drawn-out Tory leadership election highlighted a major problem with opening up the contest to members when a party is in government.
In total the contest took nearly two months, with the final candidates travelling to hustings around the country to debate in front of members. While this took place over the summer, while Parliament was in recess, it still meant the party of government was effectively paralysed and leaderless.
This has led to calls from some Tory MPs for a change to the party's constitution so that members could still be allowed to have a say in a leadership contest while the party is in opposition, but if they are in power it should be for MPs only to decide.
"Everyone wants to avoid going to party membership, it takes a very long time and the public would be completely exasperated," a Tory MP told The Telegraph, adding that "while in opposition it doesn't really matter".
Continue reading for free
We hope you're enjoying The Week's refreshingly open-minded journalism.
Subscribed to The Week? Register your account with the same email as your subscription.
Sign up to our 10 Things You Need to Know Today newsletter
A free daily digest of the biggest news stories of the day - and the best features from our website