Wes Streeting: the next Labour leader?
Rising shadow cabinet star has apologised after insulting Jeremy Corbyn in the Commons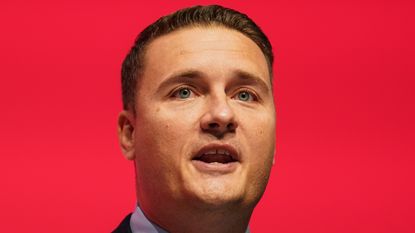 (Image credit: Ian Forsyth/Getty Images)
Shadow health secretary Wes Streeting has apologised to former Labour leader Jeremy Corbyn for calling him "senile" in the Commons.
Streeting made the comment yesterday during a parliamentary statement on the Cop27 climate summit. Corbyn had tried to raise a point of order during the statement by Rishi Sunak, which was denied by the Commons Speaker Lindsay Hoyle. In response, Streeting then muttered: "It's Jeremy Corbyn… He's going senile."
Streeting later tweeted that he made the comment "in jest" but he accepted it was "in poor taste".
Subscribe to The Week
Escape your echo chamber. Get the facts behind the news, plus analysis from multiple perspectives.
SUBSCRIBE & SAVE
Sign up for The Week's Free Newsletters
From our morning news briefing to a weekly Good News Newsletter, get the best of The Week delivered directly to your inbox.
From our morning news briefing to a weekly Good News Newsletter, get the best of The Week delivered directly to your inbox.
"I've dropped Jeremy a note directly to apologise for any offence caused," he added.
A rising star on the right of the Labour Party, Streeting has been a "persistent critic" of Corbyn, who was suspended from the party in October 2020 for claiming antisemitism in Labour ranks had been "exaggerated" after the release of a critical report. Streeting once warned that "continuing with his [Corbyn's] policies would have threatened Labour's existence", said the BBC.
A family divided
Still only 39, Streeting was born to teenage parents in 1983 and grew up in a council flat in Stepney, east London. Speaking to The Guardian in January, Streeting said: "I still shudder at the insecurity we felt then." His family often struggled to make ends meet. "Prosperity felt so distant," he said.
He was encouraged to apply for Cambridge by a teacher at Westminster City School, the state-funded secondary academy he attended, and went to read history in 2001. After graduating he worked as a public sector consultant for PricewaterhouseCoopers before deciding to run for Parliament in 2015. He won the long-standing marginal seat of Ilford North in northeast London by a tiny majority of just 589 votes. By the 2017 general election he had increased that to almost 10,000 votes, although that was cut in half at the Tory landslide 2019 poll.
The next year he would support Keir Starmer in his bid to become Labour leader and subsequently appointed shadow child poverty secretary, before being given the health and social care brief in 2021. Previously he had held frontbench roles for schools and as exchequer secretary.
In April last year, Streeting was diagnosed with kidney cancer and took a three-month break from front-line politics. While it "could have been the moment to throw in politics", the opposite happened. He told The Guardian: "I keep saying to my partner, Joe [Dancey, a political consultant]: I'm living my best life."
For Streeting, his illness "turned him into the patient's champion", said the paper, "one who simply will not allow the government to use the pandemic as an excuse for the now terrifyingly long NHS waiting lists".
Streeting's Christian faith can be traced back to his paternal grandfather, a former merchant seaman, who "was a pull-yourself-up-by-your-bootstraps working-class Tory, who only ever voted Liberal to keep Labour out. (He was) very proud of Queen and Country. I get a lot of my… views on law and order and those sorts of issues from him," the Daily Mail reported Streeting as saying.
There are fewer similarities on the other side of Streeting's family, though. He told the Mail that "he understood his grandfather had convictions for armed robbery, was 'in and out of prison' most of his life and had known the Krays". In an even more surprising twist, his grandmother, Libby Crowley, also served time in jail and at one point shared a cell in Holloway prison with Christine Keeler, the model and showgirl at the centre of the 1960s Profumo sex-and-spy scandal.
The 'moderate future of Labour'?
Frequently described as an "effective media performer", Streeting is "seen as politically ambitious" and is "often touted as a future Labour leader", said Politics.co.uk.
Despite being firmly on the right of the party, and a vocal critic of Corbyn, friends of Streeting have described him – perhaps with a hint of irony – as "the original young Corbynista", said The New Statesman.
In the late 1990s, when Streeting was just 16, one of his earliest political experiences was attending a Labour constituency party meeting where Corbyn was the guest speaker. Impressed by the Labour MP, Streeting "signed up that night for Campaign Group News, the monthly magazine for the party's main left faction".
But he has travelled further to the centre ground during an active political career, which began when was elected president of the National Union of Students in 2008, while he was at Cambridge.
Indeed, his distance from the views of the left of his party was perhaps best underscored by an appearance on TalkRadio in March, during which he was asked about his views on gender identity. "Can a woman have a penis?" asked right-wing pundit Julia Hartley-Brewer. Streeting replied: "Men have penises, women have vaginas; here ends my biology lesson." He then added that the debate over gender identity should be conducted in a "respectful" way, before quipping that his comments meant "the end of my lefty street-cred, if I ever had any".
His rise through the party ranks has attracted "admiration from those who see him as the moderate future of Labour" and his "effortless" communications style has won him comparisons with former Labour prime minister Tony Blair, said the Financial Times.
"He doesn't need a focus group to tell him what the public thinks because he feels it himself," said Peter Mandelson, a key New Labour figure under Blair, speaking to the paper.
But those on the left of the party "distrust, even loathe" Streeting, seeing his politics as "too close to the Conservatives" and fearing that he would purge the party's fringes if he ever became leader.

Continue reading for free
We hope you're enjoying The Week's refreshingly open-minded journalism.
Subscribed to The Week? Register your account with the same email as your subscription.