How to regain your smell and taste after Covid-19
Potential treatments include 'smell training' to remind the brain or taking steroids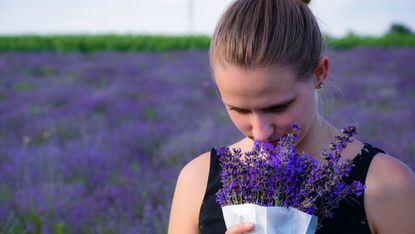 (Image credit: Richárd Ecsedi/Unsplash)
Millions of people worldwide are trying to adapt to life without smell and taste after being infected with Covid-19.
For the majority, this olfactory dysfunction lasts for just a couple of days or weeks, but some are still suffering months after contracting the virus. A study last year found that between 700,000 and 1.6 million people in the US had lost or had a change in their sense of smell for more than six months after having Covid.
And the authors of the study – published in the Jama Network Open journal – warned that these figures were "likely an underestimate", reported CNN.
Subscribe to The Week
Escape your echo chamber. Get the facts behind the news, plus analysis from multiple perspectives.
SUBSCRIBE & SAVE
Sign up for The Week's Free Newsletters
From our morning news briefing to a weekly Good News Newsletter, get the best of The Week delivered directly to your inbox.
From our morning news briefing to a weekly Good News Newsletter, get the best of The Week delivered directly to your inbox.
However, hopes have been raised after scientists said that a molecule found in coffee, typically described by people with smell distortion as "disgusting" or "repulsive", could provide a breakthrough.
The causes
The "precise cause" of sensory loss related to the coronavirus is not known, said Sky News, but experts believe it is connected to "damage to infected cells in a part of the nose called the olfactory epithelium". Cells in this area of the nasal cavity protect olfactory neurons that enable humans to smell.
A study published in the Nature Genetics journal in January suggested that genetics plays a key role in determining whether a person loses or experiences a change in their sense of smell and taste after being infected with Covid-19.
The analysis of DNA data on nearly 70,000 adults in the UK and the US with Covid found that those with "certain genetic tweaks" on a chromosome near two olfactory genes, called UGT2A1 and UGT2A24, were 11% more likely to lose the ability to smell or taste than people without the changes, explained Science News.
The researchers suggested that the genetic variants "could affect how the two genes are turned on or off to somehow mess with smell during an infection", the site said.
Trigger molecule
A related and lesser-known symptom of Covid is parosmia, where people experience smell distortion after contracting the virus. According to Fifth Sense, a charity for people affected by smell and taste disorders, an estimated 25,000 UK adults who have had Covid have been affected by parosmia, which "can mean food gives off an unpleasant odour or taste, such as rotten meat or chemicals", said the BBC.
Scientists have identified a "highly potent odour molecule" that appears to be a trigger for the "sense of disgust" experienced by many of those with parosmia, said The Guardian. Those with a normal sense of smell found the molecule, called 2-furanmethanethiol, as smelling like coffee or popcorn but those with parosmia typically described its scent as "disgusting, repulsive or dirty", said the report.
The study also found that those with parosmia could experience highly objectionable smells differently. Some described the smell of faeces as "less unpleasant or biscuity".
Dr Jane Parker, the director of the Flavour Centre at the University of Reading and co-author of the research that was published in Communications Medicine, said this means parosmia can be related to the compounds in the distorted foods. She added that "the central nervous system is certainly involved as well in interpreting the signals that it receives from the nose".
One of the researchers, Simon Gane, from the Royal National Ear, Nose and Throat and Eastman Dental Hospitals, said: "We now know this has to be something to do with the nerves and their receptors because that's how these molecules are detected."
Potential cures
Meanwhile, although there is currently no cure for parosmia, Fifth Sense and experts from the University of East Anglia have created an online guide for a "smell training technique" that advocates say may help anyone who has experienced a loss or change in their sense of smell.
The training normally involves sniffing at least four distinctive smells, such as oranges, coffee or garlic, twice a day for several months in order to retrain the brain to recognise different smells.
Another potential treatment for olfactory dysfunction is steroids – anti-inflammatory medicines used to treat a range of conditions from eczema to arthritis. Along with suppressing inflammation, they work by reducing the activity of the immune system.
Although steroids may cause increased appetite, mood changes and difficulty sleeping, they "do not tend to cause significant side effects" if taken for a short time or at a low dose, according to the NHS website.
Spontaneous recovery
Experts have argued that smell training is preferable to steroids for people suffering from a lack of smell and taste as a result of Covid. Professor Carl Philpott, of the University of East Anglia, described smell training as "a cheap, simple and side-effect free treatment option".
He added that "luckily", the majority of people who experience smell and taste loss as a result of the virus end up regaining these senses "spontaneously".

Continue reading for free
We hope you're enjoying The Week's refreshingly open-minded journalism.
Subscribed to The Week? Register your account with the same email as your subscription.