Arguments for and against calorie-count menus
Restaurants and cafes face controversial new rules for their menus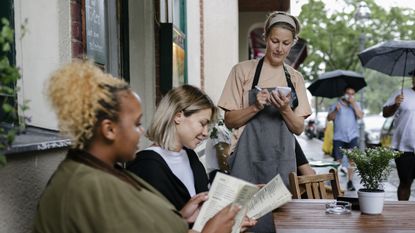 (Image credit: Willie B. Thomas)
Diners across England will now know exactly how many calories are in their meals when eating out, under new rules that came into force last month.
Restaurants, cafes and takeaways with more than 250 staff must now include calorie counts on menus, websites and delivery platforms under new government rules.
It is part of a government bid to tackle obesity in the UK and help people make "more informed, healthier choices when it comes to eating food out or ordering takeaways", according to the Department of Health and Social Care (DHSC). But the new rules have caused something of a stir.
Subscribe to The Week
Escape your echo chamber. Get the facts behind the news, plus analysis from multiple perspectives.
SUBSCRIBE & SAVE
Sign up for The Week's Free Newsletters
From our morning news briefing to a weekly Good News Newsletter, get the best of The Week delivered directly to your inbox.
From our morning news briefing to a weekly Good News Newsletter, get the best of The Week delivered directly to your inbox.
1. Pro: customers more informed
Now that almost two-thirds (63%) of adults in England are overweight or living with obesity, and one in three children are leaving primary school overweight or obese, the DHSC has said that obesity is one of the biggest health crises facing the country.
A spokesperson for the department has said that food labelling played an important role in helping people make healthier choices. They added that the public are already "used to seeing nutritional information on products sold in supermarkets" and that displaying calories on menus would help customers consume fewer calories when eating out.
The DHSC also noted that Covid-19 had a disproportionate effect on people who were overweight, and in the wake of the pandemic it is "more important than ever to help people across the country achieve a healthy weight".
2. Con: exacerbating eating disorders
More than 1.25 million people suffer from eating disorders in the UK, and campaigners are worried that calorie counts on menus could "contribute to harmful eating disorder thoughts and behaviours worsening", said Tom Quinn, of eating disorder charity Beat. The campaigner told the Press Association it can "increase a fixation on restricting calories for those with anorexia or bulimia, or increase feelings of guilt for those with binge-eating disorder".
Quinn said there was "very limited evidence" that the legislation would lead to a change of eating habits, and added that his charity had "continually asked" the government to consider the impact the new policy could have on people with eating disorders, and urged that an "evidence-based approach" be taken when creating health policies.
A survey the charity carried out last year of 1,118 people showed that 93% of people surveyed thought the introduction of calorie labelling would be either "negative or very negative" for people with eating disorders, while 83% of people did not support the new initiative.
3. Pro: more healthier meals
Some restaurants are already "ahead of the game" and have included calorie counts on their menus in order to help customers "make more informed decisions" for some time, such as the pub chain Wetherspoons, which has included calorie counts on its food menus since 2017, said The Independent.
Forcing restaurants to display the calories in each meal might encourage eateries to give customers a broader range of healthier options. Côte Brasserie, for example, recently decided to redesign its menu – although not in reaction to new legislation – which will see "38% of main dishes contain less than 700 calories to offer diners a real choice", according to the restaurant.
4. Con: financial pressures
Restaurant bosses and hospitality figures are worried the new rules put added financial pressure on a sector already struggling in the wake of the Covid-19 pandemic – and could discourage people from eating out.
Emma McClarkin, of the British Beer and Pub Association, told GB News that most customers "just want to come in, have a treat and not feel guilty about it". Meanwhile, Kate Nicholls, chief executive of trade body UK Hospitality, told the BBC that the timing of the new legislation came at a difficult time, when the majority of operators are still "in survival mode".
Restaurateurs argued that the nature of their venues, such as those offering seasonal menus, mean that the new rules could prove costly. Robin Hutson, chairman of The Pig hotels and restaurants, told the broadcaster that his business cooks with fresh produce that changes on a daily basis, and that the new rules show "a crass lack of understanding from the government".
5. Pro: saving the NHS billions
The obesity crisis is placing a huge burden on NHS resources, with the health service spending some £6.1bn on overweight and obesity-related ill health in 2014 to 2015, according to a government paper published by Public Health England in 2017.
It said that the annual amount spent on treating obesity and related illnesses such as diabetes is "greater than the amount spent on the police, the fire service and the judicial system combined".
Costs are projected to reach £9.7bn by 2050, "with wider costs to society" estimated to reach £49.9bn per year. Reducing obesity would not only help individuals, but it would save taxpayers money, too.
6. Con: little impact on obesity rates
The British Nutrition Foundation has said that while the new rules could help support the public in making healthier choices, on their own they would not be enough to tackle the UK's obesity crisis.
"There is some evidence that calorie labelling can encourage people to choose meals with fewer calories and might have a positive effect on overall energy intake," Dr Simon Steenson, a nutrition scientist at the foundation, told National World. But he added that "giving customers more information on the calorie content of what they are buying is unlikely to have a large impact on current obesity levels in isolation".
A 2014 review of medical literature on calorie labelling published in the Journal of Community Health also found that the strongest studies show that "calorie labels do not have the desired effect in reducing total calories ordered at the population level". A more recent study published in the British Medical Journal found that although calorie labelling in US fast-food restaurants saw a 4% reduction in calories per order, a year later that small calorie reduction had not been maintained.

Continue reading for free
We hope you're enjoying The Week's refreshingly open-minded journalism.
Subscribed to The Week? Register your account with the same email as your subscription.