The coronavirus-obesity link examined
Overweight Covid-19 patients disproportionately likely to be admitted to intensive care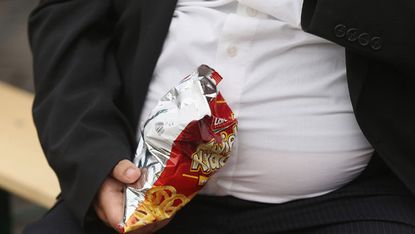 (Image credit: Sean Gallup/Getty Images)
Obesity may play a significant factor in the severity of coronavirus symptoms, new research suggests.
The possible link is particularly worrying for nations with overweight populations such as the UK, which is the sixth most obese country on Earth, according to the Organisation for Economic Co-operation and Development (OECD).
What is the evidence?
Subscribe to The Week
Escape your echo chamber. Get the facts behind the news, plus analysis from multiple perspectives.
SUBSCRIBE & SAVE
Sign up for The Week's Free Newsletters
From our morning news briefing to a weekly Good News Newsletter, get the best of The Week delivered directly to your inbox.
From our morning news briefing to a weekly Good News Newsletter, get the best of The Week delivered directly to your inbox.
Scientists from Edinburgh and Liverpool universities and Imperial College London have analysed data from 15,100 coronavirus patients across the UK to draw up a profile of how the virus "exploits" age, sex and underlying health conditions.
The research findings suggest that one of the most important risk factors is being overweight.
Study co-leader Peter Openshaw, a professor of experimental medicine at the London university, say that while the exact reasons for the link remain unclear, a likely explanation is that overweight patients experience greater inflammation of adipose tissue - the fatty layer under the skin and around internal organs.
This contributes to an "enhanced 'cytokine storm' - the immune reaction in which too many cytokine proteins enter the bloodstream too quickly - which can be life-threatening", The Telegraph reports.
Openshaw suggests that obese patients may also "find it more difficult to breathe when in bed because the stomach and fatty layers can push against the diaphragm and ribcage, preventing them obtaining a deep breath".
"Another possibility is simply that overweight people are regularly in contact with medical services and so are more likely to be admitted to hospital," he added.
The obesity risk theory is supported by research from the US Centers for Disease Control and Prevention (CDC) which found that people with heart disease and diabetes - both obesity-related conditions - are at higher risk of coronavirus complications, according to the World Obesity Federation.
The analysis by the US national public health institute revealed that overall, 48% of patients hospitalised with Covid-19 symptoms for whom BMI data was available were in the "obese" category.
Meanwhile, Wired points to two further preliminary reports released this month that highlight higher BMI as a crucial coronavirus risk factor.
A study by French researchers revealed that patients with a BMI of 35 and above were at higher risk of needing to be put on a ventilator.
And an analysis by experts at New York University's School of Medicine that was outlined in a letter to the editor of the Clinical Infectious Diseases journal indicates that people aged under 60 who are infected with the new coronavirus and have a BMI of 30 or above are at higher risk for hospitalisation and intensive-care admission than their slimmer peers.
Should Britons be worried?
Unlike some other coronavirus-hit countries, Britain has high rates of obesity.
According to the Health Survey for England 2018, more than half of UK adults (56%) are at increased, high or very high risk of chronic disease as a result of their waist circumference and BMI.
Commenting on the coronavirus outbreak, which originated in the Chinese city of Wuhan, Imperial College London professor Openshaw said: "It may be that being overweight is a risk factor which didn't come out in early studies in China because fewer people are overweight there."
The Telegraph's Alexandra Phillips contrasts the coronavirus death rate in the UK with that in South Korea, where both Covid-19 fatalities and obesity levels are far lower.
"Approximately only one in eight Brits are metabolically healthy," Phillips says. "The government's own statistics say obesity causes over 30,000 deaths each year, cuts an average nine years off life and makes an individual more than twice as likely to develop high blood pressure and five times more likely to develop type 2 diabetes."
And data from the first 2,204 Covid-19 intensive care unit (ICU) admissions in the UK shows that 73% of the patients were overweight or obese.
However, while obesity poses a considerable problem in the UK, the crisis is even greater in the US.
"Some 42% of American adults - nearly 80 million people - live with obesity. That is a prevalence rate far exceeding those of other countries hit hard by the coronavirus, like China and Italy," says The New York Times.
Dr Roy Gulick, chief of infectious diseases at Cornell University's Weill Cornell Medicine institution, told the newspaper that "if obesity does turn out to be an important risk factor for younger people" infected with the new coronavirus, "that will be of great concern".
"We may see a lot more younger people being hospitalised," he added.
France's chief epidemiologist, Professor Jean-Francois Delfraissy, has issued a similar warning.
"Those who are overweight really need to be careful," Delfraissy said during a radio interview earlier this month. "That is why we're worried about our friends in America."

Continue reading for free
We hope you're enjoying The Week's refreshingly open-minded journalism.
Subscribed to The Week? Register your account with the same email as your subscription.