The boom in private healthcare: a two-tier system?
Post-pandemic waiting lists are pushing people to go private. Could this dramatically undermine the NHS?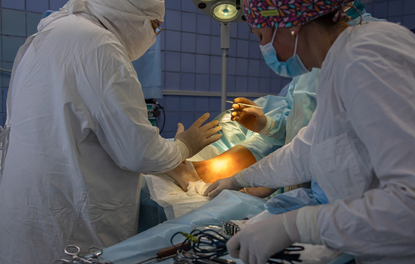 (Image credit: Michael Nigro/Pacific Press/LightRocket via Getty Images)
Why are waiting lists so long?
Even before Covid-19, demand for NHS healthcare was far outstripping supply: there were 4.4 million people on waiting lists in England in early 2020. But the pandemic made things much worse: about 2.4 million NHS operations were cancelled in England and Wales in 2021. GP appointments were greatly restricted. There are now 6.6 million people – over a tenth of the population – waiting for treatment. Around 332,000 have been waiting over a year – 13 times the comparable number from May 2020.
The most pressing backlogs are in cancer care and elective surgery – mainly knee and hip replacements (more than 730,000 people) and cataract operations (600,000). Some have been waiting for five years. And there are comparable crises in access to GP appointments and mental health care.
What are people doing about it?
Increasingly, those who can afford it are going private. There were 69,000 self-funded treatments in the UK in the final three months of last year – a 39% rise on the same period before the pandemic. The numbers paying for such treatments topped 250,000 last year. These figures, from the Private Healthcare Information Network, do not include those who have private insurance: they are the people paying the full cost of treatment themselves, leaving them liable for huge bills. In addition, people are increasingly turning to private GPs, diagnostics and consultants to speed up their treatment, even if they later return to NHS treatment. Private health insurance is growing steadily, too. About 10% of people in the UK had private health insurance before the pandemic; many providers say that their subscribers are now growing by 30% or more per year. In 1970, of all the G7 advanced economies, the UK spent the smallest proportion of its GDP on private insurance; now it's in third place and has the fastest-growing market.
Subscribe to The Week
Escape your echo chamber. Get the facts behind the news, plus analysis from multiple perspectives.
SUBSCRIBE & SAVE
Sign up for The Week's Free Newsletters
From our morning news briefing to a weekly Good News Newsletter, get the best of The Week delivered directly to your inbox.
From our morning news briefing to a weekly Good News Newsletter, get the best of The Week delivered directly to your inbox.
What are the advantages of going private?
Ultimately, the medical care most private patients receive isn't very different from what's available on the NHS. In many cases, they're treated by the same doctors they'd see in an NHS hospital, doing private practice on the side. There are some important differences, however, not least the ability to get treatments that on cost-efficiency grounds haven't been approved by the National Institute for Health and Care Excellence (Nice) for NHS use – expensive new cancer and diabetes drugs, for example. The residential side of the hospital experience tends to be much nicer, too, with private rooms. But generally, it's a question of access and time: skipping the queue and having longer consultations.
And the disadvantages?
Obviously, cost: a knee replacement costs, on average, around £13,000. Cataract surgery on one eye costs a more than £3,000. And even basic consultations with private GPs can quickly become expensive thanks to the cost of processing medical tests. As for personal private medical insurance, that costs, on average, £1,000 to £1,500 per year (though there are large variations, based on age, whether you smoke, and so on). It also generally comes with hefty exclusions: accident and emergency; pre-existing illnesses; chronic conditions, including some mental health problems and dementia. In addition, few private hospitals have intensive care units, so if something goes wrong, patients are typically transferred, which can cause dangerous delays. Finally, there are the wider effects on both the NHS and society at large.
How does this affect the NHS?
On one level, it takes pressure off the NHS: private patients paid for 250,000 treatments last year that the NHS didn't have to carry out. However, there are also detrimental effects. Public and private hospitals recruit from the same body of staff, so an expanding private sector inevitably has an impact on NHS staffing. Recruitment is probably the single largest problem facing the NHS, so anything that affects that is worrying. The private sector also benefits indirectly from not having to invest in training, which takes place almost exclusively in the public system. There are some questions about conflicts of interest, too. In January, for example, a health think tank identified 481 consultants in England, 73% of them working for the NHS, who have shareholdings in joint ventures with private healthcare companies.
And what sort of social issues does it raise?
The Institute for Public Policy Research, a centre-left think tank, thinks that there is a serious risk of a two-tier system emerging – rather like the English education system, with access to the top tier limited by wealth. "If this were to become the new normal after the pandemic (as it has in social care and dentistry), it would worsen overall health and widen inequality," the IPPR argued. It commissioned a YouGov poll, which found that there was near-universal support for retaining a universal, tax-funded NHS, free at the point of use. However, it also found that about 12% of people had used private care and another 26% had considered it.
Will we have a two-tier system?
According to the British Medical Journal, such a system is a realistic prospect "only in London and southeast England, where coverage by private medical insurance is already heavily saturated". For most people living in other parts of the UK, "the NHS is the only option for most complex types of care". Yet pressures on the NHS remain unprecedented, despite raised spending: waiting lists are higher than they have ever been; one in ten nursing jobs, and one in 20 medical jobs, are vacant. Critics argue that the system isn't working, and advocate a social insurance system based on a mix of private and public healthcare (see box). The NHS's defenders respond that the real problem is sustained underfunding, combined with the Government's failure to deal with the NHS's long-term problem with recruitment.
How good is the NHS?
In 2018, the Nuffield Trust carried out a vast study, measuring the NHS against comparable healthcare systems. Its conclusion was that the NHS "performs neither as well as its supporters sometimes claim nor as badly as its critics often allege". Its crucial weakness was in healthcare outcomes: the mortality rate in the UK among people treated for some of the biggest causes of death, including cancer, heart attacks and stroke, was higher than average among comparable nations. However, it had many strengths, such as managing long-term illness, and did it all on a budget "slightly lower" than the average.
Many of the best-performing nations – France, Germany, the Netherlands – use compulsory social insurance, rather than, like the NHS, providing care from general taxation. In France everyone pays social insurance in the form of payroll taxes, which funds around 70% of health costs; 95% of citizens also have private insurance to cover the rest. This system offers universal healthcare but via a decentralised system that gives some of the choice and flexibility of the private sector. But it is not free at the point of use – a cherished feature of the NHS – and overall spending is appreciably higher in France than in Britain.

Continue reading for free
We hope you're enjoying The Week's refreshingly open-minded journalism.
Subscribed to The Week? Register your account with the same email as your subscription.