Mastodon and other Twitter alternatives explained
Former tweeters are flocking to rival platforms following Elon Musk's takeover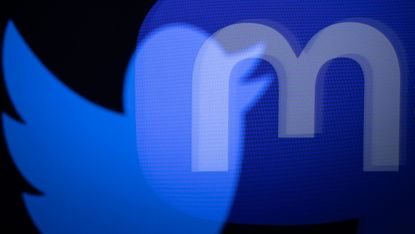 (Image credit: Joel Saget/AFP Getty Images)
Twitter users worldwide are fleeing to Mastodon and other social media rivals as the backlash against Elon Musk's buyout escalates.
Since the $44bn (£37.9bn) takeover was completed late last month, Musk's Twitter has been characterised by "layoffs, controversial product changes, an expected shift in its approach to content moderation and a jump in hateful rhetoric", said CNN. Those changes have left "legions" of users looking to leave "for greener pastures", said Tech Radar, and Mastodon has "emerged as the new platform of choice".
According to a tweet by Mastodon, the Twitter rival gained more than 70,000 new users overnight after Musk became "Chief Twit".
Subscribe to The Week
Escape your echo chamber. Get the facts behind the news, plus analysis from multiple perspectives.
SUBSCRIBE & SAVE
Sign up for The Week's Free Newsletters
From our morning news briefing to a weekly Good News Newsletter, get the best of The Week delivered directly to your inbox.
From our morning news briefing to a weekly Good News Newsletter, get the best of The Week delivered directly to your inbox.
What is Mastodon?
Dubbed the "Twitter killer", Mastodon appears similar to the social media giant at first glance: users can follow each other and write posts of up to 500 characters – known as "toots" – that can be replied to, liked and re-posted, or "boosted".
"Under the bonnet, though, it works in a different way," said the BBC's technology editor Zoe Kleinman. Mastodon describes itself as "a network of millions of users in independent communities that can all interact with one another".
Mastodon "links together" all of these communities (also known as servers), said Kleinman, "but they are owned by different people and organisations".
"This means that there is no one server, company, organisation or individual running Mastodon," said Yahoo! Finance, "making it the opposite of Twitter." Anyone can create and control a Mastodon server, "giving it its own set of rules, not unlike Reddit sub-pages".
Servers are themed by interests, such as hobbies, issues or countries, and new joiners choose a server when signing up to Mastodon but can then follow users on other servers.
Mastodon "describes this server process as being similar to email", said Tech Radar. "For example, while your email domain might be Gmail, Hotmail, Outlook or whatever else, you are nonetheless able to email anybody, anywhere."
"It is a public square," Mastodon tweeted last month. "It is a global, decentralised social network. Your server is where your account is hosted, communication is global."
And this network is growing, despite critics pointing to problems including lack of moderation. Mastodon founder and CEO Eugen Rochko announced in a Mastodon post last Monday that the network had grown to "1,028,362 monthly active users".
What are other Twitter alternatives?
Launched in February, Cohost features posts that "appear chronologically with no character limit", and "users can create their own pages a la Tumblr or collaborate on pages with others, giving it more of a blog site feel than Twitter", said The National.
Cohost also "promises no advertisements tracking or algorithms", the news site added. Instead, Cohost tells users that "for now, you can give us a few bucks a month to help us keep the lights on".
Billed as a "pro-democracy" alternative to Twitter, Tribel claims to offer "social media done right", with a focus on safeguarding "morality, truth and We the People". The platform "prides itself on news feed customisation", said Variety, so is a good option "if you're looking to avoid a doom-scrolling spiral". However, UnHerd was less impressed, describing the "left-wing rival" to Twitter as a "sort of pick-your-political-party cash grab".
For "kinder, gentler way to keep in touch with your friends, family, colleagues or people you went to high school with", try uSync, suggested USA Today. Launched last month, the platform allows users to post "long-form blog-style content with text, video and photos" or shorter "Scribbles", but charges them a subscription fee to do so.
Along with the various newcomers, more familiar platforms such as Facebook may fulfil former tweeters' social media needs, said Monica Chin in an article on "how to deactivate your Twitter account" for The Verge. "Yes, there are a lot of horrible, terrible, no good, very bad things about Facebook," she wrote, "but if you miss the ability to keep up with family and friends on Twitter, you can do that on Facebook, too."
Other long-standing networks that may scratch the post-Twitter itch include Tumblr. Founded in 2007, Tumblr is "is less influencer-drenched than the more mainstream networks", said the London Evening Standard. And Reddit, which has been around since 2005, is "a great place to indulge in hobbies with like-minded folks".

Continue reading for free
We hope you're enjoying The Week's refreshingly open-minded journalism.
Subscribed to The Week? Register your account with the same email as your subscription.