Chat GPT, Generative AI and the future of creative work
Silicon Valley frenzy masks ethical and legal concerns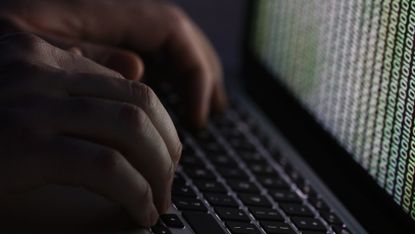 (Image credit: Chris Ratcliffe/Bloomberg via Getty Images)
Generative AI is being hailed as the next era-defining technological innovation, changing how we create new content online or even experience the internet, and in the process sparking a Silicon Valley frenzy.
Yet even as venture capitalists pump billions of dollars into AI tools such as Chat GPT, there is growing concern about their ethical and legal ramifications.
What is generative AI?
Put simply, generative AI is artificial intelligence that can generate new content, rather than simply analysing or acting on existing data.
Subscribe to The Week
Escape your echo chamber. Get the facts behind the news, plus analysis from multiple perspectives.
SUBSCRIBE & SAVE
Sign up for The Week's Free Newsletters
From our morning news briefing to a weekly Good News Newsletter, get the best of The Week delivered directly to your inbox.
From our morning news briefing to a weekly Good News Newsletter, get the best of The Week delivered directly to your inbox.
Able to produce text and images, programme code, poetry, and artwork, Harvard Business Review said the software uses "complex machine-learning models to predict the next word based on previous word sequences, or the next image based on words describing previous images".
The most talked about field is text-to-image AI models, such as OpenAI's DALL-E programme, which generate detailed original images based on simple written inputs.
"The buzz around generative AI today is deafening," said Forbes.
The sudden emergence of generative AI technology has sparked a "frenzy" in Silicon Valley, said Forbes, with "no topic in the world of technology attracting more attention and hype right now."
Why the buzz around Chat GPT?
Released less than two weeks ago by San Francisco-based Open AI, which was co-founded by Tesla billionaire Elon Musk in 2015, Chat GPT is already making huge waves in the technology sector with over a million regular users, according to CEO Sam Altman.
A "stunningly lifelike conversational language system" designed to "answer follow-up questions, admit its mistakes, challenge incorrect premises, and reject inappropriate requests," The Times described it as the "world's first truly useful chatbot".
Based on natural language generation technology, it is "implemented in such a way that you just chat with it in a web browser as if you were slacking with a colleague or interacting with a customer support agent on a website", reported TechCrunch.
What are the real-world implications?
Generative AI is already "revolutionising how we experience the internet and the world around us", reported VentureBeat, highlighting the surge in global AI investment from $12.75 million in 2015 to $93.5 billion in 2021, with the market projected to reach $422.37 billion by 2028.
Image-generating AI in particular will transform industries including advertising, gaming and filmmaking, while other models will help clinicians compose medical notes, further medical research and speed up novel drug development.
It could also transform how the internet itself functions.
Since Open AI opened its Chat GPT programme to the public last week, "the breathless predictions have come thick and fast", said The Times.
"This is 'the death of Google', predicted many. Why scroll through mountains of ads and useless results when you can just ask a question and then a system trained on the entire corpus of the English-language internet provides just that answer?" asked the paper.
"The potential for something like OpenAI's ChatGPT to eventually supplant a search engine like Google isn't a new idea," agreed Tech Crunch, "but this delivery of OpenAI's underlying technology is the closest approximation yet to how that would actually work in a fully fleshed-out system, and it should have Google scared."
What are the downsides?
"While this outlook might make it sound as if generative AI is the 'silver bullet' for pushing our global society forward," said VentureBeat, "it comes with an important footnote: the ethical implications are not yet well defined. This is a severe problem that can inhibit continued growth and expansion."
"People can easily find themselves the target of AI-generated fake videos, explicit content and propaganda," said the news site. "This raises concerns about privacy and consent. There is also a looming possibility that people will be out of work once AI can create content in their style with or without their permission."
According to Axios some see the emerging AI creation tools "as a threat to jobs or a legal minefield (or both)".
A prime example is the recent announcement that Shutterstock, one of the internet's leading stock image companies, was partnering with OpenAI to launch a new tool that would integrate the generative AI DALL-E 2 into its online marketplace.
"The announcement was a huge win for the still-burgeoning AI industry, but was met with shock and outrage by creatives all over the internet, many of whom see generative AI like DALL-E 2 as an existential threat to their livelihoods and the use of their images for machine learning as a form of theft," said Fast Company.
Highlighting these concerns, one anonymous Shutterstock photographer told Artnet News "it's disappointing to know we have so little respect and it's worrying to now be competing with bots for sales."
But others dismiss concerns that generative AI could eventually replace human labour as unnecessarily alarmist.
"I think there are two choices in this world," Shutterstock CEO Paul Hennessy said recently. "Be the blacksmiths that are saying, 'Cars are going to put us out of the horseshoe-making business', or be the technical leaders that bring people, maybe kicking and screaming, into the new world."

Continue reading for free
We hope you're enjoying The Week's refreshingly open-minded journalism.
Subscribed to The Week? Register your account with the same email as your subscription.