The global race for rare-earth minerals
Many nations want to challenge China's mining and processing dominance to power clean-energy technologies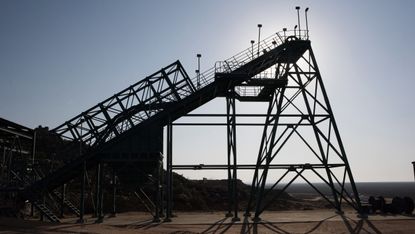 (Image credit: Rodger Bosch/Getty Images)
Congress is due to introduce a bill this week that aims to encourage the domestic production of rare-earth minerals so the US can wean itself away from its reliance on China.
Rare-earth minerals are "going to become more crucial as the drive to adopt clean-energy technology grows", said The Wall Street Journal (WSJ). This is alongside their usefulness in electronics and defence.
China, however, "has a dominant hold on the market", said Brookings. It accounts for 60% of global production and 85% of processing capacity, according to Brink News. Given "growing geopolitical tensions around China and Taiwan", added Brookings, nations across the world are seeking to increase their own production capacity.
Subscribe to The Week
Escape your echo chamber. Get the facts behind the news, plus analysis from multiple perspectives.
SUBSCRIBE & SAVE
Sign up for The Week's Free Newsletters
From our morning news briefing to a weekly Good News Newsletter, get the best of The Week delivered directly to your inbox.
From our morning news briefing to a weekly Good News Newsletter, get the best of The Week delivered directly to your inbox.
Why are rare-earth minerals so important?
Rare-earth minerals "form an integral part of the modern global economy", Brink News said. "Though available abundantly", they're often found in low concentrations and "mixed together with one another or with radioactive elements". This makes mining, separating and purifying them "not only highly labor intensive" but may also "have adverse health effects".
The group of 17 metals is "critical for both human and national security", Brookings added. They are used in a breadth of electronics including computers and smartphones, as well as in renewable energy technologies such as solar panels and batteries. This is alongside national defence uses like jet engines and GPS equipment.
Neodymium, dysprosium and terbium, for example, are used in the "permanent magnets required to drive motors in electric vehicles, offshore wind turbines and increasingly within robotics", said WSJ. Experts suggest "they are going to become more crucial as the drive to adopt clean-energy technology grows".
Indeed, the need for rare-earth minerals is growing. Global demand reached 125,000 tonnes in 2021, and is forecast to reach 315,000 tonnes by 2030, Brookings added. By 2050, the EU estimates demand for lithium will be 57 times greater than today, and "raw materials will soon be as important as oil and gas", according to Politico.
Why do other nations want to challenge China's dominance?
China aims to switch from being the largest producer and refiner of rare-earth minerals and become "the world's major high value-add manufacturer" of clean energy technologies, said Brink News. Countries around the world, however, "have a singular purpose: to loosen China's grip" on the market, said Quartz.
The key reason is that China is threatening an export ban on rare-earth minerals, in response to the US imposing restrictions on semiconductor exports. Such a ban could be "quite damaging", said UnHerd, with the threats "likely to push Western countries to find new sources of supply".
US President Joe Biden is "clearly concerned about supply", said Rana Foroohar in the Financial Times (FT), and his administration "flagged the importance of securing more critical minerals" in a White House supply chain report published in 2021.
Other countries including European states, as well as Japan and Australia, are also engaging in a "huge realignment in trade" by striking several deals, according to Quartz. European and US companies struck an agreement two years ago, while another deal sees ores mined in Canada undergo domestic processing before being shipped to Norway. Japan, meanwhile, has increased investment in Australian company Lynas, "further expanding the Japan-Australia rare earth supply chain".
Can African nations pose a threat to China?
The global race also "opens up a window of opportunity" for African nations given their "rich endowment of key commodities", said Brookings. These countries can take advantage of the race for new sources of rare-earth minerals to "bring in much-needed revenue to finance core socioeconomic objectives and reduce poverty".
But there is currently much work to be done. "Africa's full potential in rare earths is largely untapped given low levels of exploration," added Brookings. Mining exploration budgets in sub-Saharan Africa were the second lowest in the world in 2021 and grew at the slowest rate (12%) versus the likes of Canada (62%), Australia (39%) and the US (37%). The majority of exploration also "continues to be concentrated in gold, rather than rare earths".
To "join strategic global value chains and utilize revenue inflows", African nations should take a number of measures. First, according to Brookings, they should "strengthen tax policy to maximize revenue collection". They should also "leverage the African Continental Free Trade Area to maximise value addition". Finally, they should "use resources strategically to build strong trade partnerships".
By following this guidance, African countries can, "as a bloc", forge partnerships with those seeking to move away from reliance on China and "build more resilient rare earths value chains".

Continue reading for free
We hope you're enjoying The Week's refreshingly open-minded journalism.
Subscribed to The Week? Register your account with the same email as your subscription.