'Throwing money in the bin': the huge cost of food waste
By reducing food wastage you can save cash and help the environment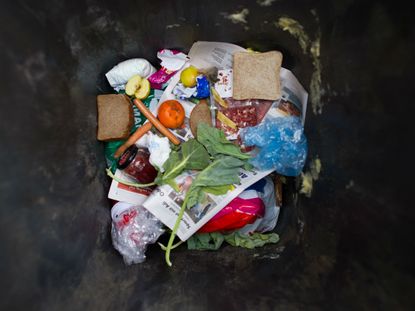 (Image credit: Getty Images)
What is food waste?
Put simply, food waste refers to "any food products that are thrown away as opposed to being consumed", said Mark Hall on BusinessWaste.co.uk. Waste can be split into four categories: by-product food waste, expired products, leftovers, and bakery and packaged food waste.
Britons are "desperately casting around for ways to save money" due to the cost of living crisis, said Zoe Wood in The Guardian. Yet many are "throwing their money in the bin", with the average family chucking away more than £700 of perfectly good food each year.
The value of food waste is difficult to digest. According to food sharing app Olio, the annual value of food wasted globally is $1trn, and weighs 1.3 billion tonnes. "Sadly, it is not an exaggeration to say that food waste is one of the biggest problems facing mankind today."
Subscribe to The Week
Escape your echo chamber. Get the facts behind the news, plus analysis from multiple perspectives.
SUBSCRIBE & SAVE
Sign up for The Week's Free Newsletters
From our morning news briefing to a weekly Good News Newsletter, get the best of The Week delivered directly to your inbox.
From our morning news briefing to a weekly Good News Newsletter, get the best of The Week delivered directly to your inbox.
How much food is wasted in the UK?
A 2015 study of six countries in the European Union found that Britons were the worst offenders for food waste across the continent. And in 2018 the UK produced around 9.5m tonnes of food waste – a 15% reduction from 2007, according to a report by the House of Lords.
"Great progress has been made", but food waste from UK households and businesses is still around 9.5 million tonnes, said the Waste and Resources Action Programme (WRAP). The food wasted has a value of more than £19bn a year and would make the equivalent of more than 15 billion meals – "enough to feed the entire UK population three meals a day for 11 weeks".
During lockdown food waste "fell sharply" as people stuck at home began to "use leftovers, plan meals and freeze food rather than throw it away", The Guardian said. However, once lockdown ended, food waste "rose again".
The UK Government has committed to halving the UK's per capita food waste by 2030.
The environmental impact of food waste
Food production, transportation and rotting waste all cause release of greenhouse gases, The Guardian reported. So by cutting food waste, we "can help the climate".
Globally, 25% to 30% of total food produced is lost or wasted, WRAP said. And the Intergovernmental Panel on Climate Change estimates that food waste contributes 8% to 10% of total man-made greenhouse gases. "If food waste were a country, it would be the world's third largest emitter after China and the USA."
About 6% to 8% of all human-caused greenhouse gas emissions could be reduced if we stop wasting food, the World Wildlife Fund (WWF) said. "In the US alone, the production of lost or wasted food generates the equivalent of 32.6 million cars' worth of greenhouse gas emissions."
What's being done about food waste?
In a bid to stop waste and save money, many people are taking part in "Freegan February", the i news site reported. Participants of the new challenge are aiming to "eat only food that would have otherwise gone to waste – either thrown away by supermarkets or binned by restaurants".
As well as initiatives like Freegan February, there are also a growing number of apps designed to "put a stop to food waste" from restaurants, cafes and bars, i news added. The Too Good To Go app connects customers with outlets to buy and collect food that would otherwise be wasted. Olio connects neighbours with each other and with local businesses so surplus food can be shared, not thrown away.
Chef and TV personality Hugh Fearnley-Whittingstall is "on a mission" to "change the way we think about waste". The River Cottage founder has launched a "war on waste" and is challenging the supermarkets and fast-food industry to drastically reduce the amount of waste they generate.
What types of food are being wasted?
The average UK household throws away £60 worth of food a month, the Love Food Hate Waste campaign said. And every day in the UK 20 million slices of bread, 280 tonnes of poultry, 4.4 million potatoes and much more are wasted, The Guardian reported. Up to 2.7 million carrots are also thrown away each day.
According to Fearnley-Whittingstall, the top five foods being chucked away each year are:
Bread: 240 million slices
Milk: 5.9 million glasses
Potatoes: 5.8 million
Apples: 1.3 million
Cheese
Top tips for reducing food waste and shopping bills
A few simple steps could help reduce the environmental impact of wasting food, the WWF said. Tips include planning ahead and buying only what you need, using your freezer, and being creative with leftovers.
Keeping food out of the bin is "good for our pockets and the planet combined", said Love Food Hate Waste. If you want to make a difference you should plan your shopping and buy just what you are likely to eat, make food last longer by "loving your freezer", and make food go further with easy leftover recipes.
Martin Lewis, founder of MoneySavingExpert.com, said that throwing food away is "the purest waste of money possible – I've been banging on about how to beat it for years". Lewis suggested "five little wins" to save money and reduce wastage.
Get familiar with your fridge and friendly with your freezer
Be "storecupboard savvy" and keep your cupboards and freezer well stocked
Get your portions right
Be crafty with your food with "lovely leftovers"
Planning your meals is one of the "most effective ways you can save on your food bills"

Continue reading for free
We hope you're enjoying The Week's refreshingly open-minded journalism.
Subscribed to The Week? Register your account with the same email as your subscription.