Can Olaf Scholz fill Angela Merkel's shoes?
Social Democrat positioned himself as the outgoing chancellor's 'natural heir'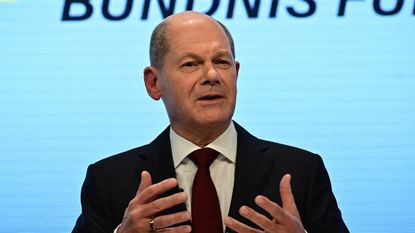 (Image credit: Tobias Schwarz/AFP via Getty Images)
Olaf Scholz has cemented his place as Germany's next chancellor after securing a coalition deal that may herald some of the country's most liberal policies in decades.
Under the slogan "dare more progress", Angela Merkel's former deputy chancellor will lead a governing coalition made up of his social democratic SPD party, the Greens and the liberal FDP. The members of the new government share commitments to "social liberalism" and to "much more public and private investment in a decarbonised and digital economy", said the Financial Times (FT).
The "traffic light coalition", named after the party's red, yellow and green colours, have agreed a platform "ranging from more permissive drugs policy to easier access to citizenship", the paper added. But while Chancellor Scholz is clearly on a mission to "bring winds of change" to Germany, whether he can live up his predecessor's legacy remains to be seen.
Subscribe to The Week
Escape your echo chamber. Get the facts behind the news, plus analysis from multiple perspectives.
SUBSCRIBE & SAVE
Sign up for The Week's Free Newsletters
From our morning news briefing to a weekly Good News Newsletter, get the best of The Week delivered directly to your inbox.
From our morning news briefing to a weekly Good News Newsletter, get the best of The Week delivered directly to your inbox.
'Will to make the country better'
Announcing the formation of the new governing coalition, Scholz told reporters on Wednesday that Germany would act as an international guardian of multilateralism in a "multipolar" world of conflicting powers.
"We are united by our belief in progress and that politics can achieve something good," he said. "We are united by the will to make the country better, to advance it and to hold it together."
The SPD, Greens and FDP "bridge an ideological spectrum that stretches from the pacifist left to the Thatcherite right", said The Times. But the trio are united in their commitment to goals including "'unchaining' public and private investment" and "improving the state's record on digitisation", the paper continued.
The new government has also promised a "new era in social policy" that will create a "paradigm shift" in migration to turn Germany into a "modern country of immigration".
And amid growing global concern about climate change, the parties have pledged to speed up "the shift towards carbon neutrality".
"A commitment to keep Germany on the 'path to 1.5 degrees' (i.e. to limit global warming) is threaded throughout" the coalition agreement, said The Economist. Their "pledge to bring the coal phase-out forward to 2030 from 2038 is welcome though symbolic, as carbon-pricing is already killing the stuff", said the paper.
But "more significant is a planned increase in the share of renewables in Germany's electricity mix to 80% by 2030, up from the current 65% target".
The group's social policies "include increasing the minimum wage to €12", a pledge Scholz said would benefit around 10m Germans, The Guardian reported. A newly founded housing ministry will also "oversee the construction of 400,000 new homes, a quarter of which are to be publicly subsidised to tackle a growing housing crisis".
Out of the shadow
The traffic light coalition "hammered out" their agreement during weeks of "intense negotiations" after the SPD won a slim margin in Germany's national election on 26 September, said The Guardian.
Scholz positioned himself throughout the election campaign as a "natural heir" to Merkel, despite coming from another party, said the FT's Berlin bureau chief Guy Chazan.
With Merkel not running, Scholz "was able to slip into the role of ​​incumbent", Andrea Rommele, professor of communication in politics at Berlin's Hertie School, told the paper.
The virtues "classically attributed to Merkel – pragmatism, sobriety, dependability and a wealth of experience in office – seemed to transfer magically from the chancellor" to her former deputy, Chazan continued.
And he "doggedly targeted the many Germans who had backed Merkel in the past four elections but had no strong allegiance to her Christian Democratic Union". A Scholz aide described them as "Merkel Sozis" – people who "voted CDU/CSU while Merkel was in charge but could [now] contemplate voting SPD or Green".
Merkel's 16 years as chancellor have come to define 21st century Germany. Scholz is also viewed as "a solid member of the political establishment", having served as vice chancellor and finance minister under Merkel, said the BBC. He has been "perceived as a calm and steady hand throughout the ongoing coronavirus crisis", the broadcaster added.
But the challenge he faces now is to persuade voters that his coalition, the first three-way alliance on a national level in German history, will not simply deliver a "same old, same old" agenda.
Scholz is "a pragmatic, unflashy" politician who, like Merkel, "is not usually one for gestures", said The New Statesman's international editor Jeremy Cliffe. But "there were bursts of symbolism" during his announcement of the new coalition.
The big reveal took place "in a converted warehouse at the Westhafen, a port area on Berlin's industrial canal network still marked by cranes and train tracks, and now home to a trendy emerging art scene". The subtext, Cliffe argued, was clear: this new government "is all about the future".
Whether Scholz and his coalition can live up to the hype will depend on whether he is able to deliver concrete policies.
Sounding a note of caution, Politico's chief Europe correspondent Matt Karnitschnig said that "if there's one thing that Merkel's tenure should have taught her successor, it's that in Germany's modern politics, nothing goes according to plan".

Continue reading for free
We hope you're enjoying The Week's refreshingly open-minded journalism.
Subscribed to The Week? Register your account with the same email as your subscription.