How will war with Russia impact Ukraine's Covid-19 battle?
Kyiv facing twin threat of military invasion and rising coronavirus infections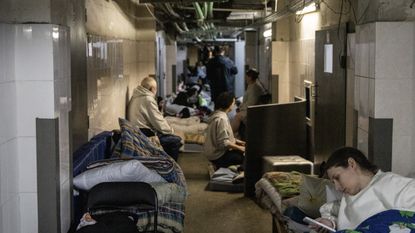 (Image credit: Chris McGrath/Getty Images)
With major cities across Ukraine facing a barrage of Russian missile attacks and troop incursions, another familiar enemy may also be threatening to return.
The World Health Organization (WHO) warned in a briefing on Wednesday that the conflict will make a spike in Covid-19 infections "much more likely" at a time when health services across the besieged country are already stretched.
"Anytime you disrupt society like this, put literally millions of people on the move, an infectious disease will exploit that," said Dr Michael Ryan, executive director of the WHO health emergencies programme. "People are highly susceptible to the impacts of being infected themselves, and it's much more likely that disease will spread."
Subscribe to The Week
Escape your echo chamber. Get the facts behind the news, plus analysis from multiple perspectives.
SUBSCRIBE & SAVE
Sign up for The Week's Free Newsletters
From our morning news briefing to a weekly Good News Newsletter, get the best of The Week delivered directly to your inbox.
From our morning news briefing to a weekly Good News Newsletter, get the best of The Week delivered directly to your inbox.
Old foe
"Most of us could be forgiven for thinking there were glimmers of light at the end of a very long pandemic tunnel," Al Jazeera said. But as Forbes science writer Alex Knapp warned: "History tells us that war is often a handmaiden of disease."
Just as the influenza epidemic in the first half of the 20th century probably originated in troops during World War One, "Russia's invasion of Ukraine comes in the middle of another pandemic", Knapp said. "And while both countries have experienced a decline in cases from winter's peak, the virus is still transmitting at high levels."
This means that "prolonged conflict in the region threatens a humanitarian crisis" not only as a result of bullets and bombs, but also because of a spike in Covid-19.
Ukraine is one of Europe's least vaccinated countries, according to Oxford University tracking, with just 35% of the population having received two doses of a vaccine. Johns Hopkins University data shows more than 5 million cases and almost 112,500 deaths have been reported in the country.
New infections were already "increasing significantly in January-February 2022" and peaked in "early February", Al Jazeera reported. "Since the invasion, cases have dropped but this is most likely due to not testing."
Ukraine's "low levels of vaccination and very low levels of getting booster doses and the social disruption is just a perfect storm for seeing the surge in cases," Dr Wafaa El-Sadr, professor of epidemiology and medicine at Columbia University Mailman School of Public Health, told Yahoo News. "It's quite worrisome."
Concern is also mounting that while "the conflict is likely to lead to another surge", it will be "impossible to track as surveillance systems fall apart", the site reported.
"It will all be lost in the noise," Dr Eric Toner, senior scholar at the Johns Hopkins Center for Health Security, said. "Assuming that the hospitals are able to even track admission data, there's going to be a much bigger influx of people with war injuries than there would be Covid patients."
WHO director-general Tedros Ghebreyesus said yesterday that he has authorised $3.5m (£2.6m) to purchase and deliver medical supplies to Ukraine, telling reporters: "Maximum care must be taken by all parties to ensure that health facilities, workers, patients, transport and supplies are not targeted."
But amid reports of an increasingly aggressive Russian bombardment of major cities, Ukrainian foreign minister Dmytro Kuleba has already tweeted accusations that Moscow is targeting the country's hospitals despite "a still raging pandemic".
Europe's struggle
The government in Kyiv was "struggling to control the Covid-19 pandemic even before Russian troops advanced on the country", Time said. But more so than ever, "Ukraine's Covid-19 problem is everyone's problem".
The outbreak of war means that "not only are spikes in infections inevitable, but there is also the potential for new variants to emerge, which puts the whole world at risk". And "vaccination and mitigation measures" are "impossible" when a country is under siege.
"War is an infectious disease's best friend," Michael Osterholm, director of the Center for Infectious Disease Research and Policy at the University of Minnesota, told the magazine. "It challenges every public health program you can possibly have.
"It limits the medical care available for those who might be seriously ill, and often fosters transmission when so many people are crowded into bomb shelter locations and on trains. This is going to be the perfect storm of one serious challenge after another."
This fear of a Covid explosion in Ukraine is all the more concerning due to the large number of people fleeing into neighbouring European countries. "There is always a concern that they may bring infectious diseases with them," Al Jazeera reported, "aiding the spread of illness through no fault of their own."
"Since the invasion, fleeing people seeking safety have found roads backed up with vehicles and opted instead for public transport," the broadcaster continued. "Social media has been awash with images of large crowds at train stations and on trains.
"But the sad reality is that the combination of large crowds and people rammed into train carriages all breathing the same air is the ideal situation for an airborne virus like Covid to spread."
If the invasion of Ukraine turns into a prolonged battle, the "destruction of healthcare infrastructure will be unavoidable" and "all diseases will be tougher to tackle, including Covid-19", Forbes's Knapp said.
"It is often said that in war there are no winners," Al Jazeera added, "but it is clear that disease and illness stand to benefit from human conflict."

Continue reading for free
We hope you're enjoying The Week's refreshingly open-minded journalism.
Subscribed to The Week? Register your account with the same email as your subscription.