Are Western sanctions working on Russia's growing economy?
IMF forecasts Russian growth but one expert says the West must be patient in bid to deter Putin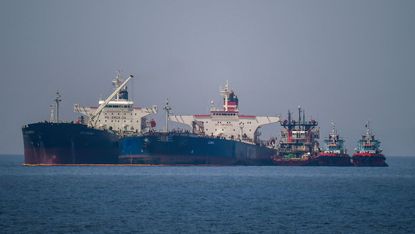 (Image credit: Angelos Tzortzinis/AFP via Getty Images)
Sanctions against Russia might not be having the impact the West had hoped after a forecast by the International Monetary Fund suggested the country's economy is already returning to growth.
According to the IMF, Russian output will expand by 0.3% this year and 2.1% next year, defying earlier predictions and eclipsing the performance of the British economy, which is expected to contract by 0.6% this year.
Reacting to the forecast published yesterday, Santa Zvaigzne-Sproge, head of investment at financial services firm Conotoxia, said: "In terms of sanctions, the immediate impact on Russia's fiscal and military footing seems not as strong as the West had hoped."
Subscribe to The Week
Escape your echo chamber. Get the facts behind the news, plus analysis from multiple perspectives.
SUBSCRIBE & SAVE
Sign up for The Week's Free Newsletters
From our morning news briefing to a weekly Good News Newsletter, get the best of The Week delivered directly to your inbox.
From our morning news briefing to a weekly Good News Newsletter, get the best of The Week delivered directly to your inbox.
What did the papers say?
For many observers, the performance of Russia's economy has been "confounding", said The Washington Post. "The scale of economic firepower directed at Russia since Feb. 24 has been unprecedented for a large country, with the country's banks banned from the Belgium-based SWIFT messaging system used in international transactions and sanctions on its central bank."
Yet Russian president Vladimir Putin recently presented government data that painted "a surprisingly rosy picture" of his country's economy.
According to calculations by the Ministry of Economic Development, Russia's economy shrank by 2.5% in 2022. By contrast, there was a 33% contraction in Ukraine's economy over the same period.
But while most analysts agree that Russia's economy has fared better than expected, Putin's rush to classify most of the country's economic data "has left them with little to go on other than his triumphant statements", said the Financial Times.
Also, information that may look positive on the face of it can hide broader problems. For example, Putin recently said Russia had "preserved stability" on the labour market and hit record low unemployment, below 4%. But he failed to mention how many hundreds of thousands of workers have fled the country since the invasion of Ukraine and the fact that the conscription of 300,000 men qualifies as employed. "This might improve the numbers, but it does little for the health of the labour market," the FT said.
Amid the haze of uncertainty, some statistics do appear to be unqualified good news for Russians. Far from being cut off from global trade, analysts estimate that Russia's imports may have already recovered to pre-war levels, "or will soon do so, depending on their models", The New York Times said.
Sales of goods including mobile phones, washing machines, computer chips and other products have all surged among Russia's neighbours and allies, "suggesting that countries like Turkey, China, Belarus, Kazakhstan and Kyrgyzstan are stepping in to provide Russia with many of the products that Western countries have tried to cut off as punishment for Moscow's invasion of Ukraine", according to the paper.
What next?
One of the problems has been that sanctions imposed on Moscow's exports of oil and gas have so far "done more harm than good", said Reuters.
In the initial aftermath of the invasion, Western allies largely halted their purchase of Russian oil and gas – a move that helped push up energy prices, "giving Putin a bonanza", the news agency said. Indeed, Russia's current account surplus, the broadest measure of trade and investment flows, hit a record high last year, doubling to $227bn (£184bn).
In a bid to address this, some countries are pushing for further restrictions on Russia's oil and gas exports, but "doing so would carry big economic risks", Reuters said, which could "undermine Western willingness to continue its vital military support for Kyiv".
Equally, everyday life in Russia hasn't become as dire as many predicted. McDonald's was quickly replaced with an almost identical local burger chain, while Western luxury goods are still being sold in stores across the country.
"If this is a crisis for Russia – which it is – it's nothing like the turmoil of the early 1990s when the state, society and economy were all collapsing at the same time," Alexander Titov, a Russian emigre and history lecturer at Queen's University Belfast, wrote on The Conversation.
The main problem in assessing the impact of sanctions on Russia is Putin's ability to spread disinformation, said Foreign Affairs. "But make no mistake: [sanctions] are, in fact, hobbling the Russian economy."
Public opinion is now trending against Putin, and "as the dissolution of the Soviet Union demonstrates, once long-suppressed public discontent breaks out into the open, change can happen fast, which is why policymakers must give sanctions time to work", the magazine said. "Expecting immediate results is unrealistic and even counterproductive. Given time, sanctions may well deter Russia's aggressive behavior. Western policymakers… must be patient."

Continue reading for free
We hope you're enjoying The Week's refreshingly open-minded journalism.
Subscribed to The Week? Register your account with the same email as your subscription.