Do economic sanctions actually work?
Western powers rush to slap embargos on Russia following Ukraine invasion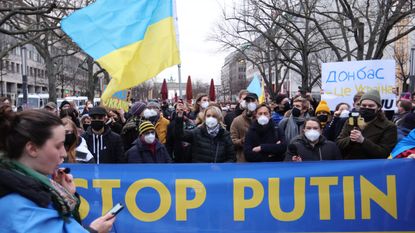 (Image credit: Omer Messinger/Getty Images)
The rouble has fallen in value after world leaders rushed to impose sanctions on Russia following the deployment of troops to two separatist-controlled states in eastern Ukraine.
The US, EU, UK, Australia, Canada and Japan announced plans to "target banks and elites" linked to the Kremlin, Reuters said. German Chancellor Olaf Scholz halted the Nord Stream 2 pipeline project "in one of the worst security crises in Europe in decades".
Boris Johnson "faced a blizzard of criticism from MPs who complained that he was not going far enough", The Guardian said. Others suggested that holding back is part of a strategy in which the threat of more extensive sanctions is being used in an attempt to deter Russian hostility.
Subscribe to The Week
Escape your echo chamber. Get the facts behind the news, plus analysis from multiple perspectives.
SUBSCRIBE & SAVE
Sign up for The Week's Free Newsletters
From our morning news briefing to a weekly Good News Newsletter, get the best of The Week delivered directly to your inbox.
From our morning news briefing to a weekly Good News Newsletter, get the best of The Week delivered directly to your inbox.
But the lack of a response from the Kremlin, as well as concerns that Vladimir Putin has for years been preparing the Russian economy for sanctions, has raised questions about how effective the packages will be.
Do sanctions work?
Russia was hit with sanctions following the 2014 annexation of Crimea. But while "the ruble took a tumble", a "prudent macroeconomic and monetary policy helped the Kremlin to stay afloat", said The Telegraph's Moscow correspondent Nataliya Vasilyeva.
In one of the most comprehensive studies on sanctions to date, academics examined more than 170 case studies spanning a century of economic measures and concluded that sanctions were partially successful only 34% of the time.
But this success rate was heavily influenced by the type of policy change pursued, according to Newsweek. "Where it is modest - the release of a political prisoner, for example - the rate jumps up to half of cases", the news site said. But "regime change or efforts to disrupt a military adventure fare less well."
Among the most notable failures was the US trade and travel embargo on Cuba, which lasted for more than five decades and achieved none of Washington's policy objectives.
"More than a half-century of sanctions have not sparked a popular uprising, forced the Castros and allies from power, moderated the regime, delivered democracy, promoted economic liberalisation, cut regime ties with other communist systems, stopped foreign investment, or achieved much else of note," Forbes reported.
The evidence also suggests that the longer sanctions last, the less likely they are to succeed, according to Colin Rowat, professor of economics at Birmingham University, in an article on The Conversation. "This reflects a fatigue in the countries imposing them", as well as the target state's "growing experience evading the sanctions".
Given that Russia has faced economic penalties since the occupation of Crimea eight years ago, that finding does not suggest the measures will deter Moscow's aggression towards Ukraine. Especially given that the Kremlin has used that time to attempt to and turn its economy into "a fortress to withstand sanctions", the Toronto Star reported.
Are sanctions ever successful?
Yes, at least in part. Experts say targeted sanctions helped to bring Iran to the negotiating table in 2015 and to agree to scale back its nuclear activities.
But The New Yorker said the credible threat of military action was also likely to have been behind the decision. "Israel's sabre rattling and Barack Obama's refusal to rule out a strike on Iran's nuclear reactors must surely have played a role."
In Ukraine, too, sanctions are accompanied by the threat of military action. Nato has spent months plying Ukraine with "lethal aid", while Joe Biden yesterday announced that he was deploying additional forces and equipment to bolster allies Estonia, Latvia and Lithuania. Jens Stoltenberg, the secretary-general of the military alliance, has warned of "a real risk for a new armed conflict in Europe".
But Putin knows that a major Nato military intervention over Ukraine is unlikely, according to Kurt Volker, the former US ambassador to Nato.
"Nato has been extraordinarily clear that we will defend the territory of Nato allies," he told BBC Radio 4's Today programme. "But that pointedly excludes Ukraine and Georgia and Moldova. [Putin] is quite confident that he can get away with this and will go down in Russian history as someone who accumulated the lands and rebuilt a greater Russia."
Many analysts argue that the widespread economic sanctions, boycotts and private divestment imposed on South Africa during the 1980s contributed to the demise of the apartheid regime. But, again, other major factors appear to have been at play.
Lee Jones, author of Societies Under Siege: Exploring How International Economic Sanctions (Do Not) Work, argues that South Africa's economy actually expanded under international sanctions, according to The Washington Post.
"The impact it had was only a modest addition to the pressure that was being brought to bear on the regime by a highly mobilised black-led coalition," Jones told the paper. "That was what ended apartheid in South Africa, not sanctions."
Foreign Secretary Liz Truss has said "nothing is off the table" in the government's response to Putin's aggression in Ukraine, writing in The Times that "should Russia refuse to pull back its troops we can keep turning up the heat, targeting more banks, elites and companies of significance".
An ally of Truss yesterday told The Telegraph that making billionaires in Putin's inner circle "squeal" is part of the foreign secretary's approach to defusing Russia's occupation of Ukrainian territory. "The Kremlin says it doesn't care about sanctions – but that's clearly not the view of Russian oligarchs and businesses," the source said.
The approach is intended to foment opposition to Putin's aggression among his inner circle, which the US and its allies hope could force him to back down over Ukraine.

Continue reading for free
We hope you're enjoying The Week's refreshingly open-minded journalism.
Subscribed to The Week? Register your account with the same email as your subscription.