Ron DeSantis: the 'symbol of Republican success' set to take on Trump
On an otherwise underwhelming night for his party, Florida governor's victory rewrote state's electoral map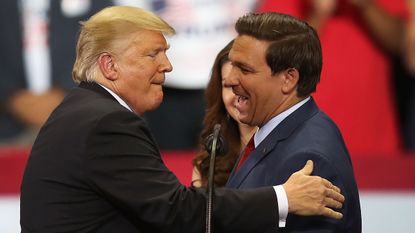 (Image credit: Joe Raedle/Getty Images)
The governor of Florida, Ron DeSantis, has been re-elected by a huge margin fuelling speculation that he will take on Donald Trump in a bid to become the Republican presidential candidate in 2024.
As a crowd of his supporters chanted "two more years!" – a "nod to the possibility he could leave the governor's mansion to pursue a White House bid", according to The Hill – DeSantis said his team had "rewritten the political map".
"While our country flounders due to failed leadership in Washington, Florida is on the right track. Thank you for honouring us for a win for the ages," he said.
Subscribe to The Week
Escape your echo chamber. Get the facts behind the news, plus analysis from multiple perspectives.
SUBSCRIBE & SAVE
Sign up for The Week's Free Newsletters
From our morning news briefing to a weekly Good News Newsletter, get the best of The Week delivered directly to your inbox.
From our morning news briefing to a weekly Good News Newsletter, get the best of The Week delivered directly to your inbox.
The nearly 20% margin over Democrat Charlie Crist was "epic in its scope", said Politico. Not only because DeSantis "took Miami-Dade County – long the firewall for Democrats – but he also won relatively reliable Democratic-leaning counties such as Palm Beach and Osceola". The huge win "positions DeSantis for a potential 2024 presidential campaign", agreed Vox, and "it makes him the symbol of Republican success on a night that was underwhelming for the rest of the GOP".
Ron's rise
Born in 1978 to Italian parents in Jacksonville, Florida, DeSantis spent most of his childhood in Dunedin, on the west coast of the state. Prior to entering politics, he served in the US Navy in Iraq in 2007 and graduated from Yale University and Harvard Law School.
DeSantis represented the state's sixth congressional district in the House of Representatives between 2013 and 2018 but achieved national fame last year after his comments to reporters about big technology companies censoring conservative figures went viral. He told a press conference in February 2021 that "you can whiz on my leg, but don't tell me it's raining" - a phrase now printed on a range of pro-Republican merchandise.
But unlike Trump, the former lawmaker "owes his rise not only to his record of sticking it to the liberal media", but also to "his knack of being vindicated almost whenever he has done so", said The Economist in a profile last year.
The rising political star ran for the Florida governorship back in 2018 with a campaign that was "so sycophantically pro-Trump that he became a figure of fun for the national media", the magazine said. Yet DeSantis stormed to victory after winning the then president's endorsement.
"Instead of becoming the divisive, ineffective governor he was predicted to be", however, DeSantis then "swung amenably to the centre", increasing teachers' salaries, campaigning to protect the Everglades and supporting for the use of medical marijuana.
All the same, his management of the Covid-19 pandemic cost him support, with a group of Florida parents launching a lawsuit against him over his efforts to "prevent schools from introducing mask mandates" when children returned to the classroom in September 2021, The Telegraph reported.
CNN senior political commentator David Axelrod suggested that a standard governor "would recognise the threat and think it your duty to work day and night to ensure that every single resident who is eligible gets the vaccinations that can save their lives".
But according to Axelrod, DeSantis instead saw an "opportunity" to appeal to "the noisy right" that have backed his "showy defiance" over anti-Covid measures such as "resisting shutdowns, mask mandates and other public health measures".
His management of the pandemic "cost him much of his non-Republican support", said The Economist. But DeSantis "did a better job of protecting care homes than several of his media-beloved Democratic counterparts", and "it must be acknowledged that, again bucking his critics, he got most of the big calls right".
Since the pandemic DeSantis has "placed Florida on the vanguard of many of the nation's most polarizing culture war fights", added Politico. During his first term, DeSantis loudly opposed critical race theory. Then, more recently, his flight of migrants from Texas to Martha's Vineyard "enraged Democrats", who accused the Florida governor of "human trafficking and using vulnerable migrants to further his political agenda", the website added.
A proven winner?
DeSantis "has in recent months established himself as a darling of the conservative movement", said The Hill, with many in the Republican party "ready to move on from former President Trump and citing the Florida governor as their preferred alternative".
In his victory this week, he has has turned "what was once a swing state" red, said Vox, winning over formerly Democratic counties, such as Palm Beach and Miami-Dade. DeSantis "built on Republican gains among Hispanic voters in Florida in 2020, including among Cuban Americans and Venezuelan Americans in metro Miami, and Puerto Ricans in metro Orlando", the website added.
Now DeSantis will be able to "sell himself as the Republican who overperformed amid general underperformance", said The New York Times's Ross Douthat, and "the only Republican who fully exploited the openings the Biden Democrats gave the GOP". Perhaps crucially he may be able to sell himself too as "the Republican who actually achieved the kind of realigning victory that Trumpism's theoreticians kept promising was just around the corner".
Perhaps the biggest divide between the two is that DeSantis is "an astute politician" who is "plainly intelligent" and boasts a "string of unheralded successes" based on a "more efficient style of Trumpism", said The Economist.
Describing DeSantis as "a national star", Nigel Farage in The Telegraph predicts "an epic battle between two big figures with similar policies but very different personalities".
Tension between the possible 2024 rivals is already rising. DeSantis's sweeping victory came hours after Trump "appeared to threaten the Republican governor", said the Financial Times, "warning that the Florida governor could 'hurt himself very badly' if he entered the race".
"I would tell you things about him that won't be very flattering," Trump said of DeSantis. "I know more about him than anybody, other than, perhaps, his wife."

Continue reading for free
We hope you're enjoying The Week's refreshingly open-minded journalism.
Subscribed to The Week? Register your account with the same email as your subscription.