What will Brexit mean for Ireland?
Boris Johnson in Dublin for talks with Taoiseach Leo Varadkar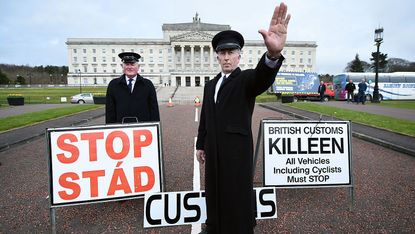 (Image credit: 2017 Getty Images)
Boris Johnson has told his Irish counterpart that a no-deal Brexit would be "a failure of statecraft for which we would all be responsible".
The prime minister is in Dublin for his first face-to-face meeting with Taoiseach Leo Varadkar since taking over at No. 10 in July, reports the BBC.
Varadkar told Johnson that "the stakes are high, avoiding a return to a hard border is the priority of this government".
Subscribe to The Week
Escape your echo chamber. Get the facts behind the news, plus analysis from multiple perspectives.
SUBSCRIBE & SAVE
Sign up for The Week's Free Newsletters
From our morning news briefing to a weekly Good News Newsletter, get the best of The Week delivered directly to your inbox.
From our morning news briefing to a weekly Good News Newsletter, get the best of The Week delivered directly to your inbox.
"The Good Friday Agreement is the best example to show that old foes can come together and as co-guarantors of that agreement," the Irish leader added.
Johnson is insisting that he still believes a Brexit deal can be agreed before an EU summit in mid-October.
But Varadkar said that there was no such thing as a "clean break" and that "no backstop is no deal for us".
What Ireland wants
Varadkar has always said his strong preference is for the EU to reach a Brexit deal with the UK.
But he has emphasised that he will only accept a deal which guarantees there will be no hard border between Northern Ireland and the Republic of Ireland.
"We don't wish to see a no-deal Brexit and we will continue our efforts to avoid one, but not at any cost," Varadkar said last week.
"I see no upsides to no deal," he added.
The Irish government's main objectives are to protect the 1998 Good Friday Agreement and to secure the integrity of the single market and the customs union, as The New York Times notes.
They are the foundations "on which Ireland's economic model, our jobs and prosperity have been based for many decades now", said the Varadkar.
Meanwhile, Sinn Fein, Ireland's largest nationalist party, has made repeated calls for a referendum on Irish unification since the Brexit result.
What Northern Ireland wants
Northern Ireland voted 56% Remain in the 2016 EU Referendum, with the majority of people desperate to avoid a return to the sectarian violence of the Troubles.
But following the breakdown of power-sharing in January 2017, there is currently no Northern Ireland Executive - and as a result, no unified voice for the region in Brexit discussions.
The Democratic Unionist Party (DUP) - which has a confidence and supply arrangement with the Conservatives in Westminster - is firmly pro-union and will reject any special status that puts Northern Ireland on different rules from the rest of the UK.
DUP leader Arlene Foster has said that that her party "will not accept any form of regulatory divergence which separates Northern Ireland economically or politically from the rest of the United Kingdom".
Meanwhile, Sinn Fein has proposed granting Northern Ireland special status so that "the whole island of Ireland remains within the EU together".
Amid rising tensions, Deputy Chief Constable Stephen Martin of the Northern Ireland Police Service (PSNI) has warned that Northern Ireland is sliding back towards violence not seen since the 1998 agreement was signed, says Business Insider.
What might happen
Johnson has expressed his desire to get a Brexit deal done at the EU summit scheduled to take place two weeks before the UK is due to quit the bloc.
Last month, the PM urged Ireland and the EU to show "common sense" and agree to scrap the backstop, which he claims would "keep us locked in EU regulatory orbit, locked in the EU trading system, unable to control our own laws".
But senior EU leaders Donald Tusk, Michel Barnier and Jean-Claude Juncker have all said they will not agree to a deal without a backstop.
Varadkar has also rejected the plan, saying: "What people are saying is 'give up the backstop', which we know will work legally and operationally, in return for something that doesn't yet exist but might exist in the future.
"I can't do that to the border communities."
Without a major reversal from either the UK or EU and Ireland - or an as yet undesigned technical solution to the border issue - a no-deal Brexit would mean a return to a hard border, a likely return to violence, and potential Irish unification.
Will they ever unite?
Brexit makes Irish unity a "more imminent reality" than ever before, Sinn Fein leader Mary Lou McDonald told Sky News last year.
An Irish Times/Ipsos Mori poll in March found that 49% of Irish respondents though there should be a referendum on Irish unity, and 62% would vote in favour.
Under the terms of the Good Friday Agreement, the UK government is legally obliged to hold a referendum on Irish reunification if polls show support for the move.
And "ministers have acknowledged that Northern Ireland, if it backed reunification, would be able to rejoin the EU as part of a united Ireland with the Republic", according to The Independent.
A report by the Irish parliament released in August 2017 said that a referendum on a united Ireland was "inevitable" following the Brexit vote.
More recently, a poll commissioned by activist group Our Future Our Choice last year found that 52% of Northern Irish people surveyed would back a united Ireland after Brexit, with just 39% wanting Northern Ireland to stay in the UK, says the BBC.

Continue reading for free
We hope you're enjoying The Week's refreshingly open-minded journalism.
Subscribed to The Week? Register your account with the same email as your subscription.