IMF: Information sharing plan as Panama Papers fallout continues
Christine Lagarde warns stamping out 'toxic' global culture of tax avoidance will take years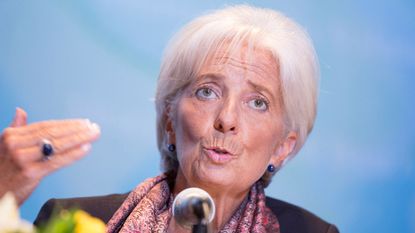 (Image credit: Stephen Jaffe/IMF via Getty Images)
Sign up to our 10 Things You Need to Know Today newsletter
A free daily digest of the biggest news stories of the day - and the best features from our website
Thank you for signing up to TheWeek. You will receive a verification email shortly.
There was a problem. Please refresh the page and try again.
Christine Lagarde, the head of the International Monetary Fund (IMF), says stamping out the "toxic" global culture of tax avoidance will take years.
In the light of the Panama Papers, the leak of 11.5 million secret documents from law firm Mossack Fonseca, which offer an insight into the scale of offshore tax evasion, the IMF and other organisations are keen to clamp down on tax avoidance.
The monetary fund is readying a new scheme to share financial information internationally to facilitate tax collection, but Lagarde insisted today it was important not to go too far in demanding compliance.
Subscribe to The Week
Escape your echo chamber. Get the facts behind the news, plus analysis from multiple perspectives.
SUBSCRIBE & SAVE
Sign up for The Week's Free Newsletters
From our morning news briefing to a weekly Good News Newsletter, get the best of The Week delivered directly to your inbox.
From our morning news briefing to a weekly Good News Newsletter, get the best of The Week delivered directly to your inbox.
She said countries had to "curb avoidance but also be competitive" and added: "More thinking needs to be done to not limit competition but make sure that it is open, respecting the principle of fair tax."
The IMF chief warned the work will be slow, says the Daily Telegraph, and that a comprehensive global agreement on how multinational corporations should be taxed would "take a long time to negotiate".
Tomorrow, the IMF will announce the information sharing scheme, developed with the United Nations, the Organisation for Economic Co-operation and Development and the World Bank. Lagarde said the system would help governments clamp down on tax avoidance by sharing loopholes and information on companies' activities.
She said it would also help authorities "think together about how to improve the rules of the game" and said tax avoidance was a "major concern".
However, Lagarde rejected the idea that corporations should pay a global tax based on their total earnings in all nations, which would then be distributed among world economies. She said it would be too difficult to implement.
The idea has been proposed by Nobel Prize-winning economist Joseph Stiglitz, among others, but Lagarde said it would take too long to agree because it would touch on issues of national sovereignty.
She also warned that such a global tax could easily be avoided by companies because a lot of income is "passed through" corporations, making it hard to tax.
Panama Papers: EU's largest economies agree tax crackdown
15 April
Britain and its European allies have unveiled new measures to crackdown on tax avoidance in response to the Panama Papers leak.
Law enforcement agencies in the UK, Germany, France, Italy and Spain will share information on the secret owners of shell companies and overseas trusts under the new deal.
Speaking at the spring meeting of the International Monetary Fund in Washington, George Osborne said it would make it harder for businesses and wealthy individuals to avoid paying the correct taxes.
The Chancellor described the deal, which will come into effect in January 2017, as a "hammer blow" against people who hide illegal tax evasion "in the dark corners of the financial system".
"Strong words of condemnation are not enough; populist outrage doesn't by itself collect a single extra pound or dollar in tax or put a single criminal in jail," he said.
"What we need is international action now, and that's precisely what we are doing today with real concrete action in the war against tax evasion."
Osborne added that he hoped that other G20 countries would follow suit and agree to a similar deal. But "some might see any such extension as unlikely", says the BBC's Kamal Ahmed.
The deal comes nearly two weeks after the largest data leak in history revealed the extent of tax havens used by the wealthy and powerful around the world.
A number of high-profile individuals were named in the Panama Papers, including David Cameron's father, Ian. While there was no suggestion that he did anything illegal, the revelation – and subsequent denials – proved highly embarrassing for the Prime Minister.
"The exchange is unlikely to placate critics who say that not enough has been done to crack down on global tax avoidance and tax evasion," says Ahmed.
Panama Papers: MPs up in arms over idea of publishing tax returns
12 April
The fallout from the Panama Papers leak continues as yesterday, both London Mayor Boris Johnson and Chancellor George Osborne joined David Cameron and Jeremy Corbyn in publishing their tax affairs.
However, the Labour leader's suggestion that all politicians and journalists should be forced to follow suit has proved controversial. Some MPs believe it to be fundamentally unfair while others say it would lower the calibre of politicians in the UK.
One long-serving Tory MP said the idea would put many off from entering politics and turn it into a "minority sport for pygmies", says the Financial Times. Fellow party member Alan Duncan said there was a risk of a House of Commons "stuffed full of low achievers".
An unidentified Labour MP suggested to the FT that a scandal about MPs' tax affairs could have an impact on the upcoming referendum on EU membership.
"We are at the start of another expenses scandal. If they make every MP publish their tax receipts there will be some horrors in there… and if it comes out just before the EU referendum then the consequences would be very serious," said the politician.
The Prime Minister has already faced criticism for his handling of the revelation about his father's offshore fund, details of which were disclosed by the Mossack Fonseca leak.
Now one Conservative MP has told the FT that Cameron's decision to publish his tax affairs was a "knee-jerk reaction, like everything he does".
Some MPs support Corbyn's idea, however. Labour's Carolyn Flint has backed the idea of copying Norway, where everybody's tax return is available online. Conservative MP Jacob Rees-Mogg has said it may be necessary to take steps to restore public trust in politicians.
But The Independent's political editor, Oliver Wright, argues the plan is a bad idea. While there is a case to be made for a law disclosing incomes to apply to the whole UK, in the Norwegian style, the idea of it applying only to MPs is "profoundly wrong", he says.
The idea would be "one step closer to mob rule", says Wright, with politicians "bullied to reveal the tax they pay by those who will never have to do the same".
Panama Papers: David Cameron to face MPs after releasing tax records
11 April
David Cameron will face MPs for the first time since publishing details of his tax returns after the revelations of his late father Ian's use of offshore funds.
He is expected to announce the establishment of a new taskforce to investigate allegations of tax-dodging and money laundering in the wake of the Panama Papers leak.
Cameron's accounts showed that after the death of his father, he received a £200,000 gift from his mother which, under current tax rules, could see him avoid paying inheritance tax of up to £80,000 if she lives for another two years.
The approach is "commonly used by tens of thousands of families" every year to help reduce their tax liabilities, says the Daily Telegraph – but a Downing Street source speaking to the paper was unable to say whether any of this money came from Ian Cameron's offshore investments.
Six years of accounts
In an attempt to draw a line under what was "one of the most difficult" weeks of his premiership, says the Telegraph, Downing Street released six years' worth of Cameron's accounts on Saturday, an unprecedented move by a British prime minister.
The disclosure will "transform British politics" and establish "a precedent that will force every future party leader to come clean about their private finances," said the Sunday Times.
However, the "extraordinary move seems set to plunge David Cameron into further controversy", the paper adds, with questions being asked about the payments to help him avoid inheritance duties.
The Telegraph says the details show "that his approach to his finances is not dissimilar to many other middle-class families".
Jeremy Corbyn
Speaking on the BBC's Andrew Marr Show yesterday, Labour leader Jeremy Corbyn suggested that everyone involved in public life, including MPs and journalists, should be made to publish their tax returns and called for Cameron to be questioned by parliament's sleaze watchdog.
In his first major intervention in the Panama tax row, Corbyn said the Prime Minister's disclosure of his income and the tax he paid over the past five years "simply raised more questions than it answered".
He added: "We need to know what he's actually returned. Why he put this money in overseas trusts in the first place and whether he made any money on it before 2010."
Panama Papers: Cameron admits he profited from father's offshore trust
08 April
David Cameron has admitted to having held shares in the Panamanian trust set up by his late father.
The Prime Minister told ITV News that he and his wife, Samantha, sold their stake in Blairmore Investment Trust for around £30,000 in 2010, shortly before he took office.
He admitted that they had made a profit, but "insisted the money was subjected to UK tax rules", says ITV.
However, he was unsure whether the £300,000 he inherited from his father had benefited from tax haven status.
"I obviously can't point to the source of every bit of money and dad's not around for me to ask the questions now," he said.
Calling the statement an "extraordinary" admission, Labour's deputy leader, Tom Watson, said: "David Cameron, who described the use of complex tax avoidance schemes as 'morally wrong', has been forced to admit that he held shares in a fund now linked to tax avoidance."
While there is no suggestion the Prime Minister has acted illegally, the admission does put him in an awkward position, says BBC political correspondent Iain Watson.
"It would be 'politically embarrassing' for Mr Cameron to be associated with a company which did not pay tax in the UK at a time when he was trying to encourage overseas territories to be more transparent about tax and was trying to clamp down on tax havens," he says.
It took five days and five different statements for Cameron to admit to benefitting from the shares, a situation the Daily Telegraph describes as a "public relations disaster"
That it happened just when he wants the entire nation to trust his judgement on the EU referendum is "almost the worst possible timing", says Faisal Islam, the political editor for Sky News.
"Against a backdrop of a split party, a sluggishly handled steel crisis, and Budget U-turns, Mr Cameron faces a crucial few days to re-establish his authority," he adds.
"He may well feel the consequences of this week in the days after the EU referendum."
Panama Papers: Kubrick and Cowell's offshore firms revealed
07 April
Prime Minister David Cameron yesterday scrambled to contain the damage done by the revelation his father set up a perfectly legal offshore fund with the help of a Panama law firm - but there are many other famous names in the same boat.
Celebrities ranging from pop impresario Simon Cowell to the late film director Stanley Kubrick make an appearance in the 11.5 million documents leaked from Mossack Fonseca.
While there is no suggestion that any of the people mentioned in the files have done anything illegal, some may be embarrassed to find themselves listed as using offshore companies to legally avoid paying tax in the UK.
The documents were leaked a year ago to German daily the Suddeutsche Zeitung, which realised it would need help to comb through the vast hoard of files.
It shared the documents with 100 partner organisations, including The Guardian and the BBC in the UK.
Here are some of the famous names picked out by The Guardian:
Simon Cowell
The music tycoon and TV talent show judge is worth about £325m, according to the Sunday Times rich list, and has said he is "proud" to pay tax all over the world.
The files show he is the sole shareholder of two British Virgin Islands (BVI) companies. His spokesman told the paper they were set up by accountants for a building project but were "never used for anything at all" because Cowell preferred to buy land in his own name.
Stanley Kubrick
The US-born film director, feted for 2001: A Space Odyssey, spent the latter half of his life living in a large 18th-century mansion in Hertfordshire. According to the Guardian, when Kubrick died in 1999, the property was transferred to three offshore companies registered in BVI and controlled by his three daughters.
The paper says the transfer "could have saved the family hundreds of thousands of pounds in inheritance tax", but makes it clear the leaked Mossack Fonseca files do not say whether this happened. They do show, however, a "complex network of companies used by the family to own assets, including the profits from some of Kubrick's films".
Sarah, Duchess of York
The Guardian says the Mossack Fonseca files relating to Sarah Ferguson reveal just how complex offshore investment can be, with separate divisions of the law firm writing legal letters to each other trying to understand how Essar Company Inc, a BVI firm set up for the Duchess in 2000, was structured. The files reveal "a degree of chaos", says the paper.
A spokesman for the Duchess, known to the tabloids as Fergie during her marriage to Prince Andrew and afterwards, said the company had been set up to develop business opportunities thought to include her children's book series. "Had any of the intellectual property generated income or gains or other profits, it would have been disclosed by the Duchess as part of her normal tax filings," he said.
Pedro Almodovar
Spanish director Pedro Almodovar cancelled a press conference to discuss his latest film, Julieta, this week after scrutiny of his financial arrangements. The Guardian says he was "connected" to a company called the Glen Valley Corporation, which operated from 1991 to 1994, with Mossack Fonseca employees as directors.
Almodovar's brother, Agustin, who was also involved in Glen Valley, apologised to the press for the "damage my brother's public image is suffering, caused only by my lack of experience in the first few years of our family business" and insisted they were both "up-to-date with all of our tax obligations".
Continue reading for free
We hope you're enjoying The Week's refreshingly open-minded journalism.
Subscribed to The Week? Register your account with the same email as your subscription.
Sign up to our 10 Things You Need to Know Today newsletter
A free daily digest of the biggest news stories of the day - and the best features from our website