IMF: Information sharing plan as Panama Papers fallout continues
Christine Lagarde warns stamping out 'toxic' global culture of tax avoidance will take years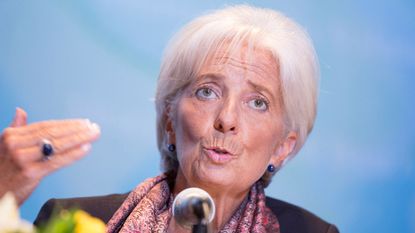 (Image credit: Stephen Jaffe/IMF via Getty Images)
Sign up to our 10 Things You Need to Know Today newsletter
A free daily digest of the biggest news stories of the day - and the best features from our website
Thank you for signing up to TheWeek. You will receive a verification email shortly.
There was a problem. Please refresh the page and try again.
Panama Papers: Cameron 'dangerously exposed' by father's offshore fund
06 April
David Cameron is under continuing pressure to explain his family's relationship to offshore tax avoidance, despite issuing three separate denials yesterday.
Subscribe to The Week
Escape your echo chamber. Get the facts behind the news, plus analysis from multiple perspectives.
SUBSCRIBE & SAVE
Sign up for The Week's Free Newsletters
From our morning news briefing to a weekly Good News Newsletter, get the best of The Week delivered directly to your inbox.
From our morning news briefing to a weekly Good News Newsletter, get the best of The Week delivered directly to your inbox.
The Panama Papers financial records leak at the weekend named the Prime Minister's late father, Ian, as having set up an offshore fund, Blairmore Holdings, with the assistance of law firm Mossack Fonseca.
While perfectly legal in Panama, the company paid no tax in the UK - an embarrassing situation for the Prime Minister, who has repeatedly pledged to crack down on the use of offshore tax havens.
Cameron has now issued three statements on his financial affairs. The first said they were private; the second that he does not have any offshore funds, and the third added that his wife, Samantha, and children "do not benefit" from any such funds.
But there is a problem – the answers were all written in the present tense. "By framing the entire answer in the present tense, Downing Street failed to kill off speculation", says the Daily Telegraph.
"Mr Cameron… may have avoided reference to the past because he inherited £300,000 from his father's estate after he died in September 2010," the paper continues.
It adds that Ian Cameron's wealth, "built at least partly on his offshore holdings, also helped pay for Mr Cameron's Eton education" and that "a senior Conservative MP" has said the PM should be completely open rather than deploying a "careful choice of phrases".
The Guardian, meanwhile, insists Cameron is still "dangerously exposed" as the "key question" has been left unanswered: will he or his family gain in the future from his father's company.
Chartered accountant Robert Leach told the Telegraph that the wording of Cameron's statement was "highly suspicious", adding: "He merely needs to say that neither I nor anyone in my family have or will benefit from this."
Labour MP Les Streeting said: "Rather than issuing qualified and highly specific statements, David Cameron would be far better off being completely transparent about how he has managed his tax affairs in the past and present."
He added: "There are more questions to answer here."
The Panama Papers have already hit one senior politician. Icelandic prime minister Sigmundur David Gunnlaugsson resigned yesterday after it was revealed he and his wife, Anna Sigurlaug Palsdottir, had invested in an offshore fund through Mossack Fonseca.
Panama Papers: Should the UK impose direct rule on tax havens?
05 April
Jeremy Corbyn is leading calls for the government to consider imposing direct rule on overseas territories that do not adhere to UK tax laws.
His proposal comes as the global ramifications from the publication of the Panama Papers continue to rumble on.
The trove of leaked documents revealed the extent of tax havens used around the world, including British overseas territories such as the Cayman Islands and the British Virgin Islands.
"The British Empire has shrunk largely to a number of tax havens - treasure islands, as they are known," Geoffrey Robertson, an international human rights lawyer, told the BBC.
Robertson argues that that Britain is "at the heart of international tax avoidance" by allowing these remnants of the empire to have tax secrecy laws.
Both Labour and the Liberal Democrats have tabled direct rule as a possible solution.
"If the local government is simply going to condone this level of tax avoidance and tax evasion of money that has been made in Britain, then that's something that has to be considered," said Corbyn.
"They're not independent territories," added the Labour leader. "They are self-governing, yes, but they're British Crown dependent territories. Therefore, surely, there has to be an observance of UK tax law in those places."
He added that it could be implemented "very quickly, if that's what the government decides to do".
Former business secretary Vince Cable echoed his view. "We can't send gunboats these days but we can take the small territories under direct rule," said the LibDem politician.
It would not be unprecedented for the UK to impose direct rule over one of its territories, having done so in the Turks and Caicos Islands in 2009, after allegations of systemic corruption.
At the time, the Foreign Office acknowledged it was "a serious constitutional step" but insisted the measures were essential in order to restore good governance and sound financial management.
But former Conservative attorney general Dominic Grieve said imposing direct rule would be "a bit of a nuclear option" and that the autonomy of Britain's overseas territories needed to be respected.
The government, for its part, says the UK is already "ahead of the pack" when it comes to tax transparency.
"There are no safe havens for tax evaders and no one should be in any doubt that the days of hiding money offshore are gone," said HM Revenue and Customs.
Infographic by www.statista.com for TheWeek.co.uk.
Panama Papers: Tories under attack over tax avoidance schemes
05 April
David Cameron is on the back foot this morning after senior figures in the Conservative Party were revealed in the Panama Papers to have used networks of tax havens.
Those with connections to companies linked to offshore law firm Mossack Fonseca include three former Conservative MPs, six members of the House of Lords and several top party donors and financiers "who have supported David Cameron's rise to power", says The Guardian.
The revelations will come as an embarrassment to the Prime Minister, who, along with the Chancellor, George Osborne, has made tackling tax-avoidance a major policy objective.
At the G8 summit in Enniskillen in 2012, Cameron attacked complex offshore tax-avoidance structures as "not fair and not right". He is also due to host an "offshore" conference in London next month to look into the opaque system of tax havens.
But the PM himself has been "dragged into a row about offshore tax avoidance", says The Times, with the revelation that his own father, Ian, ran an offshore fund which avoided paying tax in Britain for more than 30 years by hiring Bahamas residents, including a bishop, to sign paperwork.
The fund "used anonymous 'bearer shares' to shield its clients from public view", the paper says. The Prime Minister banned such types of shares last year, when he called for international action against tax avoidance.
Downing Street has so far refused to comment on whether the Cameron family still has funds in overseas investments, simply saying that it was a "private matter".
But that response has been challenged by critics, who argue a father benefitting from his son's decisions on tax laws amounts to a conflict of interest.
"David Cameron is in a very public position," Richard Murphy, an expert at Tax Research UK, told The Guardian. "Why shouldn't he give an answer to the question? It is right to say he should be making a disclosure about any potential conflicts of interest that might have given rise to on his part and which he might have some influence over."
Opposition parties have accused Cameron of failing to act on promises to reform UK crown dependencies which act as tax havens and have demanded that the government take "real action" against tax avoidance.
"The government needs to stop pussyfooting around on tax dodging," Labour leader Jeremy Corbyn said. "There cannot be one set of tax rules for the wealthy elite and another for the rest of us. This unfairness and abuse must stop."
Campaigners say the leaked documents expose the "gulf" between the Conservatives' "hard-line rhetoric and the much laxer reality", The Independent reports.
The Daily Telegraph says Cameron now faces "some serious questions" over his judgement in the run-up to May's tax summit.
Tax specialist Jolyon Maugham says that Panama has laxer regulations and ethical standards than other tax havens, such as Jersey.
"The fact that these allegations stem from Panama suggests to me that there is criminality involved," he told the Telegraph. "No one in the UK has Panama as their natural choice for a tax haven."
Panama Papers: Mossack Fonseca leak reveals tax tricks of wealthy elite
04 April
The largest data leak in history has revealed the extent of tax havens used by the wealthy and powerful around the world, implicating a number of high-profile people and organisations in allegedly shady dealings.
The leak, from Panama-based law firm Mossack Fonseca, includes a cache of "11.5m documents and 2.6 terabytes of information drawn from Mossack Fonseca's internal database", says The Guardian. The information covers nearly 40 years, from 1977 to the end of 2015.Edward Snowden, who released details of US surveillance techniques, described it as the "biggest leak in the history of data journalism".The files were obtained by Suddeutsche Zeitung and shared to the International Consortium of Investigative Journalists. The German newspaper has declined to reveal where or how it acquired the documents."The 11.5m files expose offshore companies controlled by the prime ministers of Iceland and Pakistan, the king of Saudi Arabia and the children of the President of Azerbaijan," the Australian Financial Review reports. "They include at least 33 people and companies blacklisted by the US government because of evidence that they've done business with Mexican drug lords, terrorist organisations like Hezbollah or rogue nations like North Korea and Iran."
The files also implicate a number of high-profile individuals, including a close associate of Russian President Vladimir Putin, in a range of suspect transactions.Russian concert cellist Sergei Roldugin, who has known Putin since they were teenagers and is godfather to the president's daughter, has "personally made hundreds of millions of dollars in profits from the suspicious deals" through companies such as Sandalwood Continental, says the BBC."Documents show that Sandalwood Continental bought an asset for just $1 and sold it three months later for $133m," it reports. "Sandalwood was also given $800m of loans by a Russian state bank. There is no evidence in the documents of Sandalwood providing security for the loans or making repayments."The leaked data also reveals that David Cameron's late father, Ian, was a client of Mossack Fonseca. "He was accused of using the firm to shield his investment fund, Blairmore Holdings, Inc., from British taxes," says the Daily Mail.
Members of Fifa's ethics committee, which was convened to fight corruption within the sport, are also under investigation. The documents "show links between Juan Pedro Damiani, a Uruguayan lawyer and long-serving member of the ethics committee, and Eugenio Figueredo, a former senior Fifa vice-president recently accused of corruption, are far more extensive than previously known," The Guardian says.
Continue reading for free
We hope you're enjoying The Week's refreshingly open-minded journalism.
Subscribed to The Week? Register your account with the same email as your subscription.
Sign up to our 10 Things You Need to Know Today newsletter
A free daily digest of the biggest news stories of the day - and the best features from our website