The week's best parenting advice: March 23, 2021
COVID antibodies in newborns, how to talk about pandemic weight gain, and more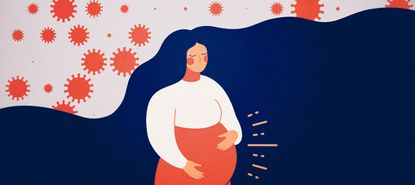 (Image credit: Illustrated | iStock)
1. Antibodies in newborns
Promising new research suggests COVID-19 vaccines given to pregnant women may protect not only the mother-to-be, but her unborn child, as well. Scientists last week reported the first known case of a baby being born with SARS-CoV-2 antibodies following her mother's vaccination. The mother received her first dose of the Moderna shot at 36 weeks pregnant, and gave birth before she could receive her second shot. Antibodies were detected in blood samples taken from the umbilical cord, "thus, there is potential for protection and infection risk reduction from SARS-CoV-2 with maternal vaccination," the researchers write in a preprint study. As with adults, it's not clear how long this immunity will last in newborns, but another preprint study — which has not yet been peer-reviewed — found antibodies in the breastmilk of vaccinated women, "indicating that at least some immunity could be transferred to babies both before and after birth," The Washington Post reports.
Popular Science The Washington Post
2. Talking about pandemic pounds
"As more schools open for in-person learning and some organized sports resume, many children — like adults — are returning to the world after having packed on extra body weight," explains NPR. How can concerned parents address this in a constructive manner? Start by setting a good example, says Suzannah Stivison, a pediatric nurse practitioner. Model good exercise and diet habits, stock the house with healthy foods, and get the whole family on a predictable meal schedule. "It really comes down to the modeling and the opportunity we can control what food comes into the house," she says. As the pandemic recedes and "normal" behavior resumes, Stivison says kids will get back into their healthy behavior. But remember, says Dr. Katja Rowell, a family physician, "it's very normal for bodies to change, pandemic or not."
Subscribe to The Week
Escape your echo chamber. Get the facts behind the news, plus analysis from multiple perspectives.
SUBSCRIBE & SAVE
Sign up for The Week's Free Newsletters
From our morning news briefing to a weekly Good News Newsletter, get the best of The Week delivered directly to your inbox.
From our morning news briefing to a weekly Good News Newsletter, get the best of The Week delivered directly to your inbox.
3. How to do a 'trash audit'
The average American creates almost 5 pounds of trash every day, according to the EPA. One way to teach kids about waste is through a "trash audit," writes Cheryl Maguire at National Geographic. "A trash audit can increase a kid's sense of efficacy in addressing environmental problems," says Susan Clayton, a conservation psychologist. You can do this by examining the contents of one of your trash cans (you'll need a tarp, gloves, and ideally an outdoor space). Put similar products in respective piles, ask your kids to take notes on what accumulates, and observe any patterns. Is there anything that could have been re-used? What can you cut back on? If you don't have the time (or the stomach) for this exercise, instead ask everyone in your family to write down what they throw away for a week, and review the results as a family. "Once kids understand that their trash doesn't just go away, they can feel empowered to make changes in their behavior that will result in real-life consequences," Maguire writes.
4. The power of plants
If you aren't ready for a family pet, but want your child to benefit from learning to nurture a living thing, Meghan Moravcik Walbert at Lifehacker suggests you opt for a plant, instead. "Putting them in charge of caring for another living thing is a great way to teach kids responsibility and empathy," she writes. Plants in particular offer a boost to well-being by reducing stress and improving air quality. But they can also teach kids about problem-solving, and demonstrate that their actions have consequences. For example, if your child over-waters their plant, it's an "opportunity for the family to do a little research" to find a solution, Moravcik Walbert writes. When choosing a plant for your kiddo, it's best to opt for something low-maintenance, like an aloe vera or a snake plant. But if even the hardiest of plant doesn't make it out of your house alive, "you can still use the situation as a chance to regroup, talk about what worked and what didn't — and then try again."
5. A less stressful mealtime
For parents of picky eaters, mealtime can be one of the most stressful parts of the day. The anxiety over making sure your child, who turns their nose up at everything except plain pasta, gets enough variety and nourishment from their diet can be intense. But Big Little Feelings, which specializes in online courses for parents of toddlers, says pleading ("Just take one bite!"), coaxing ("This is delicious, try some!"), and even celebrating ("You ate your broccoli, yay!)" can backfire. "Research shows that high parental involvement during mealtime actually leads to more picky eating," they write. Instead, they suggest you play it cool. Put the plate down, say, "Here you go!" and let them eat — or not eat — what they want. This no pressure environment makes them feel safe and lets them try new foods at their own pace. But you'll want to "serve a 'safe food' with every meal," they say, so don't ditch the pasta just yet.

Continue reading for free
We hope you're enjoying The Week's refreshingly open-minded journalism.
Subscribed to The Week? Register your account with the same email as your subscription.