BBC controversy
By David Cromwell and David Edwards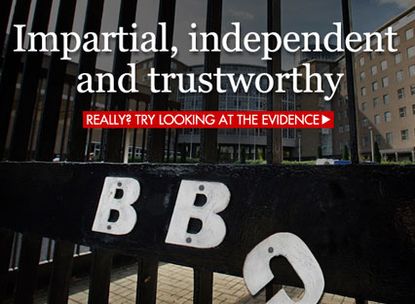 Sign up to our 10 Things You Need to Know Today newsletter
A free daily digest of the biggest news stories of the day - and the best features from our website
Thank you for signing up to TheWeek. You will receive a verification email shortly.
There was a problem. Please refresh the page and try again.
When James Murdoch attacked the BBC in his MacTaggart Lecture last month, saying the state-sponsored broadcaster was a threat to the provision of "independent news", the Guardian's Jonathan Freedland responded:
"The BBC is one of the few British exports to be universally recognised as world class. That's why BBC programmes from The Blue Planet to the Dickens adaptations are snapped up around the globe. They may not be watching Bleak House in Burma or Iran, but they are relying on BBC News for an independent, truthful view of the world."
This is the reflex reaction from friends and employees when the BBC is under fire - that its news is impartial, independent and truthful. But how accurate is the claim?
Subscribe to The Week
Escape your echo chamber. Get the facts behind the news, plus analysis from multiple perspectives.
SUBSCRIBE & SAVE
Sign up for The Week's Free Newsletters
From our morning news briefing to a weekly Good News Newsletter, get the best of The Week delivered directly to your inbox.
From our morning news briefing to a weekly Good News Newsletter, get the best of The Week delivered directly to your inbox.
At the time of the invasion of Iraq, the BBC chairman was a Labour party donor
In 2004, Helen Boaden, the BBC's director of news, told a viewer: "People trust the BBC because they know it is an organisation independent of external influences. We do not take that trust lightly."
And yet the BBC's senior management are appointed by the government of the day. In 2001, Steve Barnett noted in the Observer that "back in 1980, George Howard, the hunting, shooting and fishing aristocratic pal of Home Secretary Willie Whitelaw, was appointed [BBC chairman] because Margaret Thatcher couldn't abide the thought of distinguished Liberal Mark Bonham-Carter being promoted from vice-chairman.
"Then there was Stuart Young, accountant and brother of one of Thatcher's staunchest cabinet allies, who succeeded Howard in 1983."
After Young came Marmaduke Hussey. According to Norman Tebbit, then Tory party chairman, Hussey was appointed in 1986 "to get in there and sort the place out, and in days not months".
The same machinations continue to this day. At the time of the 2003 invasion of Iraq, both the BBC chairman, Gavyn Davies, and his director-general, Greg Dyke, were supporters of, and donors to, the Labour party.
Davies's wife ran Gordon Brown's office; his children served as pageboy and bridesmaid at the Brown wedding. Tony Blair had stayed at Davies's holiday home. "In other words", the former Private Eye editor Richard Ingrams noted, "it would be hard to find a better example of a Tony crony."
The BBC's grand conceit is that it stands neutrally between all contending views. Its journalists will describe the full range of opinions of others, but will never, ever reveal their own.
This even-handedness is said to be firmly established in BBC guidelines, which declare a "commitment to impartiality", requiring that journalists "strive to reflect a wide range of opinion and explore a range and conflict of views so that no significant strand of thought is knowingly unreflected or under represented."
Richard Sambrook, the former BBC director of news, told the Independent before he retired in 2003: "People sometimes ask me what I'm going to do after the BBC. And the answer is that I'm going to have opinions again. They've been repressed for so long. In dinner party conversations, I find it quite hard to have an opinion, because I'm so used to the 'on-the-one-hand, on-the-other' outlook."
The problem is that while BBC journalists may stand neutrally between the range of views presented, the range itself inevitably reflects their value judgements.
Consider an item on the Six O'Clock News of March 20, 2006. The BBC's diplomatic correspondent Bridget Kendall declared solemnly: "There's still bitter disagreement over invading Iraq. Was it justified or a disastrous miscalculation?"
Who could fail to see through the claim that Kendall was not offering an opinion?
The assertion that the alternative to the pro-war justification was to argue that the war was merely a "disastrous miscalculation" offered a deeply personal, and in fact outrageous, view. The anti-war movement has always argued that the war was not just a "miscalculation", but a deliberate and criminal war of aggression. Would Kendall describe the Nazi Holocaust as a "disastrous miscalculation"? Were the 9/11 attacks on America a "misjudgement"?
Many people, including UN Secretary-General Kofi Annan and numerous specialists in international law, are clear that the invasion of Iraq was an "illegal" war of aggression. Many argue, along with the prosecutors at the Nuremberg trials after World War Two, that the launching of a war of aggression is "the supreme international crime, differing only from other war crimes in that it contains within itself the accumulated evil of the whole".
So by what right does the BBC airbrush from reality the swath of informed public opinion that sees the invasion as a crime, rather than as a mistake? By what right does it declare this framing of the topic "impartial", "balanced", "objective" reporting?
While working as the BBC's political editor, Andrew Marr, declared: "When I joined the BBC, my Organs of Opinion were formally removed."
And yet, as Baghdad fell to American tanks, Marr, reporting on the News at Ten on April 9, 2003, said of Tony Blair: "He said that they would be able to take Baghdad without a bloodbath, and that in the end the Iraqis would be celebrating. And on both of those points he has been proved conclusively right. And it would be entirely ungracious, even for his critics, not to acknowledge that tonight he stands as a larger man and a stronger prime minister as a result."
Just this single comment makes a mockery of the BBC's claims to impartiality and freedom from personal bias. What could more obviously have reflected Marr's personal opinion, his personal sympathy for both Blair and the invasion?
Marr has since commented on his role in his 2004 book, My Trade - A Short History of British Journalism: "Gavin Hewitt, John Simpson, Andrew Marr and the rest are employed to be studiously neutral, expressing little emotion and certainly no opinion; millions of people would say that news is the conveying of fact, and nothing more."
Millions of people would be deceived - Marr most conspicuously among them!
It is accepted that Western leaders are portrayed as men and women of peace
Or consider this, by comparison, innocuous example of bias. A BBC website article reported in May 2008: "US President George W Bush has arrived in Israel to take part in celebrations for the country's 60th anniversary. He also hopes to inject some momentum into the current peace talks between Israel and the Palestinians."
How did the BBC know what Bush truly hoped? And, given his record, would it not have been far more reasonable to assert that Bush's claim was bogus?
As American political scientist Norman Finkelstein has noted, the US has consistently opposed a peaceful resolution to the conflict. The US, he points out, has supplied the F-16s and Apache helicopters Israel uses to attack Palestine and at the UN it has vetoed Security Council resolutions calling for international monitors to supervise the reduction of violence.
The BBC could have approached a commentator like Finkelstein for a dissenting challenge to Bush's claim, but that would be unthinkable. It is accepted that Western leaders are to be portrayed as men and women of peace. If the BBC had provided a contrary view, it would have been interpreted as a sign that the BBC was "anti-American".
Critics might argue that these examples are isolated slip-ups. But we would argue they are the norm. Sceptics might also have a case if examples could be cited exaggerating facts and opinions in a way that harmed powerful interests. But when did we ever hear the BBC report in 2002 or early 2003: "Saddam Hussein hopes to inject some momentum into the current peace talks"?
This, after all, is what Saddam Hussein claimed, so why could the claim not be presented at face value? In fact, as we know, Saddam Hussein was very keen to avoid war in 2003 for very good reasons to do with self-preservation. He was the only actual peace-seeker in 2002 - Bush and Blair were determined to go to war. But these are unthinkable conclusions for the Western media, the BBC very much included.
This is an adapted extract from 'Newspeak in the 21st Century' by David Edwards and David Cromwell, published this month by Pluto Press. The two authors are editors of the UK-based website Media Lens.
Continue reading for free
We hope you're enjoying The Week's refreshingly open-minded journalism.
Subscribed to The Week? Register your account with the same email as your subscription.
Sign up to our 10 Things You Need to Know Today newsletter
A free daily digest of the biggest news stories of the day - and the best features from our website