Plot to oust Clegg: Vince Cable still insists: 'I am not a traitor'
Nick Clegg says he's satisfied Business Secretary did not betray him. But why did Cable not tip him off?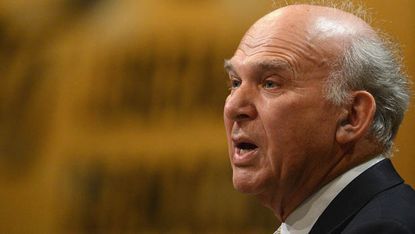 (Image credit: Getty Images)
Nick Clegg went on BBC Radio Sheffield this morning to say that he is satisfied that Vince Cable "clearly didn't know a thing" about a privately commissioned poll showing Clegg might lose his seat in Sheffield Hallam unless he is replaced as party leader.
But is Clegg kidding himself that Cable was not involved in a treacherous plot by Lord Oakeshott to oust him– or does he simply realise he hasn't got the backing within his party to kick out a man who enjoys far more grass-roots support than he does?
However much Cable protests his innocence, it is well-known in Westminster that he harbours a grudge because he was persuaded back in 2007 not to run for the party leadership on grounds of age, letting Clegg and Chris Huhne fight it out between them. And Cable nurses resentment with all the charm and lightness-of–touch you'd get from Gordon Brown.
Subscribe to The Week
Escape your echo chamber. Get the facts behind the news, plus analysis from multiple perspectives.
SUBSCRIBE & SAVE
Sign up for The Week's Free Newsletters
From our morning news briefing to a weekly Good News Newsletter, get the best of The Week delivered directly to your inbox.
From our morning news briefing to a weekly Good News Newsletter, get the best of The Week delivered directly to your inbox.
This new Lib Dem saga all began when the results of private opinion polling were leaked to The Guardian, showing the Lib Dems could lose a string of key seats in the 2015 general election - including Clegg's Sheffield Hallam constituency - unless there was a change of Lib Dem leadership.
Oakeshott was quickly revealed to be the culprit. Forced to resign, he then fingered his pal Cable in his resignation statement, saying the Business Secretary was aware of his private polls in both Cable's Twickenham seat and four other seats including Sheffield Hallam. "Several weeks ago, I told Vince the results of those four polls too," said the Lib Dem peer.
Cable admits to having known about "some" of the private polls but insists he was not aware of those in Sheffield or Inverness (Danny Alexander's seat).
But crucially he didn't tip off Clegg about the ones he did know about. As the BBC's political editor Nick Robinson said this morning on the Today programme, the question is, which is more treacherous – knowing about the polling and not telling Clegg? Or saying he didn't know about the polls if, in fact, he did?
Yesterday, Clegg phoned Cable in Qingdao, the People's Republic of China, where the Business Secretary is (very conveniently) leading a trade mission, to challenge him about Oakeshott's claims that Cable's fingers were in the plotting pie.
Whether or not Clegg was privately convinced of Cable's innocence, he told Radio Sheffield: "He clearly didn't know at all about a poll being conducted in Sheffield" and added that Cable had been "very critical" about the polls having taken place.
The plot to oust Clegg was launched with an open letter signed by more than 200 Lib Dem activists last Thursday. It was timed to put the skids under Clegg before the European election results – which everyone knew would be terrible - came in on Sunday night.
It now appears that the person behind that letter was Naomi Smith, a researcher who gets her Parliamentary pass from Oakeshott.
Lady (Olly) Grender, a Lib Dem peer, party loyalist and former party press officer, tweeted: "Well well well 1st signature Times letter from SLF Naomi Smith who has parliamentary pass courtesy of Oakeshott…"
Grender put in a link to a blog by Charlotte Henry for The Spectator that said: "The register reveals … that Oakeshott has one member of staff, called Naomi Smith. She confirmed to me that she is 'a researcher for him in my spare time'. A senior Lib Dem source told me that it is becoming clear that Smith is 'intimately involved' in running the campaign to oust Nick Clegg, which was launched just before polls closed on Thursday.
"Naomi Smith is well known in Lib Dem circles. She was a parliamentary candidate in 2010, has long been a critic of Nick Clegg's leadership, and is a supporter of Vince Cable as a replacement."
This isn't the first time Vince Cable has been implicated in a very public split between Clegg and those Lib Dems who have regretted power-sharing with the Conservatives since day one.
Last September, during the Lib Dem party conference, Cable pointedly failed to show up for the major debate on the economy. He was in a huff because he had failed to convince Lib Dem MPs that they needed to distance themselves from George Osborne's Tory austerity cuts and was convinced that party activists were on his side.
At the time, Clegg sought to brushed off the slight as a "storm in a teacup".
As The Mole wrote that day: "The activists are afraid that without a change of leader (Cable would be the favourite) they are sleepwalking to disaster."
And guess who else I quoted in that same column? One Naomi Smith, who had just told BBC's Westminster Hour: "We are facing … appalling European election results [May 2014], bad local election results for the fourth year on the trot. If that is what we are facing, we need a change of direction."
Plus ca change.

Continue reading for free
We hope you're enjoying The Week's refreshingly open-minded journalism.
Subscribed to The Week? Register your account with the same email as your subscription.