The pros and cons of grammar schools
Truss tasks ministers with planning new wave of selective establishments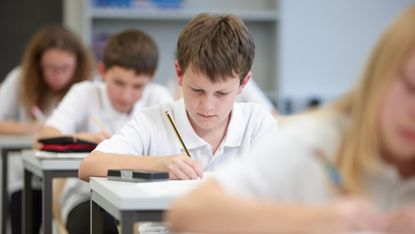 (Image credit: Getty Images)
Liz Truss is planning to end the 24-year ban on new grammars, the schools minister has confirmed.
Jonathan Gullis told the Conservative Party conference: "I would hope that there will be - before the next election - legislation brought forward to lift that ban."
Gullis, a former teacher, had previously led a campaign to remove the restriction, saying "creating new grammar schools would end the 'geographic sweepstake' in education quality".
Subscribe to The Week
Escape your echo chamber. Get the facts behind the news, plus analysis from multiple perspectives.
SUBSCRIBE & SAVE
Sign up for The Week's Free Newsletters
From our morning news briefing to a weekly Good News Newsletter, get the best of The Week delivered directly to your inbox.
From our morning news briefing to a weekly Good News Newsletter, get the best of The Week delivered directly to your inbox.
Kit Malthouse, the new education secretary and Gullis's boss, revealed in September that he had been asked to draw up a blueprint for a new wave of selective schools, which were outlawed under Labour in 1998.
Speaking to The Yorkshire Post, Malthouse said the PM had asked him to look "seriously" at the policy of "looking at areas that want to have" a grammar school "or indeed, that want to expand".
The "divisive issue is back on the agenda", said The Mirror, despite a "string of other issues facing schools battling to help kids catch up after the pandemic".
The new PM spoke of her support for the "controversial prospect of new grammar schools" during the leadership race, reported Schools Week. "I'm a huge supporter of grammar schools," she said in July. "My two daughters now attend a grammar school, and I want people around the country to have the choice that we have to be able to send our daughters to a grammar school."
Her arrival in Downing Street has reignited the debate over grammars, which governments began to phase out in the 1960s amid concerns over inequality. Only around 160 grammar schools remain in the UK due to the legislation that prevents new selective schools from opening.
1. Pro: undermining privilege
Supporters of grammar schools argue that they undermine privilege. Boris Johnson has previously described the decline in selective education as "a real tragedy for this country", and has said they are "a great mobiliser and liberator", helping the "brightest children from poor homes". Proponents argue that they allow bright children, including those from disadvantaged backgrounds, to make the most of their talents.
Gullis, the new schools minister, wrote in The Times in May that the "gap between disadvantaged pupils and their peers at GCSE level is a shocking 23% in mainstream state schools". But this drops to "just 3% in grammar schools".
2. Con: reality of social mobility
Critics of grammar schools say that wealthier children are more likely to receive a place at a grammar school because their parents can pay for tutoring and afford to live in often premium-priced areas, and their existence can actually reduce social mobility. Official figures have shown that the vast majority of grammar schools only admit a tiny proportion of poorer pupils and that on average, "just 2.6% of children in grammars are on free school meals, compared with 14.6% in secondary schools across the country", reported The Guardian in 2017.
Research from the University of Bristol's Centre for Market and Public Organisation found that children growing up in areas that have grammar schools, where some would have gone to a grammar and some to a comprehensive, face much higher earnings inequality later in life than those growing up in areas without grammar schools.
3. Pro: strong exam results
It is argued that grammar schools can deliver good results because teachers can push pupils harder, knowing that only the most able students are in the classroom.
Selective state schools have produced some of the best performances in exam league tables. For instance, the percentage of grammar school pupils achieving a 9-5 pass in English and maths in 2018 was 92.9% compared with 44.1% of non-selective schools.
4. Con: the 11+ is unfair
Proponents of the 11+ entry exam for grammar schools suggest that it is "tutor proof", and therefore a test of a child's true ability to learn. But critics argue that the start of the Covid-19 pandemic in 2020 tested the limits of that argument, with many poorer and state-school children unable to revise for the tests or access materials online, compared to those educated privately.
Zoe Catania, co-founder of Aim, a small charity that helps prepare children from low-income homes prepare for the 11+ test in Kent, told The Guardian that the pandemic had a "massive impact" on how children could prepare for the test. She added that "even the brightest children need familiarisation with parts of the test, particularly verbal and non-verbal reasoning".
5. Pro: successful alumni
Selective education supporters often point to the list of high achievers who were taught at grammar schools, including Mick Jagger, John Lennon, Margaret Thatcher, Anthony Hopkins, David Attenborough and Alan Bennett.
Johnson said the "beneficiaries" of selective education can be seen all over the House of Commons. When he was Tory leader, Michael Howard landed a rare rhetorical punch on Blair when he said: "This grammar-school boy will not take lessons from that public-school boy."
6. Con: rose-tinted nostalgia
Critics say that grammar-school supporters are simply overwhelmed by nostalgia for a golden age of education that never really existed.
In 1965-66, when the number of grammars was at its peak, only 18% of pupils achieved five O-level passes and 6% achieved three A-levels. By the 1980s, only 25% of grammar pupils got five good O-levels and just 10% left with three A-levels.

Continue reading for free
We hope you're enjoying The Week's refreshingly open-minded journalism.
Subscribed to The Week? Register your account with the same email as your subscription.