Mad about Madeira: a 72-hour guide to the best of the Portuguese islands
Brimming with activity, Madeira is by turns rugged, lush and luxurious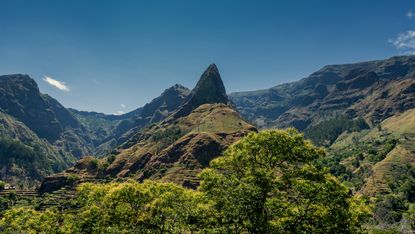 The international press was plastered last March with photos from the Portuguese islands of Madeira. At a renaming ceremony for Funchal Airport, authorities revealed a distinctly unflattering bust of local hero Cristiano Ronaldo, apparently captured at the precise moment he was fighting off a sneeze.
Though Madeira is justly proud of its famous son — visitors now fly in to Cristiano Ronaldo International Airport — the footballer's buckled visage does scant justice to a far more beautiful and intriguing archipelago. There is significantly more to discover and photograph across Madeira's 800-square kilometres than this lump of metal a couple of yards outside the terminal building.
Historically, Madeira's reputation for tourism has relied on an older generation of visitor drawn to its year-round temperate climate. But the islands are also fast developing a reputation for more high-octane adventures. During a recent four-day break, The Week Portfolio was whisked around Madeira's volcanic terrain at high speed, travelling both inland and out to sea, variously on two or four wheels, by boat, foot and rope.
Subscribe to The Week
Escape your echo chamber. Get the facts behind the news, plus analysis from multiple perspectives.
SUBSCRIBE & SAVE
Sign up for The Week's Free Newsletters
From our morning news briefing to a weekly Good News Newsletter, get the best of The Week delivered directly to your inbox.
From our morning news briefing to a weekly Good News Newsletter, get the best of The Week delivered directly to your inbox.
Led by a succession of knowledgeable and passionate guides, Madeira rapidly revealed itself as a location brimming with activity, by turns rugged and lush, where a delicate balance is maintained between respect for the uniqueness of its environment and a keen urge to explore it.
Ocean bound
Madeira comprises a number of islands and islets in an archipelago in the Atlantic Ocean, around 520 kilometres west of the coast of Morocco. (Mainland Portugal is north west; Lisbon is around 950km away.) The vast majority of activity takes place on the central island, named Madeira, where all roads eventually lead to the capital Funchal.
Funchal's commercial marina is often dominated by the huge cruise liners that drift in and out several times per week, stopping sometimes for less than a full day en route to mainland Portugal, the Canary Islands or the Azores. But there's more fun to be had by approaching one of the dinghy-like boats moored beside the personal yachts and heading out for a few hours amid the vast array of marine life submerged around the islands.
Madeira's specific topography provides conditions unlike those found anywhere else in the world. The waters surrounding what is essentially a volcano are far deeper far closer to shore than is common, meaning some 28 species of whale and dolphins — cetaceans — can frequently be seen.
On shore, a small team of expert spotters, armed with binoculars, relay the current location of the mammals to the two-person boat crew, who then set a rapid course towards the creatures.
Crashing over waves and leaping several metres into the air is a thrill in itself, but it's nothing compared with the moment the engine cuts and the first dark smudges begin protruding through the choppy waters.
On our trip, even in overcast conditions, we drifted alongside at least a dozen pilot whales — mothers and calves, gracefully going about their business untroubled by our boat. And then, a short ride away, we found our first pod of dolphins: flashes of silver beneath the water, darting lighting-fast beneath us before emerging in synchronised leaps.
Within about an hour we had seen at least 100, both the common and the bottlenose species. Though our presence seemed only to encourage their gleeful performance — dolphins are surely nature's most reliable show-offs, Cristiano Ronaldo excepted — authorities keep close tabs on the tourist boats from their own lookouts, permitting each only ten minutes with a specific pod before the boat must move on.
Sunshine apparently makes sightings even more plentiful, but so confident were our hosts — the centrally-based Rota des Cetáceos (Tel.: +351 291 280 600) — of passengers seeing at least one group of dolphins or whales that they offer a free second trip should all the creatures remain elusive.
Four wheels
Some 75% of Madeira's approximate 270,000 permanent residents live in the south of the main island, and the ratio holds too for the 1 million or so visitors who arrive throughout the year. Yet much of the archipelago's exceptional beauty is to be found by taking a broadly upward trajectory out of Funchal and into the mountains that cradle it, exploring the primordial forests that still cover vast swathes of the islands.
Before the construction of a highway in the late 20th century, it took more than five hours to navigate the 56 kilometres between Madeira's east and western extremities. These days the motorway not only permits more hasty transit but also draws the traffic away from the mountain roads that cobweb the rest of the island.
A jeep tour offers an effective way to begin explorations of these other tracks, many of which might appear essentially impassable without a driver well-practiced in dropping down the gears and stamping on an accelerator pedal or brake, as applicable, careering around precipitous switchbacks and hairpins. Peel back the roof and you're effectively riding a roller-coaster.
At the highest elevations the terrain can seem moor-like: fierce winds whipping across open pasture, with only a carpet of cloud below. At other parts, and particularly off-road, it is dark and shrouded by forest, where lumberjack skills are also sometimes required. At one point our driver (Mountain Expeditions – Tel.:+351 969 677 679) was forced to leap out of the cab with an axe and hack through a tree that had blown across the road.
Two wheels
Mountain biking in Madeira has become a big deal in the past few years, with the arrival in 2017 of the Enduro World Series underlining its burgeoning reputation. Top bikers, including world champions, have trained, raced and filmed promotional campaigns on the island, while participant numbers in organised races have grown dramatically.
It is easy to see the appeal, even as a purely recreational biker perhaps daunted by the prospect of a juddery, slippery journey over roots, rocks and mud. Several hundred kilometres of well-travelled paths snake across all Madeiran terrains, including through the islands vastly varied forests.
Madeira boasts the largest surviving area of laurel forest — Laurissilva — in the world, inscribed as such on Unesco's World Heritage List, and other parts of the island are covered in non-native (but thriving) eucalyptus and Nordic pines. The sights and smells can evoke the deepest jungles of sub-Saharan Africa and then remote Finland, from one trail corner to the next.
Though the professionals — at least in the enduro class — work in a few uphill slogs, it is essentially possible to make sure your entire journey is gravity-assisted. After establishing the length and difficulty of a desired trip, a driver will drop you, your bike and a guide at the highest point before plotting a generally downward course. Naturally, a few spills are to be expected — mountain bikers wear their scars with pride, even if they are often caked in mud — but the exercise is bracing.
The mountain bikers are also conservationists and work alongside foresters to keep visitor numbers manageable and paths well maintained. Our guides, the excellent Freeride Madeira (Tel.: +351 925 977 046) helped plot the course for the World Series and have been rewarded with a promise of the race's return in 2018.
Levada walks
Much of Madeira's electricity comes from harnessing the elements, and the intention eventually is for the island to be self-sustaining through wind, solar and water power. It is also already largely irrigated thanks to a unique system of water channels — known as "levadas" — which owe their existence to the farmers of the 16th century. As they cultivated the drier southern regions for their crops, the farmers dug long, narrow channels along the contours of the mountains, with water flowing consistently from the wetter, higher ground.
As a happy by-product of this industry, more than 2,000 kilometres of footpaths now exist in Madeira alongside these man-made mountain streams. They provide a route around all regions of the islands, burrowing into the dense woodland, skirting some sheer mountain drops and guiding hikers to some spectacular viewpoints over magnificent valleys or summits.
Hundreds of options exist for trekkers of all enthusiasm and abilities, with guides on hand to talk you through the flora and fauna, keep you to the correct path, and, most usefully, to arrange a pick-up at your chosen end-point so as not to require a double-back.
We took the Vereda dos Balcões walk in the east of the island, an easy stroll along a mostly flat path with only a few steps to navigate towards the end. Although it was easily completed in less than an hour, the walk afforded some exceptional views both inside and over the rich green forest canopy, as well as an insight into the extraordinary rural life of native Madeirans.
Their tiny farmhouses cling to the mountain sides, alongside vegetable plots at seemingly impossible angles. The combination of mineral-rich volcanic soil, plentiful water and sunshine permits hundreds of crops to thrive year-round. (Strawberries in winter, anyone?) All are harvested by hand; no machinery can operate on plots at near 90-degree angles.
Canyoning
For those areas of Madeira that remain unreachable even by bike, jeep, foot or boat only one option remains: canyoning — otherwise known as squeezing into a wetsuit, donning a helmet and placing your life in the hands of a couple of confident guides and some ropes.
At its most basic level, canyoning involves following a watercourse for a couple of kilometres as it makes its way out of the mountains. In reality, this means abseiling down waterfalls or plunging into icy, freshwater pools, else swimming or wading through the rocky streams with only your team-mates and occasional swooping birds for company.
It is, in a word, exhilarating. "The most difficult bit is getting into the wetsuit," our grinning guide said, but though that certainly posed its own challenge, it's impossible not to feel trepidation as you lower yourself over the peak of a 15-metre drop, thunderous white water spilling alongside.
Our "very easy" level course in Ribeiro Frio (led by Adventure Kingdom Tel.: +351 968 101 870) comprised six waterfalls and three or four jumps (the guides know the course precisely and make conditions-dependent judgments) and also offered a couple of contingencies if uncertainty sets in among the adventurers. None of our party had canyoned before, but all insisted while defrosting over lunch afterwards that we would be back, seeking perhaps some of the 30 metre plus waterfalls over which to disappear. Adrenaline is a powerful drug.
As with all of the excursions, guides will usually come to your hotel to pick you up and loan you all the equipment you require. They can also tailor routes to any level of expertise, with plenty of apparent flexibility to amend plans.
Eating out
Adega da Quinta, Camara de Lobos
Nestled amid vineyards facing over the Atlantic Ocean at the island's south. A fine place to sample Madeira's "Espeteda": a skewer of delicately grilled beef, rubbed in garlic, is suspended above the table, from which diners then slide each chunk of meat on to their own plates. Traditionally, the skewer is made from the island's indigenous laurel wood. Also has a tasting room for a wide range of Madeiran wines, including the smoky 80-year-old negra mole.
Santa Maria Restaurant, Funchal
Located in a former elementary school-house in Funchal's Old Town, Santa Maria boasts a wide menu of classic Madeiran dishes alongside Italian cuisine and fine sushi. In addition to the handful of tables on the street at the front, the former playground is now an attractive outdoor dining space, with adjoining cocktail bar. You can watch as the bartender whips up any number of noxious brews sweetened by Madeira's sumptuous passion fruit.
Abrigo do Pastor, Camacha
Expect enormous portions of meat-heavy rustic fare in a hunter's-cabin style restaurant, peered over by the mounted heads of various spectacular beasts (only a few of which are found on the island). Ideally located close to the start of many mountain biking, hiking and canyoning trails, the food is on a scale to adequately replace all the calories burnt off.
Restaurant DC Atelier, Nini Design Centre, Funchal
Upscale modern restaurant attached to the chic Nini Andrade Silva museum, designed by the eponymous Madeiran artist. Spectacularly situated on a long pier out into Funchal's harbour (reportedly formerly the home of João Gonçalves Zarco, the 15th-century explorer who colonised Madeira) the dining room affords a splendid view back over the city and up into the surrounding mountains, as well as on the decks of whichever cruise liner is docked in port.
Quinta do Furão, Santana
Feast on a wide menu of traditional dishes while peering out over the cliffs of Madeira's north-eastern coast. The restaurant, set in its own vegetable garden and vinyard, has a long terrace a matter of metres from the drop down to the ocean, and some of the best views in this part of the island. There's also an open fire in a separate seating area downstairs and a bar stocked with hundreds of local wines.
Where to stay
The Vine Hotel, Funchal
Recently recognised as Europe's Leading Design Hotel, the spectacular Vine Hotel offers great views, a Wine Therapy Spa, a state-of-the-art fitness centre and a rooftop infinity pool.
For more visit Discover Madeira

Continue reading for free
We hope you're enjoying The Week's refreshingly open-minded journalism.
Subscribed to The Week? Register your account with the same email as your subscription.