Wolf Hall: a dark yet dazzling triumph from the BBC
Mark Rylance shines in a 'real and visceral' Wolf Hall adaptation – despite complaints about dim lighting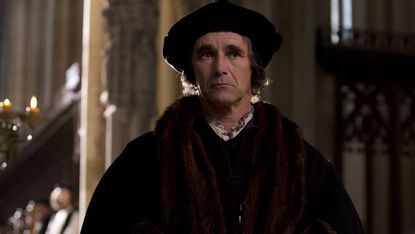 (Image credit: Wolf Hall, BBC)
Critics are full of praise for the new television adaptation of Wolf Hall after episode one screened last night on BBC2. The six-part series, based on Hilary Mantel's bestselling novels Wolf Hall and Bring Up the Bodies, stars Mark Rylance in the lead role of Thomas Cromwell, who rises through the court of Henry VIII.
Already it is winning five-star reviews and dazzling accolades, but can it compete with Downton?
James Walton in the Daily Telegraph, says "it is hard to imagine the BBC's adaptation of Hilary Mantel's novels being any better". Walton describes the show as "subtle and unhurried" while still "packing an impressive dramatic punch".
Subscribe to The Week
Escape your echo chamber. Get the facts behind the news, plus analysis from multiple perspectives.
SUBSCRIBE & SAVE
Sign up for The Week's Free Newsletters
From our morning news briefing to a weekly Good News Newsletter, get the best of The Week delivered directly to your inbox.
From our morning news briefing to a weekly Good News Newsletter, get the best of The Week delivered directly to your inbox.
Andrew Billen in The Times gives the show five stars, calling it "real and visceral". It's also "a festival of thesps", says Billen. From the opening scene, audiences know they are in for "a riot of British character acting of the type reserved for BBC classic serials".
All the anticipation has been worth it, says Jasper Rees on the Arts Desk. The reason is Mark Rylance. We can almost see the cogs whirring as his Cromwell plots and schemes, says Rees. "Television drama has rarely supplied such a hypnotic spectacle."
The acting is "dazzling", agrees Christopher Stevens in the Daily Mail, but it's a shame some scenes leave viewers in the dark – and not just because of the labyrinthine plot. Key scenes, lit only candles or firelight, made Stephens want to shout: "For pity's sake, forget about the authenticity – switch a flipping light on!"
Yes, it's "a taut, gloomy production", says Will Dean in The Independent, but Rylance revels in darkness, and audiences tend to be forgiving when it comes to British costume drama. It will struggle to match Julian Fellowes' blockbuster Downton Abbey for impact, says Dean. "But six hours of Rylance ought to secure a devoted following".
Episode One is available on the BBC iPlayer, and the series resumes on BBC2 at 9pm on Wednesday
Wolf Hall: previews of 'masterful' BBC series
21 January
The first episode of the hotly-anticipated BBC series Wolf Hall airs tonight. The lavishly filmed adaptation of Hilary Mantel's two Booker-prize winning novels, Wolf Hall and Bring Up the Bodies, about the rise of Thomas Cromwell in the perilous court of King Henry VIII, is already winning accolades from the lucky few who seen previews. So what can viewers look forward to?
Serena Davies in the Daily Telegraph says "the first episode proceeds at a stately pace" using close-ups and hand-held cameras to give us an intimate introduction to Cromwell and "bring viewers right into the shadowy halls and corridors he inhabits".
Davies praises the "masterful script" brought to life by a "steely yet vulnerable" Mark Rylance as Thomas Cromwell, and a charismatic Damian Lewis as Henry VIII. She adds that the series "fully communicates the nerve-jangling sense of bodily threat with which Mantel's novels are freighted".
In The Guardian Filipa Jodelka goes as far as extolling the series for "alleviating the sharp pain of January and giving this sorry year some meaning". She adds that while Wolf Hall "doesn't disappoint", covering everything from Cromwell's court interactions to his domestic life and childhood flashbacks, it is "not a merry Tudor romp". It constantly reminds us, Jodelka says, of "the executioner's blade that hangs over the kind and clever man of this drama".
But it's not all bouquets for Wolf Hall. The Times reports that while Tudor experts were absorbed by the series "they could not help noticing faux pas by the film-makers".
Oxford University historian Diarmaid MacCulloch was struck by a scene in the third episode where Thomas Cromwell fails to remove his hat in the presence of a condescending Catherine of Aragon. "Missing her opportunity to point that out would be like not pointing out that he was wearing a Batman costume and jumping on a pogo stick," Professor MacCulloch says.
Lucy Worsley, chief curator at Historic Royal Palaces, thought the researchers had done well except in choosing actress Kate Phillips to play Jane Seymour. "She is too pretty," says Worsley, citing Hans Holbein's portrait of the queen with a bulging forehead.
Programme makers will be hoping that, aside from these minor quibbles, the series is well-received. Director Peter Kosminsky told the BBC he was very aware of the passion readers had for the novels when he set out to adapt them and had been warned by fans: "Don't you dare muck up Wolf Hall".
Episode one screens on BBC2 tonight at 9pm.
Wolf Hall: five things to expect from BBC adaptation
15 January
The BBC is set to screen a new six-part adaptation of Hilary Mantel's Booker prize-winning novels, Wolf Hall and Bring Up the Bodies, starting on 21 January. The books are best-sellers and have already been turned into two hit West End plays, but what can television audiences expect from the series?
All-star cast, including Homeland's Brody
The series stars acclaimed stage actor Mark Rylance as Thomas Cromwell, the king's adviser through whose eyes we see the workings of the court of Henry VIII, while the supporting cast offers a line-up of the best of British acting talent including Joanne Whalley, Claire Foy and Jonathan Price. Sherlock co-creator Mark Gatiss, (also Sherlock's brother Mycroft), will play the role of the king's uppity secretary Stephen Gardiner. But the casting coup, says Mike Mulvihill in The Times, is Homeland's Damian Lewis as Henry VIII: "Brody in a codpiece - what's not to like?"
Downsized codpieces
Speaking of codpieces, the Daily Telegraph reports that the stars of Wolf Hall have been issued with "smaller-than average codpieces" to cover their, ahem, parts. Mark Rylance told reporters that the programme-makers had decided on "very small codpieces" so as not to confuse US audiences. Codpieces in the Tudor period were a symbol of virility and men of the court were encouraged to wear their crotch pouches prominently to accentuate their genital area. But the BBC decided to keep things discreet amid concerns about the taste of modern audiences, particularly in America, who "may not know exactly what's going on down there".
A slim Henry VIII
King Henry VIII is usually remembered as a rotund figure, but actor Damien Lewis will be playing a trimmer, fitter version. "I think we all have this understanding that he was this womanising, syphilitic, bloated, genocidal Elvis character," Lewis told the Radio Times. But Henry "had a 32-inch waist and he remained that way for quite a long time", Lewis explains, adding he was an excellent sportsman and much taller than anyone else. "He also had a beautiful, pale complexion, which was often remarked upon by commentators."
CGI effects, and lots of candles
The BBC's £7m production hasn't stinted on period detail. The Daily Telegraph reports that the production's candle budget alone runs to tens of thousands of pounds, as it uses Tudor-style tallow candles rather than wax, and all interior and night scenes are shot by candlelight. But while the production has authentic clothes and historically accurate settings, it will also be using the latest CGI technology to make a crowd scene filmed with 138 people appear like 1,000.
National Trust locations
The National Trust is preparing for a tourist invasion once the series begins as six of its stately homes will appear on screens, reports the Daily Mail. Period dramas have previously prompted a rise in visitors to historic homes, such as Highclere Castle in Hampshire, which saw an influx of tourists after was used in ITV's Downton Abbey. Wolf Hall features Barrington Court, Lacock Abbey, Chastleton House, Great Chalfield Manor, Montacute House and Horton Court. The Trust said film-makers were subject to strict rules to protect the houses, including having conservators on hand to ensure historic artefacts were kept safe.

Continue reading for free
We hope you're enjoying The Week's refreshingly open-minded journalism.
Subscribed to The Week? Register your account with the same email as your subscription.