What is esketamine and how does it treat depression?
Spray containing ketamine-related chemical hailed as 'breakthrough' but side effects spark concerns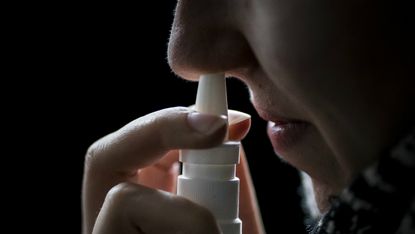 (Image credit: Getty Images)
A controversial new nasal spray containing a substance related to ketamine has been approved for use in patients with severe depression by the US Food and Drug Administration (FDA).
Spravato, the brand name for an esketamine nasal spray, was given the green light by the US regulator this week - albeit with strict conditions. The spray can be prescribed, in conjunction with an oral antidepressant, for adults who have tried other treatments unsucessfully - a condition known as treatment-resistant depression, says the FDA.
The European Medicines Agency is also considering a licence application that, if approved, would pave the way for the medication to be offered on the NHS.
Subscribe to The Week
Escape your echo chamber. Get the facts behind the news, plus analysis from multiple perspectives.
SUBSCRIBE & SAVE
Sign up for The Week's Free Newsletters
From our morning news briefing to a weekly Good News Newsletter, get the best of The Week delivered directly to your inbox.
From our morning news briefing to a weekly Good News Newsletter, get the best of The Week delivered directly to your inbox.
But while commentators including The Independent have described the drug as a potential "breakthrough" for patients suffering persistent depression, others have raised concerns about the risks of the party drug's chemical cousin.
So what is the new spray and how does it work?
What is esketamine?
Esketamine is a general anesthaetic that can be administered either as a nasal spray or intravenously.
In the case of Spravato, the esketamine will be administered as a nasal spray in the US by an approved health care provider in a doctor's office or a medical clinic.
The Guardian notes that the drug "builds on years of research" into ketamine, to which esketamine is closely related, as a treatment for major depression. ABC News adds that some doctors "have given ketamine to people with depression without formal FDA approval".
Both ketamine and esketamine work differently to commonly prescribed antidepressants such as citalopram and sertraline, which bump up levels of feel-good brain chemical serotonin.
By contrast, Esketamine targets glutamate, a neurotransmitter that sends messages across the brain. "Research has shown people with depression also tend to have an overabundance of glutamate," says Gizmodo.
Does it work?
Various clinical trials suggest esketamine "is up to ten times more effective than current drugs in people suffering from treatment-resistant depression", says The Daily Telegraph.
In one study submitted to the FDA as evidence, more than 70% of 101 patients who took esketamine reported a 50% or more reduction in their depression symptoms, says Psychology Today.
Soonjo Hwang, a psychiatrist with the University of Nebraska Medical Center, told Health magazine: "People are saying this is a game changer because it seems like it works well for refractory depression, meaning people who have failed to respond to conventional antidepressant medications and behavioural treatments.
"Also, it seems to work in 24 to 48 hours, so there's a very rapid resolution of symptoms."
These rapid effects could be especially helpful in treating patients at high risk of committing suicide or self-harm.
Timothy Sullivan, chair of psychiatry and behavioral science at New York's Staten Island University Hospital, said that "anything that promises to help address the needs" of people with chronic severe depression was "really exciting".
What about the drawbacks?
The FDA notes that esketamine comes with a "risk of serious adverse outcomes resulting from sedation and dissociation caused by Spravato administration", along with "potential for abuse and misuse of the drug". As a result, its usage will be strictly limited.
Side effects include "dizziness, nausea, vertigo, anxiety, lethargy, increased blood pressure, vomiting, feeling drunk, decreased sensitivity, sedation and dissociation, a feeling of being temporarily 'disconnected' from your body and your mind", reports CNN.
Because of these risks, patients can only be given the drug in registered clinics and must be monitored for at least two hours afterwards by a medical professional. They cannot take the drug home and are not allowed to drive for the rest of that day.
The Verge reports that packets of esketamine "will carry the FDA's gravest warning - a black box that says there's potential for this drug to be abused". Potential users will also be warned that the drug may cause suicidal thoughts.
It's currently unclear how widely US insurance companies will cover esketamine, which costs between $4,720 (£3,610) and $6,785 (£5,190) for the first month of treatment alone, adds The Guardian.

Continue reading for free
We hope you're enjoying The Week's refreshingly open-minded journalism.
Subscribed to The Week? Register your account with the same email as your subscription.