When will violence in Libya end?
Amnesty International warns of war crimes by both sides fighting in Tripoli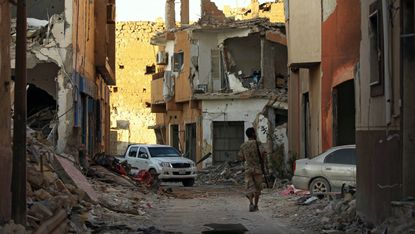 (Image credit: Getty Images)
Both sides in the Libya conflict are carrying out attacks on civilians that may amount to war crimes, according to Amnesty International.
The human rights watchdog says that during the six-week battle to claim Tripoli, "the warring parties have displayed a shameful disregard for civilian safety and international humanitarian law by carrying out indiscriminate attacks on residential neighbourhoods".
Rogue general Khalifa Haftar's militia, which calls itself the Libyan National Army (LNA), launched a major offensive on the Libyan capital in early April in a bid to oust the internationally recognised prime minister, Fayez al-Sarraj.
Subscribe to The Week
Escape your echo chamber. Get the facts behind the news, plus analysis from multiple perspectives.
SUBSCRIBE & SAVE
Sign up for The Week's Free Newsletters
From our morning news briefing to a weekly Good News Newsletter, get the best of The Week delivered directly to your inbox.
From our morning news briefing to a weekly Good News Newsletter, get the best of The Week delivered directly to your inbox.
The International Organization for Migration reports that at least 146 people were killed and more than 18,000 displaced in the first 11 days alone of clashes between the LNA and militias affiliated with Tripoli's UN-backed government.
In a recently published report, Amnesty International says that further "reckless attacks could have devastating consequences for civilians and strengthen the need for the International Criminal Court to expand its investigations into possible war crimes by all sides in Libya's conflict". Haftar's self-styled LNA is one of two warring political factions in Libya claiming to be the legitimate government in the wake of a power vacuum left following the overthrow and assassination of Colonel Muammar Gaddafi in 2011.
So what exactly is going on in Libya, and what might happen next?
What has happened to Libya since the fall of Gaddafi?
Colonel Muammar Gaddafi "held [Libya] together for more than four decades, strategically doling out cash incentives, nurturing division and combining political brokering with ruthless state repression", says Al Jazeera.
Gaddafi was finally ousted and executed in 2011, as the result of a popular uprising sparked by the Arab Spring demonstrations in Tunisia and Egypt. However, the power vacuum that he left behind triggered power struggles between multiple factions in Libya.
In 2012, US ambassador Chris Stevens and three other American staff were killed in an attack on their consulate in Libya's second city of Benghazi. A car bomb targeting the French embassy in Tripoli the following year prompted most foreign delegations to withdraw from the country, weakening stability further.
Despite controversial efforts by Nato to unify Libya, a lack of infrastructure and continued clashes between rival groups vying for control exploded in 2014 into another, more protracted, civil war.
The economy has been badly hit by the ongoing conflict, which includes "frequent attacks on oil installations", and around 200,000 people have been internally displaced, says New York-based advocacy group Human Rights Watch (HRW).
Meanwhile, Libya's media environment is "highly polarised and virtually unregulated, reflecting the country's political instability", with journalists facing "threats and attacks", the BBC reports.
Who is Khalifa Haftar?
The power vacuum left by the fall of Gaddafi has been exploited by a series of former high-profile Libyan public figures, several of whom have staked unrecognised territorial claims across the desert-covered country.
Few, however, have shown as much conviction as Haftar, a 75-year-old former military officer. Haftar first rose to prominence as a loyal general in the Gaddafi regime, participating in the coup that brought the dictator to power in 1969, Inside Arabia reports.
But following a dispute with Gaddafi, Haftar fled to the US in 1990 and remained there in exile for about 20 years, during which time he was sentenced to death in absentia by the Libyan leader.
Hafta finally returned to Libya to aid Nato in its efforts to help opposition fighters topple the dictator. Yet despite his success, Haftar "faded into obscurity until February 2014", when he "outlined on TV his plan to save the nation and called on Libyans to rise up against the elected parliament", the BBC reports.
Months later, in May, Haftar launched Operation Dignity, using his own militia forces to counter the growing threat of Islamic State-affiliated extremist groups, who had taken control of multiple towns along the Libyan coast.
In August that year, the Libyan House of Representatives accused the General National Congress (GNC) government, elected in 2012, of being under the control of the extremists and declared itself the legitimate government of Libya.
Haftar was appointed commander of the Libyan National Army (LNA) by this rival government, which based itself in the eastern city of Tobruk and enjoying the support of Russia, Saudi Arabia, the UAE and neighbouring Egypt.
In response, Islamist-led militias under the banner of Fajr Libya (Libya Dawn) stormed Tripoli and installed a so-called "national salvation" government that brought GNC lawmakers back to power.
After more than a year of UN-brokered talks, the Tripoli and Tobruk governments signed a peace deal on 17 December 2015, forming the internationally recognised Government of National Accord.
Why is there still fighting?
Haftar and the LNA have refused to recognise the legitimacy of the UN-backed GNA and continue to view themselves as the rightful power in Libya.
The general's "self-styled Libyan National Army (it is anything but) has shown itself capable of casually violating the rules of war – not least now by the bombing of the Libyan capital's last functioning airport", says The Independent.
Having "established control, at least nominally, over two-thirds of Libya", an "LNA operation to take over Tripoli was always just a question of time", adds Al Jazeera.
According to The Independent, "the UN-recognised government and the various armies camped there in Tripoli will put up a struggle", raising the spectre of urban conflict "that could echo some of the worst episodes in the conflicts in Syria and Iraq".
"[Libya's] people are barely an afterthought in this naked struggle for control. The truth is that no one can save Libya," the newspaper concludes.
After fighting erupted in Tripoli in April, al-Sarraj warned that continued instability in his county could lead to an influx of more than 800,000 migrants into Europe.
"We are facing a war of aggression that will spread its cancer throughout the Mediterranean, Italy and Europe," he told reporters, adding that the migrants already using Libya as a base to reach Europe would be joined by fleeing Libyans civilians and dislodged jihadi militants.

Continue reading for free
We hope you're enjoying The Week's refreshingly open-minded journalism.
Subscribed to The Week? Register your account with the same email as your subscription.