Toxic algae: two deaths at French beaches
Holidaymakers heading to Brittany coast warned about green tide of potentially fatal sea lettuce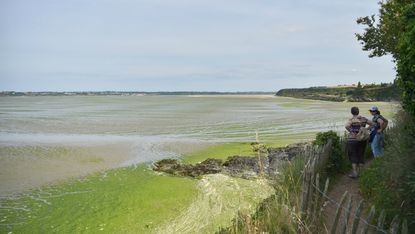 (Image credit: LOIC VENANCE/AFP/Getty Images)
Two people have died after falling ill on algae-infested beaches on the coast of Brittany, prompting calls for an investigation into the health risks of the toxic seaweed.
An 18-year-old oyster farmer died on 6 July at Morlaix Bay, while a 70-year-old retiree was taken fatally ill last Tuesday at Douarnenez Bay.
Six beaches in the area are closed currently owing to infestations of the green algae ulva lactuca, the fumes of which can be fatal to humans, reports The Daily Telegraph.
Subscribe to The Week
Escape your echo chamber. Get the facts behind the news, plus analysis from multiple perspectives.
SUBSCRIBE & SAVE
Sign up for The Week's Free Newsletters
From our morning news briefing to a weekly Good News Newsletter, get the best of The Week delivered directly to your inbox.
From our morning news briefing to a weekly Good News Newsletter, get the best of The Week delivered directly to your inbox.
Was green algae responsible for the deaths?
Most often found on the shores of northern France and the Low Countries, green algae produces hydrogen sulfide as it decomposes. The colourless gas smells like rotten eggs and in sufficient quantities "can attack nervous and respiratory systems inside the human body, paralysing breathing and then causing death", says the Telegraph.
The causes of the two recent deaths are not known yet, but the victims, both male, reportedly suffered heart attacks "in minutes".
Jean-Philippe Recappe, public prosecutor for the town of Brest, told Paris-based news agency AFP that the young oyster farmer was a seasonal employee who "had previously appeared to be in good health".
"The cause of death has not yet been determined since the results of toxicological and pathological analysis is not yet known," he added.
However, at least nine experts, including four toxicologists, have said they believe the seaweed is to blame.
Environmentalists are calling for an investigation. Yves-Marie Le Lay, co-president of activist group Halte aux Marees Vertes (Stop the Green Algae), told Europe 1: "If this was another death caused by green algae, it would be very significant."
Has this happened before?
The potential health risks of algae first made news in France in the 1970s, after wild animals and pets succumbed to the fumes. The death of a jogger in Lannion, Brittany, in 1989 was the first human fatality to be publically linked to green algae, although the results of the autopsy were never made public.
In 2009, a 48-year-old truck driver collapsed and died after transporting a lorry full of green algae for disposal in the region's Cotes-d'Armor area, reports Le Monde. Nine years later, a court ruled that his death was a workplace accident, caused by the inhalation of hydrogen sulphide gas.
The deaths of a horse in 2009 and of more than 30 boars in 2011 have also been officially attributed to fumes from green algae on Brittany beaches.
Is it getting worse?
The infestations have become larger in recent years. In 2018, around 6,000 tonnes of algae were removed from beaches in Saint-Brieuc Bay, one of the worst-affected areas. This year, 5,000 tonnes had already been removed by the end of June, Le Parisien reports.
Attending a protest organised by environmental groups in Saint-Brieuc last week, a local told French media: "That's crazy. This is only the start of summer and there have never been so many beaches closed."
Experts say that high levels of nitrates, usually from agriculture, that wash out to sea can encourage algae to grow and become what are dubbed "green tides".
In a statement, local environmental groups asked: "How can you not draw a link between this abnormal growth of algae in these areas, with the River Frout, which opens into the bay, and in which we measured a level of 53mg/l of nitrates?"
Calling for local authorities to take action, Halte aux Aarees Vertes co-president Le Lay told Europe 1: "Every day, we ask for the hydrogen sulphide levels on the beach to be tested."

Continue reading for free
We hope you're enjoying The Week's refreshingly open-minded journalism.
Subscribed to The Week? Register your account with the same email as your subscription.