Hong Kong protesters win major concession - is it enough?
Carrie Lam formally withdraws the extradition bill that initially sparked the unrest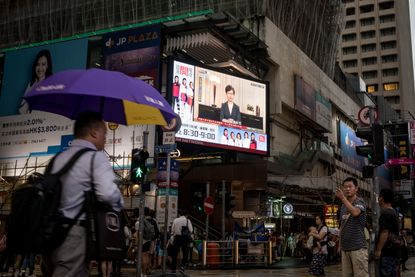 (Image credit: 2019 Getty Images)
Protesters in Hong Kong appeared to win a major concession from the Chinese-backed authorities on Wednesday, as chief executive Carrie Lam formally withdrew the controversial extradition bill that catalysed the unrest.
"The government will formally withdraw the bill in order to fully allay public concerns," Lam said in a televised address.
However, after three months of increasingly furious demonstrations, citizens' demands have come to encompass numerous issues, some of which are fundamental to the semi-autonomous region's political arrangement with China, and many doubt whether Lam is right that their concerns will indeed be "fully allayed".
Subscribe to The Week
Escape your echo chamber. Get the facts behind the news, plus analysis from multiple perspectives.
SUBSCRIBE & SAVE
Sign up for The Week's Free Newsletters
From our morning news briefing to a weekly Good News Newsletter, get the best of The Week delivered directly to your inbox.
From our morning news briefing to a weekly Good News Newsletter, get the best of The Week delivered directly to your inbox.
Along with a host of political, economic and social grievances, pro-democracy demonstrators have five key demands on top of the withdrawal of the extradition bill: free regional elections, an amnesty on all charges against protesters, an independent investigation into police brutality, and an end to the use of the word "rioter" to describe demonstrators.
Lam's official withdrawal is the latest climbdown after suspending the draft legislation in June, saying that it was "dead". This was deemed insufficient by protesters, but even now it has been officially retracted, the move has still been met by widespread skepticism.
"As her address played on livestreams and on social media, a flood of comments coming in said: 'Five demands! Not one less!'", reports The Washington Post.
Joshua Wong, a leader of the movement and public face of the pro-democracy Hong Kong demonstrations in 2014, took to Twitter:
"On dropping charges against protesters and rioters, and shelving prosecutions, I have explained that this is contrary to the rule of law, and is not acceptable," Lam said in her statement.
Yesterday, police said 1,183 people had been arrested since 9 June.
On the issue of police brutality, Lam stated that was already the responsibility of the Independent Police Complaints Commission - an organisation whose independence is doubted given its pro-government staff.
"The police's use of force has escalated in recent weeks while protesters have also resorted to increasingly violent measures. Police have used water cannons, tear gas, rubber bullets, beanbag rounds and severe beatings to quell unrest, and also chased protesters into residential areas, metro stations and even ferry piers," reports The Guardian. "In retaliation, protesters have thrown molotov cocktails at police, and vandalised and set public facilities on fire in what they said were defensive moves."
Nevertheless, Lam will be hoping that the protests, which have been gruelling for both sides, will have some wind taken out of their sails by the extradition bill's formal withdrawal.
She is under close scrutiny from her masters in Beijing, and yesterday's announcement will have come with the direct approval of Xi Jinping, China's president and party general secretary. "On matters of principle, not an inch will be yielded," Xi said on Tuesday in a speech to the Party School of the Communist Party's Central Committee, "but on matters of tactics there can be flexibility". He said the party was braced for a long struggle.
Earlier this week a recording of a private meeting between Lam and business people was leaked to Reuters, in which she seems to corroborate Xi's words. "I can assure you that Beijing does not have a deadline," she said in English to people gathered in the room. "They know this will ripple on… But they're willing to play long, they are willing to play long, so you have no short-term solution. Hong Kong suffers, you lose tourism, economy, you lose your IPOs and so, but you can't do much about it."
Lam also spoke during the meeting on her own hamstrung position: "The room, the political room for the chief executive who, unfortunately, has to serve two masters by constitution, that is the central people's government and the people of Hong Kong, that political room for maneuvering is very, very, very limited.
"For a chief executive to have caused this huge havoc to Hong Kong is unforgivable. It's just unforgivable. If I have a choice, the first thing is to quit, having made a deep apology."
As the Financial Times reports: "The problem for Mr Xi and Mrs Lam is now two-fold. The reaction of most protesters, especially those who have repeatedly risked ten-year prison sentences for rioting, is likely to be that this concession is 'too little, too late', especially if it is not accompanied by acquiescence to their second demand - a formal judicial inquiry into the government's handling of the crisis and alleged police violence."
It adds that: "More problematically for Mr Xi, Wednesday's concession has reinforced the conviction of most hardcore activists that when it comes to taking on Beijing, violent protests do in fact work while peaceful ones do not."
Joshua Wong is categorical about what is at the core of the protests. "I hope the people in China can understand that democracy, freedom and human rights are universal values that Hong Kong people are fighting for," he told journalists in Taiwan, where he is attending a forum.
"We will continue to fight for it. I hope there is one day that Hong Kong and even China would become a place where people can enjoy democracy and freedom."

Continue reading for free
We hope you're enjoying The Week's refreshingly open-minded journalism.
Subscribed to The Week? Register your account with the same email as your subscription.