General Election 2019: what is in Labour's manifesto?
A final look at the opposition party's manifesto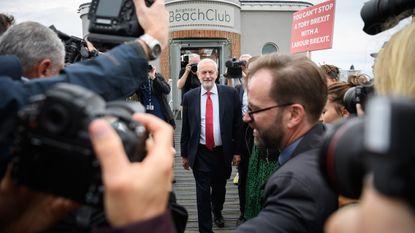 (Image credit: Leon Neal/Getty Images)
As voters head to the polls to decide the UK's political future, Jeremy Corbyn is on the road to promote Labour's policies in a last-ditch attempt to convince voters to back his party.
To some, Labour's manifesto is an ambitious attempt to forge a fairer society, with promises of public spending increases and the renationalisation of numerous utilities. But to others it is a costly, unrealistic throwback to the economic calamities of the 1970s that will stifle growth and cause further Brexit confusion.
So what exactly are Labour's policies? Here's a brief look:
Subscribe to The Week
Escape your echo chamber. Get the facts behind the news, plus analysis from multiple perspectives.
SUBSCRIBE & SAVE
Sign up for The Week's Free Newsletters
From our morning news briefing to a weekly Good News Newsletter, get the best of The Week delivered directly to your inbox.
From our morning news briefing to a weekly Good News Newsletter, get the best of The Week delivered directly to your inbox.
Brexit
Labour plans to renegotiate a "sensible" Brexit deal with the EU within three months of being elected into government. This deal would include "a new customs union, a close single market relationship, and guarantees of rights and protections", says the official Labour website.
The party would then hold a legally binding referendum offering the deal versus remaining in the EU - and all UK residents would be granted full voting rights.
Labour has not yet said which side it would back in a second referendum, which as commentators have pointed out, could mean the party ends up campaigning against a deal that it has negotiated.
Immigration
The Labour manifesto promises to establish a "humane immigration system". Legal aid would be restored for immigration cases, and the deportation of family members of people entitled to remain in the UK would cease.
The party plans to introduce a work visa system that fills skills labour shortages, and to ditch net migration targets.
If the UK leaves the EU, freedom of movement would be subject to negotiation but Labour would seek to "protect" the right.
The party would also offer asylum to refugees from war, environmental catastrophes, famine and persecution, and establish "safe and legal" routes for asylum seekers to reach the UK from Calais.
Health
Labour has pledged to increase expenditure across the health sector by an annual average of 4.3% - boosting NHS budgets by about £7bn a year.
The party has also pledged to increase social care budgets by £10.8bn a year in order to provide free personal care for all over-65s.
Prescriptions would be free for all citizens, bringing England in line with Wales, Scotland and Northern Ireland.
In England, the NHS currently charges £9 per item, and earned £575m from these fees in 2017-18. However, more than 80% of prescriptions are already free as a result of exemptions for people including those on low-income, people with certain long-term illnesses, pregnant women, children, and the over-60s, says the BBC.
Economy
Labour would introduce 12 tax changes to raise an additional annual total of £82bn.
The plan includes raising corporation tax from 19% to 26%, to cash an extra £23bn, and a new financial transactions tax that would bring in an estimated £8.8bn.
Tax on capital gains and dividends would be brought in line with income tax rates, raising £14bn.
And a new second homes tax would be introduced, and cuts to inheritance tax reversed, helping to raise £5.2bn.
Labour also plans to nationalise the railways and water and electricity services.
In addition, broadband infrastructure providers Openreach would be brought under public control at a cost of £579m, as part of a scheme to provide free full-fibre broadband to every home and business in the UK.
Defence
Labour would back a new act that prevents a prime minister from going to war without the permission of Parliament.
Arms sales to Saudi Arabia would be stopped immediately, and Labour would approve a judge-led inquiry into the UK complicity in rendition, torture and the operation of secret courts.
The party would maintain the UK commitment to Nato and spend at least 2% of GDP on defence.
Labour would also renew the Trident nuclear deterrent, and would scrap the public sector pay cap on Armed Forces wages.
Climate change
The Labour Party reportedly has the "strongest policies to protect nature and combat climate change", even beating the Green Party on environmental issues, according to wildlife charity Friends of the Earth.
The party's manifesto includes a pledge to "kick-start a Green Industrial Revolution that will create one million jobs in the UK to transform our industry, energy, transport, agriculture and our buildings, while restoring nature".
The plan includes the construction of 7,000 new offshore wind turbines, 2,000 onshore wind turbines and enough solar panels to cover 22,000 football pitches.
"Labour will also start the process of bringing water and energy into public ownership and will create a People's Assembly to give the public a voice on how utilities are run," reports environment news site edie.net.
Education
Spending on schools would rise by £5.5bn a year under a Labour government.
The party would scrap university tuition fees - at a cost of £7.2bn - and reinstate maintenance grants for poorer students.
The manifesto says Labour would "close the tax loopholes enjoyed by elite private schools", but does not include the policy approved at the party conference in September to abolish them entirely.
Labour would also introduce a National Education Service, in a move towards "cradle-to-grave learning that is free at the point of use". The service would incorporate all forms of education, from early years through to adult education.
Shadow education secretary Angela Rayner has said that the plan was inspired by the free-at-point-of-use National Health Service, adding: "That principle led us to develop our NES, which is an integrated set of institutions offering free education, from cradle to grave, to all, and for the public good."
–––––––––––––––––––––––––––––––For a round-up of the most important stories from around the world - and a concise, refreshing and balanced take on the week's news agenda - try The Week magazine. Start your trial subscription today –––––––––––––––––––––––––––––––
Environment
A new levy on oil and gas companies would be introduced by Labour to "make the transition to a clean economy".
But the party has scrapped its pledge to reach "net zero" emissions by 2030, and is instead aiming for a "substantial majority" of UK emissions to be reduced.
The plan is to get 90% of electricity and 50% of heat from renewable and low-carbon sources by that deadline.
Labour is promising to build 7,000 new offshore wind turbines, 2,000 onshore wind turbines and "enough solar panels to cover 22,000 football pitches", says The Times.
And the party would introduce a new Clean Air Act to bring the UK in line with World Health Organization (WHO) limits for pollutants.
An extra £5.6bn would be spent on new and improved flood defences for at-risk areas across the Midlands and North of England.
Transport
Free bus travel for under-25s would be introduced by a Labour government, and 3,000 previously closed bus routes reinstated - mostly in rural areas.
All of the railway network would go back into public hands, and councils would have the option to take local bus services into public ownership.
Labour would also extend HS2 to Scotland, and approve a new line connecting the Northeast and the Northwest.
Welfare
Labour plans to scrap the controversial Universal Credit scheme and to increase allowances for carers and job seekers.
Parental leave and pay would also be boosted, and universal free TV licences for the over-75s reinstated.
Labour estimates that the total cost of the benefits shake-up would come in at around £8.4bn a year.
Housing
Labour is promising to introduce the biggest council house building programme since the Second World War if elected, pledging to spend £75bn on affordable homes.
This plan includes a commitment to build 100,000 council homes a year and 50,000 "genuinely affordable" homes.
Half if the party's £150bn "social transformation fund" - borrowing to upgrade schools, hospitals, care homes and council housing after years of austerity - would be spent on housing over a five-year period.
How are the other parties trying to win our vote?
Here are The Week's guides to the main parties' policies:
The Tory manifestoThe Liberal Democrat manifestoThe Brexit Party manifestoThe Green Party manifestoThe general election manifestos at a glance

Continue reading for free
We hope you're enjoying The Week's refreshingly open-minded journalism.
Subscribed to The Week? Register your account with the same email as your subscription.