The rise and fall of Hosni Mubarak
Autocratic ruler dies at the age of 91 after reigning for 30 years in Egypt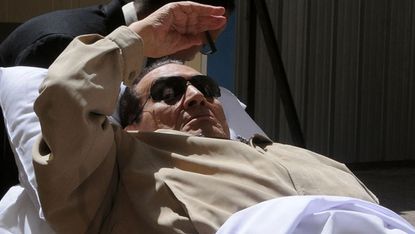 (Image credit: AFP/Getty Images)
Former Egyptian president Hosni Mubarak, who was ousted during the Arab Spring uprising of 2011, has died in Cairo at the age of 91.
After being forced from office by the military after almost 30 years in power, Mubarak was found guilty of complicity in the killing of protesters during the revolution.
His conviction was later overturned and he was freed from jail in March 2017.
Subscribe to The Week
Escape your echo chamber. Get the facts behind the news, plus analysis from multiple perspectives.
SUBSCRIBE & SAVE
Sign up for The Week's Free Newsletters
From our morning news briefing to a weekly Good News Newsletter, get the best of The Week delivered directly to your inbox.
From our morning news briefing to a weekly Good News Newsletter, get the best of The Week delivered directly to your inbox.
How did he become leader of Egypt?
Mubarak was born in 1928, and joined the Egyptian air force academy in 1949, gaining his commission as a pilot officer a year later.
Having been promoted to commander of the air force in 1972, he played a key role in the 1973 Arab-Israeli war and became air chief marshal in recognition of his service.
In 1975, Mubarak was appointed vice-president of Egypt by the then president Anwar Sadat. When Sadat was assassinated by Islamist militants at a Cairo military parade in 1981, Mubarak became president of Egypt.
Mubarak – as vice-president and president – was noted for his excellent domestic and international diplomacy, particularly in building a close friendship with the US.
"US administrations showered Mubarak with billions of dollars in military aid, viewing him as a bulwark against regional terrorism and a key driver of 'cold peace' with Israel," says The Guardian.
A BBC profile of the former Egyptian leader, from 2017, says: "Besides his knack for dodging bullets, the former air force commander also managed to keep a hold on power by positioning himself as a trusted Western ally and fighting off a powerful opposition movement at home."
But it wasn't just an ability to make friends that kept him in power. For his entire time in office, Mubarak kept Egypt under emergency law, giving him sweeping powers of arrest and curbing basic freedoms.
Mubarak became adept at using Egypt's secret police to "hunt down and suppress dissidents, including Islamists and leftists", says The Independent. "Elections were a sham, with police sometimes physically blocking voters in opposition districts from reaching the polls."–––––––––––––––––––––––––––––––For a round-up of the most important stories from around the world - and a concise, refreshing and balanced take on the week's news agenda - try The Week magazine. Start your trial subscription today –––––––––––––––––––––––––––––––
How was he ousted as leader?
Mubarak's political oppression, combined with economic polarisation and mounting corruption, led to a movement against the Egyptian leader.
Protests reached their peak in 2011, amid a wave of unrest across the Middle East and North Africa.
Mass protests in central Cairo's Tahrir Square and in other major Egyptian cities demanded the end of his time in power. Protesters called for "bread, freedom and social justice" and an end to military rule.
Mubarak's violent response to the protests resulted in the deaths of at least 846 people according to a later government inquiry, the BBC reported.
But Mubarak was no longer able to ignore the pressure to stand down, both from those within Egypt and, crucially, the US. Washington put pressure on the president to resign, calling for an "orderly transition" of power to a more democratic system.
In a televised address on 1 February 2011, Mubarak announced he had decided not to stand for re-election later that year.
On 10 February, he announced that he was handing over powers to his vice-president, but would remain as president. But the following day, vice-president Omar Suleiman announced that Mubarak would step down, and the military's supreme council would run the country.
By May 2011, judicial officials had announced that Mubarak would stand trial over the deaths of anti-government protesters killed during the revolution.
Despite always denying the charges, he was convicted in 2012 and sentenced to life imprisonment for conspiring to murder 239 protesters. In 2014, he was found guilty of embezzlement, and sentenced to three years in prison.
In November 2014, Mubarak was acquitted in a retrial of conspiring to kill protesters in 2011. In March 2017, Egypt's top court upheld the acquittal, and Mubarak was freed for the first time in six years.
Following news of his death, Egyptian media reported that Mubarak would receive a full military funeral.
"The presidency mourns with deep sorrow the death of former President Mohamed Hosni Mubarak," a spokesperson for Egypt's current ruler, Abdel Fattah al-Sisi, said. "The deceased was the commander of the Air Force during the October War, which restored the dignity of the Arab nation."
Egypt's armed forces also released a statement of mourning for Mubarak: "The General Command of the Armed Forces mourns one of its sons, and one of the leaders of the glorious October war," they said.
Commenting on Mubarak's release from prison in 2017, the Egyptian human rights lawyer Mahienour El Massry, told the Guardian: "In the eyes of those who believe in the revolution he will always be a criminal killer and the godfather of corruption. This might be another round that we have lost, but we will keep on fighting to change the inhuman regime that releases criminals and imprisons innocent people."

Continue reading for free
We hope you're enjoying The Week's refreshingly open-minded journalism.
Subscribed to The Week? Register your account with the same email as your subscription.