Trump indictment forces 2024 candidate dilemma: to pardon or not to pardon?
Vivek Ramaswamy wants every presidential contender to pledge that they'll pardon Trump if they win — but will they?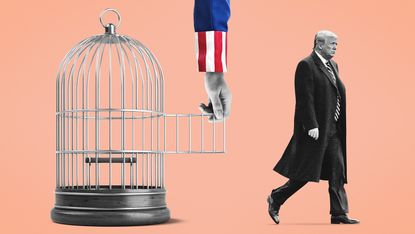 (Image credit: Illustrated / Getty Images)
Sign up to our 10 Things You Need to Know Today newsletter
A free daily digest of the biggest news stories of the day - and the best features from our website
Thank you for signing up to TheWeek. You will receive a verification email shortly.
There was a problem. Please refresh the page and try again.
Former president and current Republican presidential front-runner Donald Trump's federal indictment has thrown the 2024 election into uncharted and turbulent waters, with candidates, pundits, and entire political parties alike scrambling to recalibrate their electoral plans accordingly. While the full extent to which Trump's indictment and trial will ultimately affect the 2024 presidential race remains up in the air, some of his fellow candidates have already begun casting their imaginations beyond inauguration day and into the very-much-still-up-for-grabs Oval Office itself.
Speaking on Tuesday outside the Miami Federal courthouse where, a few hours later, Trump was arraigned, dark horse Republican presidential candidate Vivek Ramaswamy admitted that "It would be a lot easier for me in this race if he were eliminated" while pledging nevertheless to pardon his campaign rival should the opportunity arise. Though not the first time he'd promised to pardon an as-of-yet not convicted Trump, Ramaswamy on Tuesday expanded his promise and called on all his fellow candidates to sign a letter committing to the same. "It's gonna be difficult for those other candidates to sign this letter," Ramaswamy predicted, claiming the "donor class" was warning candidates to "keep your distance away from Trump." Challenging the other political aspirants to either pardon Trump or "explain why you won't," Ramaswamy — who has personally donated tens of thousands from his personal net worth of $600 million dollars to various conservative candidates and causes — swore to never "abide by being a disciple of the donor class."
Is Ramaswamy's pardon pledge a lone voice in the crowd, or a herald of a broader movement among 2024 presidential hopefuls?
Subscribe to The Week
Escape your echo chamber. Get the facts behind the news, plus analysis from multiple perspectives.
SUBSCRIBE & SAVE
Sign up for The Week's Free Newsletters
From our morning news briefing to a weekly Good News Newsletter, get the best of The Week delivered directly to your inbox.
From our morning news briefing to a weekly Good News Newsletter, get the best of The Week delivered directly to your inbox.
What are they saying?
Joining Ramaswamy is fellow tail-end GOP candidate Perry Johnson, who has long called for Trump to be pardoned "so we can move on to the real issues at hand!" Sharing a petition to that end, Johnson recently tweeted that "we must turn the page of American history" by pardoning the former President "and focus on important issues like ending this debt crisis, finally building the wall, and resolving the war in Ukraine."
Former UN Ambassador and current Republican presidential contender Nikki Haley has been less emphatic, but still largely supportive of Ramaswamy's proposal. "When you look at a pardon, the issue is less about guilt, and more about what's good for the country," she said in a recent interview with right-wing broadcasters Clay Travis and Buck Sexton. "I would be inclined in favor of a pardon," Haley added, cautioning that "it's really premature at this point when he's not even been convicted of anything."
It is "simply wrong" of candidates to use presidential pardoning powers "in order to curry votes and in order to get an applause line," fellow Republican candidate Asa Hutchinson countered. The political use of pardons "undermines the rule of law" he added, calling it "offensive to me." Long-shot candidate Larry Elder similarly rejected Ramaswamy's challenge, though he did signal openness to easing the criminal pressure on the former president. "I'm not running for President to play silly games and respond to every candidate's demands," Elder told Fox Digital," promising that "as President I would instruct my Attorney General to drop the politically-motivated charges against Trump."
Between Johnson and Haley's inclination to support Ramaswamy's call, and Hutchinson's emphatic denouncement, other candidates have been more circumspect in committing to pardon Trump before his trial even begins. "Everyone is innocent until proven guilty in America," former Vice President Mike Pence said during a recent CNN Town Hall, insisting that "I'm not going to speak to hypotheticals" about a potential pardon under his administration. Ron DeSantis, running a distant second to Trump in most polls, has been similarly non-committal while still hinting at openness to a Trump pardon. "We will be aggressive at issuing pardons" for those deemed "victims of weaponization or political targeting," he said in late May. Asked whether that included the former president, DeSantis simply reiterated that his administration would consider any case "no matter how small or how big."
What could change?
For now, candidates itching to pardon Trump, along with those promising never to do so, are speaking out before the former President has even gone to trial for his classified documents case. While the details in his indictment seem damning, sentiment about his presumed culpability could very well shift over the course of his case, making pardons more or less palatable to his rivals — based not only on their own personal position but as a reflection of the political will of the party at large. "This should be gold for Republican presidential candidates," GOP strategist Doug Heye said, adding "should they choose to use it." Conversely, a pardon pledge — or refusal — could put the other GOP candidates in an impossible position with Republican primary voters.
There is also a possibility that Trump himself could personally weigh in on Ramaswamy's pledge, likely by offering some iteration of his 2018 assertion that he has "the absolute right to PARDON myself" should he return to the White House. While untested in practice, some legal scholars believe that a self-pardon is within a president's power, though it could face a constitutional challenge.
Asked whether he would pardon Trump, President Biden merely thanked Fox's Steve Doocy for a "great question" and walked away laughing.
Crucially, although Trump's federal charges are currently the most serious legal peril facing the former president, they are widely expected to be followed by more indictments from Fulton Co., Georgia District Attorney Fanny Willis, who has spent the past year investigating Trump's alleged efforts to interfere in that state's 2020 electoral count. Unlike the espionage indictment which prompted Ramaswamy's pledge, any prosecution stemming from Willis' investigation would be on a state level, and immune to presidential pardons.
Continue reading for free
We hope you're enjoying The Week's refreshingly open-minded journalism.
Subscribed to The Week? Register your account with the same email as your subscription.
Sign up to our 10 Things You Need to Know Today newsletter
A free daily digest of the biggest news stories of the day - and the best features from our website
Rafi Schwartz is a Politics Writer with The Week, where he focuses on elections, Congress, and the White House. He was previously a contributing writer with Mic, a senior writer with Splinter News, and the managing editor of Heeb Magazine. His work has appeared in Rolling Stone, GOOD, The Forward, and elsewhere.
Rafi currently lives in the Twin Cities, where he does not bike, run, or take part in any team sports. He does, however, have a variety of interests, hobbies, and passions.