Turkey and the European Union: The pros and cons of membership
European Parliament freezes EU membership talks following President Recep Tayyip Erdogan's crackdown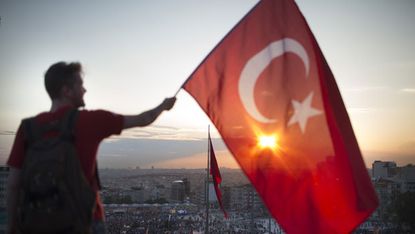 (Image credit: Getty)
The European Parliament has voted to freeze EU membership talks with Turkey in response to the crackdown launched by President Recep Tayyip Erdogan after this summer's failed coup.
MEPs voted by 471 to 37 to halt talks, with politicians from across the political spectrum lining up to condemn the "disproportionate repressive measures" introduced in the wake of the abortive military takeover in July.
European politicians are concerned about Erdogan's persecution of opponents, says the BBC. "Roughly 120,000 Turks were dismissed or suspended from their public sector jobs, 40,000 were arrested, scores of journalists were rounded up and opposition pro-Kurdish MPs were detained," it says.
Subscribe to The Week
Escape your echo chamber. Get the facts behind the news, plus analysis from multiple perspectives.
SUBSCRIBE & SAVE
Sign up for The Week's Free Newsletters
From our morning news briefing to a weekly Good News Newsletter, get the best of The Week delivered directly to your inbox.
From our morning news briefing to a weekly Good News Newsletter, get the best of The Week delivered directly to your inbox.
But some EU analysts have criticised the decision, "saying it would only push Turkey to harden its position on issues like human rights and the death penalty, while endangering cooperation on limiting refugee flows to Europe", reports the New York Times.
Erdogan dismissed the vote as "worthless" and "of no value at all", while deputy prime minister Numan Kurtulmus warned Europe's partnership with Turkey was at stake.
He said: "With this vote, the European parliament will freeze itself out of any constructive dialogue with Turkey and raise further serious questions over Europe's reliability as a partner."
Wednesday's resolution is non-binding, but coming ahead of a crucial meeting of EU ministers next month, it is "powerfully symbolic" and "likely to add to recriminations over a landmark migration deal the EU and Turkey agreed in March", reports The Guardian.
The EU and Turkey agreed to speed up membership talks after Ankara promised to cut the number of refugees fleeing to Greece in return for financial aid and visa-free travel for its citizens across the bloc.
Erdogan told a conference in Istanbul earlier this week: "We have made clear time and time again that we take care of European values more than many EU countries, but we could not see concrete support from western friends... None of the promises were kept."
Turkey first applied to join the EU in 1987, but accession talks did not begin until 2005, "even though Ankara's aspirations to become part of the bloc date back to the 1960s", reports Sky News.
"European leaders are unlikely to adhere to the MEPs' vote," says the BBC's Mark Lowen, "but, for now nobody expects that Turkey's decades-long dream of EU accession will become a reality."
Here are some of the pros and cons of Turkey joining the EU:
Refugees
The EU has had to rely on Turkey's co-operation as it struggles to cope with the worst refugee crisis since World War II. In March, a deal was agreed to allow one Syrian refugee from a Turkish camp to be admitted to Europe for each irregular migrant sent to Turkey from Greece.
In return, the EU promised fresh discussions on Turkish membership and visa-free travel for Turks, as well as £2.3bn of refugee aid between now and 2018.
However, the deal, which was criticised by the United Nations as a violation of refugees' human rights, is already at risk of coming apart at the seams.
Security
The rise of Islamic State in Iraq and Syria put Turkey at the centre of a conflict that has global consequences. Some European officials, including French foreign affairs minister Laurent Fabius, and their US counterparts believe allowing Turkey to become a member of the EU would create a strong ally in the fight against terrorism in the region. But critics such as Conservative MP David Davis argue the open movement laws could create a passageway both in and out of Syria for jihadists and new recruits.
Employment
Allowing Turkey to join would provide a fresh influx of workers for Europe. The country has a young and increasingly well-educated population and some argue the ageing EU cannot afford to block this demographic from its workforce. But at a time when many governments are under increasing pressure to reduce high levels of immigration, allowing millions more workers to cross their borders is not expected to be high on their agenda.
Culture
Turkey's geographic position at the crossroads between Europe and the East allows it to provide a much-needed bridge between western and Islamic worlds at a time of heightened tensions between the two. Many argue that Turkey is better equipped to mediate in the Middle East than European countries. During the 2009 crisis in Gaza, its diplomats were able to talk directly to the Hamas leadership and the country also has comparatively good relations with Israel. But leaders in a number of powerful EU nations, including Germany, are wary of allowing Turkey into the bloc, arguing that "the cultural, political and geographic differences may be too vast", reports the Wall Street Journal.
Economy
The Turkish economy is growing and it is also the country across which key pipelines deliver large supplies of oil and gas from Asia. Free trade between EU countries is one of the bloc's greatest advantages and granting Turkey membership would create a whole new market for European goods. However, others point to the recent economic crisis in Greece and warn that Turkey is not yet rich enough to join, saying that taxpayers in wealthier countries would be forced to subsidise it.
Adherence to EU laws
Countries hoping to join the European Union are required to achieve a certain standard of democracy and human rights. Since it first applied for membership, Turkey had made some gains towards these, including abolishing the death penalty and introducing tougher laws against torture, as well as moderate reforms to help women.
However, the government is considering reinstating the death penalty amid calls for the execution of the plotters of July's failed coup.
There are also growing concerns about Erdogan's widespread crackdown on media freedom and other human rights. The breakdown of a fragile ceasefire between the state and the Kurdistan Workers' Party led to some of the worst violence since the 1990s. Turkey's territorial claim to northern Cyprus is another ongoing bone of contention for Europe, as is its refusal to recognise the Armenian genocide of 1915.
"[Turkey] is waging war on an ethnic minority," writes Paul Mason in The Guardian. "Its riot police just stormed the offices of a major newspaper, its secret service faces allegations of arming IS, its military shot down a Russian bomber."

Continue reading for free
We hope you're enjoying The Week's refreshingly open-minded journalism.
Subscribed to The Week? Register your account with the same email as your subscription.