The world's most weird and wonderful Christmas traditions
Japanese families enjoy a bucket of KFC on Christmas Day, while Indonesians decorate their trees with chicken feathers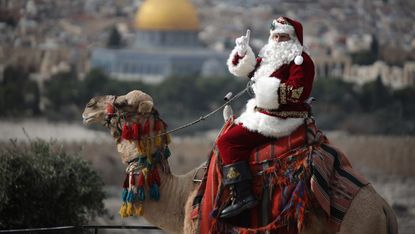 (Image credit: Saeed Qaq/NurPhoto via Getty Images)
Christmas is not only a time for giving and receiving but also for tossing shoes, roller-skating to church and feasting on whale blubber – at least in some corners of the world.
In the UK, at least one time-honoured tradition will be changing this year: while families have gathered around the television to hear the Queen give her Christmas broadcast since 1957, this year it will be undertaken by her son, now King Charles III.
But Christmas traditions can look very different depending on where in the world you're celebrating. From festive trees decorated with spiders' webs to searches for hidden pickles, here are some of the most unique festive traditions from across the globe.
Subscribe to The Week
Escape your echo chamber. Get the facts behind the news, plus analysis from multiple perspectives.
SUBSCRIBE & SAVE
Sign up for The Week's Free Newsletters
From our morning news briefing to a weekly Good News Newsletter, get the best of The Week delivered directly to your inbox.
From our morning news briefing to a weekly Good News Newsletter, get the best of The Week delivered directly to your inbox.
Sweden: Merry Christmas from Donald Duck
In Sweden, families also have a tradition of gathering around the telly at Christmas. At exactly 3.05pm every Christmas Eve, Swedes can watch the 1958 Walt Disney TV special, Kalle Anka och hans vänner önskar God Jul, or Kalle Anka for short, which translates to "Donald Duck and His Friends Wish You a Merry Christmas".
The show has been airing "without commercial interruption at the same time every December 24 on TV1", Sweden's equivalent of BBC1, since 1959, said Mental Floss. It is "one of the three most popular TV events each year" and lines of dialogue from the show "have become common Swedish parlance".
Indonesia: chicken feather trees
Christmas is not a widely celebrated holiday in this overwhelmingly Muslim nation. But among the country's small Christian population – particularly on the holiday island of Bali – Christmas trees are not the typical evergreen or artificial variety. Instead they are made from chicken feathers in an assortment of colours.
These unique trees, according to Facts of Indonesia, are made by people in their homes on Bali and have been exported to homes in Europe.
Portugal: food for the dead
The Portuguese often begin their Christmas Day celebrations with a meal called Consoada, which is typically enjoyed in the early hours of 25 December. During this meal, some households set extra places at the table for "alminhas a penar" ("the souls of the dead").
"In some areas crumbs are left on the hearth for these souls, a custom that derives from the ancient practice of entrusting seeds to the dead in hopes that they will provide a bountiful harvest," travel site Best Country explained.
South Africa: crunchy caterpillars
Roast potatoes? Yorkshire puddings? Gravy? South Africans have little time for such frivolities. Christmas meals don't get "more unusual" than the locals' liking for deep-fried caterpillars, said South African news site IOL.
Emperor moth caterpillars are usually "harvested around Christmas time and preserved so they can be eaten during the winter", the site continued. The bugs are typically sun-dried or deep fried, and are said to have a flavour similar to tea.
Wales: beware the horse
Mari Lwyd is "perhaps the weirdest part" of Welsh folklore and traditions, said North Wales Live. The tradition translates to "grey mare" in English and is celebrated around December and January. "It involves a horse's skull," the news site continued, "decorated with colourful reins, bells and ribbons." This is then wrapped in a sheet, put on a pole, and "the creepy horse figure" is carried through villages to visit homes to try to gain entrance.
"Flanked by a procession of people" dressed in traditional garments, partakers sing and challenge one another to "a battle of rhyming insults in Welsh", said the site. Those that let the Mari into their homes are brought good luck for the year ahead.
Finland: a festive sweat
There is "almost one sauna for every two people" in Finland, said Euronews, so it's no surprise that the famed sweat box plays a role in the country's festive traditions. The festive season typically begins with a visit to the sauna, "an important Christmas ritual" creating a sense of "intimacy and togetherness" among families, says consultancy Sauna From Finland.
Finns are likely to bring "fresh bench covers, candles and lanterns" to set the right tone of relaxation, and they are likely to stick to their habit of indulging "even twice on Christmas Eve and Christmas Day". But they have to time their visit right; according to folklore, the spirits of dead ancestors bathe in the sauna after the early Nordic sunset.
India: fruity festive trees
Given the lack of pine trees in India, it's traditional for families to decorate a banana or mango tree instead.
While only 2.3% of the population of India is Christian, that still equates to more than 25 million followers in the country. Many of those households use mango leaves for decorations, and place oil-burning lamps on their rooftops, symbolising the light of Jesus. And "deviating from tradition just a little bit", said The Telegraph, it's also a horse and cart rather than a sleigh and reindeer that Santa will ride when delivering presents.
Czech Republic: fortune-telling frivolity
A Christmas Eve custom invites single Czech women to stand with their backs to the front door and remove a shoe. They hurl it over their shoulder towards the door and how it lands predicts their romantic prospects for the year. If the toe of the shoe faces the door, the thrower is destined to marry. If it's the heel, it's another painful 12-month wait.
Another fortune-telling tradition starts by cutting an apple in half. "If the core has four pointy corners, bad luck is on its way," explained Culture Trip. Five corners, however, "indicate health and happiness".
Ukraine: spinning webs
The traditional Ukrainian Christmas tree is draped not with tinsel and baubles, but with spiders' webs – or in most cases, an artificial substitute. The tradition grew up around the legend of a family so poor that their tree would have gone bare, had it not been for a spider spinning a beautiful web over it in time for Christmas morning. It's still a "symbol of good luck to find a spider or spider web on your Christmas tree" in Ukraine, said Stylist magazine.
Many Ukrainians will be celebrating Christmas almost two weeks earlier than usual this year. For the first time in centuries, the Ukrainian Orthodox Church is permitting followers to celebrate Christmas on 25 December instead of 7 January, which is believed to be the date of Jesus' birth under the Julian calendar.
Traditionally, the Russian Orthodox Church also celebrates Christmas on 7 January. The change of date is seen as a "move away from Russia and towards the west" as the Russian invasion of Ukraine continues, said The Guardian.
Japan: Kentucky Fried Christmas
Over the past few years, it's become customary for the Japanese to tuck into a festive feast of KFC on Christmas Day. It began because of "festive foreigners in Japan who couldn't find a whole chicken or turkey elsewhere", said The Telegraph.
KFC "seized upon the trend" with a successful advertising campaign in 1974, and branches throughout the country report that families will queue around the block to pick up their battered thighs and wings. The tradition has now become so popular that orders for the KFC Christmas Party Barrel are taken as early as October.
In Japan only around around 1% of the population is Christian, and Christmas is not an official holiday, said the BBC. "So the idea that families are going to spend all day cooking a ham or turkey and side dishes just isn't practical. "Instead, Instead, they show up with a bucket of chicken."
Venezuela: Christmas roller-skating
Every year between 16 and 24 December in Caracas, Venezuela, roads are closed to traffic to let people "barrel down the streets" on roller skates to get to the early morning Christmas mass, explained The Washington Post.
On their way, skaters will tug on the ends of long pieces of string tied by children to their big toes and dangled out of the window.
Netherlands: Black Peter
In the Netherlands, Father Christmas – or Sinterklaas, as he's known to the Dutch – arrives from Spain by steamship in December, bringing with him an escort of Zwarte Pieten (Black Peters), all with blackened faces, red lips and curly hair. The role of the Black Peters is to assist Santa and perform impressive acrobatic feats to amaze the children who turn out to see them every year. The tradition has led to controversy.
"For years anti-racism campaigners in the Netherlands have been protesting over Black Pete", said the BBC. Prime Minister Mark Rutte told the Dutch parliament in 2020 that his feelings about the custom had undergone "major changes", and he expects that in a few years' time there "will be no Zwarte Piets" any more.
Norway: edible logs
In Norway, families will burn a Yule log in a tradition that dates back to the ancient Norse celebration of the return of the sun at winter solstice. The Norse believed that the Earth was heated by a huge wheel of fire (the Sun), which rolled closer or further away as the year progressed.
Norwegians are also partial to edible Yule logs – a traditional dessert made of rolled-up sponge cake that resembles a tree trunk. Another widely held belief is that Christmas Eve coincides with the arrival of an army of evil spirits and witches. To prevent these unwanted invaders from stealing their brooms, many families hide them all before going to bed.
Austria: beware the Krampus
Originating from Austria but also found in several other European countries, the legend of the Krampus dates back to medieval times and the Brothers Grimm. A devil-horned, hunch-backed beast who roams the streets threatening to beat children with branches and rusty chains if they don't behave, "the Krampus is a reminder that with the sweetness and light of Christmas comes an equal and opposite force of darkness and evil", said CNN.
Often seen as portraying Satan himself, the story continues to attract a wide following with a number of disturbing incidents reported each year. The legend has even inspired a Hollywood film.
Mexico: processions and pinatas
In Mexico, from 16 December to Christmas Eve, children often perform the "posadas" – a series of nine processions to re-enact the part of the Christmas story where Joseph and Mary go in search of somewhere to stay. On the final night of the posadas, a church service is held featuring food, games and fireworks.
One game that recurs is the smashing of a piñata – a decorated clay or papier-mâché container filled with sweets and hung from the ceiling or a branch. Children take it in turns to whack the suspended piñata until its goodies spill to the floor.
Spain: Caga Tio the Catalan poo log
Caga Tio is a hollowed-out log "with a smiling face on one end and accessorised with a little red hat", said Euro Weekly News. In Catalan regions, the log is traditionally fed with sweets and nuts in the run-up to Christmas, and on Christmas Eve families beat him softly with a stick until he's pooed out all the goodies. The last thing to come out is normally a garlic bulb, onion or maybe even a salt herring.
During the beating, families often sing a song like this to encourage the log: "Poo log, poo nougat, hazelnuts and mató cheese, if you don't poo well, I'll hit you with a stick, poo log!"
Adults may also opt for the custom of wearing red underwear over the festive season, and particularly New Year's Eve. It's "the only sure-fire way of Cupid shooting an arrow in your direction" in the new year, according to Spanish English news site, The Local. Yet in the small Spanish town of Font de la Figuera, people take the celebration a step further by running around in their crimson skivvies in the freezing cold, much to the alarm of unsuspecting visitors.
Belarus: rooster rules
Christmas is a time for singletons to have their fortunes told by a rooster in the former Soviet state of Belarus. Traditionally, every festive season, the single women of a town have grains of corn laid out in front of them and a rooster from a nearby farm is placed among them. Whoever's corn is eaten first will be the next one to get married.
In another strange tradition aimed at keeping spinsters occupied, married women also lord it over their unattached friends by hiding items around their house for them to hunt, imploring the singletons to search high and low. If they find bread, they're destined to marry a rich man, a ring means they're in line to marry a handsome man – assuming the married women haven't snapped up all the wealthiest and most attractive men in town.
US: a pickle mystery
Many American Christmas customs are familiar across much of the English-speaking world – turkey, carols, presents under the tree. But one custom is likely to be alien to most – the Christmas pickle. In parts of the Midwest, it is common for families to hang a glass pickle-shaped ornament among the decorations on their Christmas tree and then invite their children to search for it. The first to spot the Christmas pickle will get good luck for the rest of the year, or sometimes an extra present.
Many Americans believe the Christmas pickle to be a venerable old-world custom brought over by German immigrants, with some even calling it by the German name, weihnachtsgurke. But the tradition's origins are actually "a bit of a, well, pickle", said Country Living. A 2016 YouGov survey found 91% of Germans had never heard of the tradition. One theory suggests the German link was invented by 19th-century department stores to sell more glass baubles.
Syria: camel caravan
Syria's sizeable Christian minority has its own local legend about the Nativity. Christmas presents are delivered not by Father Christmas on his sleigh, but by the "smallest camel to have traveled with the Three Wise Kings", said Arab America. Instead of a carrot for Rudolph, children leave water and hay outside their homes for the hard-working camel, who delivers his load on New Year's Eve rather than Christmas Eve.
Greenland: eating mouldy birds and whale blubber
Considered a treat by Greenland's Inuits, kiviak is a dish made from small birds called auks, which are wrapped up in seal skin, then buried and left for months to ferment, before being eaten once fully decomposed.
Another seasonal dish enjoyed in Inuit communities is muktuk, which is made from the skin and blubber of a whale. Usually sliced thin, sprinkled with salt and eaten raw, muktuk is said by some to taste like fresh coconut, while others compare the flavour to fried eggs.

Continue reading for free
We hope you're enjoying The Week's refreshingly open-minded journalism.
Subscribed to The Week? Register your account with the same email as your subscription.