Tesco ends sale of 5p single-use carrier bags
Customers will have to buy 10p bag-for-life if they don't bring their own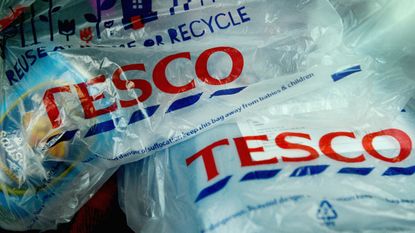 (Image credit: Jeff J Mitchell/Getty Images)
Tesco offloads profitable Dobbies brand for £217m
17 June
Tesco has sold the profitable Dobbies garden centre chain to private equity buyers for £217m as it takes another step towards paring down its business portfolio and refocussing on core operations.
The successful chain was bought by a group of investors led by Midlothian Capital Partners and Hattington Capital.
Subscribe to The Week
Escape your echo chamber. Get the facts behind the news, plus analysis from multiple perspectives.
SUBSCRIBE & SAVE
Sign up for The Week's Free Newsletters
From our morning news briefing to a weekly Good News Newsletter, get the best of The Week delivered directly to your inbox.
From our morning news briefing to a weekly Good News Newsletter, get the best of The Week delivered directly to your inbox.
Since buying the company for £150m in 2007, Tesco has turned Dobbies into the second-largest garden centre business in the UK, with 35 sites across Scotland, England and Northern Ireland.
The sale had been widely expected after the grocer restarted a programme of asset sales with the disposal of its Giraffe restaurant chain last week. At the same time, it sold Turkish grocery retailer Kipas to a local rival for £30m.
Unlike Giraffe, which was offloaded at a modest loss on its original £49m investment, Dobbies was making money – it made a £17m profit to earnings last year, the BBC reports.
Sky News adds that the sale is part of an ongoing drive by chief executive Dave Lewis to "release and save cash to invest in the core supermarket operation, which remains in the grip of a bitter price war with rivals following a customer exodus to hard discounters".
The grocer sold a number of assets last year, including profitable Korean unit Homeplus. Analysts believe it could now offload its coffee-shop business Harris + Hoole.
Lewis said: "Through their hard work and dedication to customer service, Dobbies' colleagues have built a great business and I would like to thank them for everything they have done.
"It was a difficult decision to sell the business but we believe this agreement will give Dobbies a bright future, while allowing our UK retail business to focus on its core strengths."
Tesco 'takes a hit' on Giraffe restuarant sale
10 June
Tesco confirmed this morning that it has sold its loss-making Giraffe restaurants business to the owner of the Harry Ramsden's chip shops for an undisclosed sum.
City AM says Tesco boss Dave Lewis has "waived through a slight writedown" on the sale and that "the supermarket will take a hit" on its £49m investment to buy out Giraffe in 2013.
Giraffe comprises of 54 standalone restaurants and three that sit inside Tesco stores.
New owner Ranjit Singh Boparan already controls Harry Ramsden's, London's Cinnamon Club Indian restaurant and the 2 Sisters food group, which owns the Goodfella's Pizza and Fox's Biscuits brands.
The grocer also confirmed the sale of Kipas, its Turkish retail arm, for £30m, significantly below the amount reports had previously indicated. The disposal will reduce group debts by £110m.
While offloading Kipas is the latest sign of an international retrenchment that saw the group sell a profitable South Korean arm for £4bn last year, Lewis insists Tesco remains committed to key overseas markets.
"The sale of Kipa reflects the particular strategic challenge we have faced in Turkey as a small regional player in a highly competitive market," he told the BBC.
"It removes the need for the sustained investment required to enable the business to compete independently, allowing us to focus on improving profitability in Central Europe and continuing to grow our businesses in South East Asia."
There have been claims the resumption of non-core asset sales could see the sale of garden centre chain Dobbies and coffee shops brand Harris + Hoole.
Tesco's Giraffe to be bought by Harry Ramsden's owner
09 June
An investment group that owns eatery brands including the Harry Ramsden's fish and chip shops is set to buy Tesco's Giraffe restaurant chain.
Sky News says a takeover by Boparan Ventures, which also owns the London-based Fishworks and the Cinnamon Club restaurants and 2 Sisters Food Group, Britain's biggest chicken supplier and the owner of Goodfella's Pizzas, could be announced today.
Reports that Tesco was selling Giraffe, which the Financial Times notes it acquired for £49m in 2013, first emerged yesterday but the buyer was then unknown.
Boparan is thought to be paying only a "modest sum" for the loss-making chain.
The sale is something of a reversal in policy for Tesco. In October, boss Dave Lewis said there would be no more asset sales after the group got rid of its South Korean business for £4bn along with an 8.6 per cent stake in Lazada, its Asian ecommerce group.
Tesco could go on to sell coffee chain Harris + Hoole and the garden-centre business Dobbies. Alongside the Giraffe deal, it is expected to announce a disposal of Turkish retail arm Kipas to local rival Migros for "hundreds of millions of pounds".
The supermarket group posted pre-tax profits of £162m for 2015, marking a significant improvement from the £6.4bn loss for 2014, which was the worst performance in the grocer's and Britain's corporate history. It was dragged down by £7bn of writedowns and charges and also reeling from a major accounting scandal.
Tesco back in selling mode as Giraffe deal looms
08 June
In a move designed to scale back on its ill-fated acquisitions outside the grocery business, Tesco is set to announce a deal to sell both the restaurant chain Giraffe and its Turkish retail arm Kipa, according to Sky News.
Sources say a sale of both could be announced as early as today as Britain's largest supermarket continues the cuts it embarked on last year, with boss Dave Lewis seeking to "tidy up [a] sprawling portfolio of businesses".
Lewis is also keen to sell other "peripheral" businesses including coffee shop chain Harris + Hoole and Dobbies garden centres, adds Sky.
The proposals mark a turnaround from last October, when, after offloading its successful South Korean Homeplus venture in an attempt to redress its troubled balance sheet, Lewis announced Tesco had no plans to sell any more of its assets.
The supermarket assumed full control of Harris + Hoole in February, acquiring the 50 per cent share it did not already own from the chain's founders. At the time, analysts believed Lewis was keen to retain some of Tesco's diversity and that he would hang on to Giraffe, despite ongoing losses.
After three years of ownership, however, the restaurant chain is set to be "all but given away" to an "unidentified family office vehicle which has existing restaurant assets in the UK".
Tesco's Turkish arm, thought to be worth "a couple of hundred million pounds", is said to have been acquired by Migros, another Turkish-owned retailer. Subsidiaries in Hungary, Poland and Thailand "are not on the auction block".
The grocer has been conducting a back-to-basics turnaround since reporting a £6bn loss last year – the biggest in British corporate history. The losses took place in the wake of an accounting scandal and in the face of a huge onslaught on the grocery sector by the German discounters Aldi and Lidl.
Tesco has since closed unprofitable shops, mothballed new projects, sold a range of business interests and, in stores, cut prices and reduced its product range by around a fifth.
Sales are beginning to pick up, with a decline narrowing in recent quarters to below the rate of food price deflation. At the end of last year, the supermarket reported the first increase in like-for-like sales for three years – and was ranked the best performer of the "big four" in industry figures this week.
Tesco boss Lewis gets bumper £3m bonus – and staff to share £185m
12 May
Tesco chief executive Dave Lewis is set to earn up to £4m for his work last year, including a bonus close to his maximum potential payout of around £3m.
Sky News reports that the package is set to be disclosed in the group's annual report on Friday. The size of the cash-and-shares bonus follows the successful first year of a turnaround plan that saw a £6.1bn annual loss for 2014 turn into a modest profit – and that culminated in the first like-for-like quarterly sales growth in years for the three months to December.
Lewis has closed swathes of underperforming stores, abandoned several new supermarket openings and initiated a rationalisation of the core product range. He's also cut debt by selling off a number of non-core assets, including a well-regarded Korean unit, and made efforts to improve battered relations with suppliers.
In addition to his own bumper payout, Lewis will unveil a £185m bonus pool for staff that will be equivalent to around five per cent of their annual earnings. The chief executive is "determined to fulfil a commitment he made in April to reward employees for delivering the beginning of a desperately needed turnaround".
The size of Lewis's bonus reflects an effort by the board to ensure he is "adequately incentivised to see the job through", as weak share price performance has undermined the value of long-term share schemes.
But it is precisely this share-price weakness that may lead to dissent from investors over the pay deal, which comes when the value of their investment is falling.
Tesco's shares were down 1.2 per cent at 3pm this afternoon at 157p a share, a drop of around 22 per cent on a peak of 202p reached in March and less than a third of a 2007 high of 487p.
The store's share price has tumbled in the past month after industry figures revealed it was continuing to shed market share, with the Financial Times noting like-for-like sales dropped 1.3 per cent for the 12 weeks to 24 April.

Continue reading for free
We hope you're enjoying The Week's refreshingly open-minded journalism.
Subscribed to The Week? Register your account with the same email as your subscription.