Tesco ends sale of 5p single-use carrier bags
Customers will have to buy 10p bag-for-life if they don't bring their own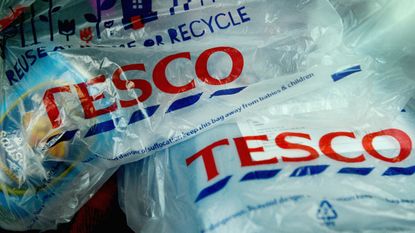 (Image credit: Jeff J Mitchell/Getty Images)
Tesco profit growth is both 'paltry' and 'visionary'
13 April
Tesco confounded market observers this morning, reporting a return to profit and sales growth that was hailed in most quarters but failed to prevent a slump in its share price.
After recording a loss of more than £6bn last year, in the wake of an accounting scandal and after a severe writedown in the value of its stores, the supermarket group posted statutory profit of £162m for the past 12 months, the BBC reports.
Subscribe to The Week
Escape your echo chamber. Get the facts behind the news, plus analysis from multiple perspectives.
SUBSCRIBE & SAVE
Sign up for The Week's Free Newsletters
From our morning news briefing to a weekly Good News Newsletter, get the best of The Week delivered directly to your inbox.
From our morning news briefing to a weekly Good News Newsletter, get the best of The Week delivered directly to your inbox.
Underlying operational profit also surprised, coming in at £944m compared to expectations of around £938m.
Quarterly like-for-like sales rose for the first time in three years in the final three months of the financial year, by 0.9 per cent, and the number of transactions by shoppers increased for the first time in five years, although gains here were offset by ongoing food price deflation.
Chief executive Dave Lewis said "significant progress" had been made and that the group is no longer "in crisis".
Lewis's watch over the past 16 months has seen a turnaround plan in which 60 unprofitable stores were shut, 49 new supermarkets shelved, a number of non-core assets sold, more staff placed in supermarkets and hefty investments in price cuts to compete with the discounters.
However some analysts were not bowled over the report, especially by the boss's admission that Tesco would continue to struggle in a tough environment and is unlikely to meet analyst projections for earnings this year.
"Management has cautioned that investments in the customer offer will impact the pace of profit improvement this year, particularly in the first half," James Collins, an analysist at Stifel, told The Guardian.
"This is no great surprise but should rein in the market's over-optimism about how quickly trading improvements might translate into meaningful profit improvement."
Shares in Tesco fall as much as five per cent at one point this morning and were down 2.8 per cent at 191p at 10.15am.
John Ibbotson, the director of consultancy Retail Vision, summed up the results by saying: "[Tesco's] rate of growth is still paltry compared to that of Sainsbury's and the discounters and the future promises low profits and slow sales growth.
"But given the huge challenges Tesco faces, this performance looks little short of visionary."
Tesco share price rises as own-label discount range launched
21 March
Tesco has opened a new front on its discounter rivals with a range of own-label fresh produce, poultry and meat.
Britain's biggest supermarket chain has unveiled seven "farm" brands consist of 76 lines that will either match the price of competitors Aldi and Lidl or beat them, according to a spokesman.
The news saw Tesco sales up 1.5 per cent at 198 pence at on Monday, valuing the business at £16.2bn.
City AM reports the price of 500g of Tesco's new Boswell Farms-branded beef mince as £1.69, the same price as Aldi's Ashfield Farm product and considerably cheaper than Morrisons' own-branded mince, which retails for £2.
Analysts have given an initial thumbs-up to the move.
"We believe that Farm Brands will be price positioned to compete directly with discounters. Ninety per cent of discount shoppers also shop elsewhere, so the opportunity is for Tesco to reduce cross-shopping," said HSBC's David McCarthy.
During a challenging two-year period for Tesco, sales, profit and asset values have been pummelled by the rise of the discounters, changes in customers' shopping habits and the 2014 accounting scandal.
However, in January, the company reported its first like-for-like sales growth for four years. Improving monthly industry data has followed and its shares have climbed 37 per cent over the last three months.
Tesco's UK boss Matt Davies said last week the grocer was "on the cusp of doing something special". Chief executive Dave Lewis is trying to restore the chain's fortunes with lower prices, improved stock availability and customer service, along with better relationships with suppliers.
Tesco boss says the chain is 'on cusp' of better days
21 March
Supermarket giant Tesco is "on the cusp of something new", said its UK boss.
Adopting a bullish tone in his first major public outing since taking over last May, Matt Davies told an industry conference that customers are "more positive about Tesco than they've been for years".
Britain's biggest retailer beat forecasts for Christmas trading, helping its share price to begin the recovery from a turbulent 18 months that saw sales, profit and asset values battered by shoppers' changing habits and the rise of discounters Aldi and Lidl. The 2014 accounting scandal also hit hard.
In a bid to revive the once proud retailer's fortunes, Tesco's group chief executive Dave Lewis has focussed on lower prices, improved product availability and customer service. He has also worked on enhancing relationships with suppliers, as well as selling assets and cutting costs – involving the loss of thousands of jobs.
Latest industry figures suggest that like-for-like sales are still falling, but that Tesco has stemmed the decline and reduced the fall to around half the rate of food-price deflation, indicating an increase in transaction volume. It is still losing market share to the likes of discounters Aldi and Lidl, however.
In a blog post, former Halfords boss Davies said he wants to turn Tesco "from a company that runs shops, into a company that serves people". He said management must listen to frontline staff better, engage and inspire shop-floor workers, and offer "outstanding service, at scale".
Paraphrasing the chain's famous advertising slogan, he added: "Along with lots of little helps – there are some extremely big helps, that - at times - only Tesco is truly capable of, and that is truly amazing."
In the wider supermarket sector, there are signs 2016 could be a happier year for Britain's big-name supermarkets. Over the last fortnight, Morrisons reported a first quarterly rise in underlying sales for four years, while Sainsbury's posted its first quarterly sales growth for more than two years.
Tesco considers £300m assault on mobile market
9 March
Tesco could be set to consolidate its position in the mobile phone market with a buyout of O2's 50 per cent share of its Tesco Mobile joint venture.
The Daily Telegraph reports that rumours of an acquisition emerged following a meeting in Brussels with competition regulators considering whether to approve Three owner Hutchison's £10bn merger with O2, the UK arm of the Spanish telecommunications giant, Telefonica.
Experts reckon a deal would cost Tesco in the region of £300m.
Any agreement would also mark a turnaround in sentiment for Tesco's bosses, who last year considered selling their interest in the mobile business, which has 4.5 million customers, as they jettisoned non-core assets to repair the battered balance sheet.
But as Hutchison looks to assuage concerns brought by the UK watchdog Ofcom over its merger, it could be prepared to offer Tesco a long-term contract for ten per cent of the bandwidth on a combined Three-O2 network. This would give the supermarket group "confidence to invest in a renewed attack on the value end of the telecoms market", said experts.
Overall, Hutchison has said it is prepared to offer up 30 per cent of the capacity on the new network to rivals. Ofcom had voiced concerns that the reduction from four infrastructure operators to three could reduce competition and raise prices, but the emergence of the likes of Tesco as more established challengers could mitigate any negative impact.
Other companies represented at the meeting on Monday included BT, Vodafone, Sky, Virgin Media, Dixons Carphone, TalkTalk, UK Broadband and French operator Iliad. Sky has already confirmed plans to launch a mobile network this year and has given backing to the Three-O2 merger, while UK Broadband, which currently operates exclusively in London, is also interested in a nationwide rollout.
The news comes after Tesco was yesterday revealed to have limited the sales decline in its core groceries business. It saw sales fall 0.8 per cent over the three months to 28 February, even as prices declined across the sector by 1.6 per cent, and The Times says a separate study showed it had limited its year-on-year slide to just 0.5 per cent.
Tesco takes full ownership of Harris + Hoole
11 february
Tesco has scotched rumours it would sell its stake in artisan coffee chain Harris + Hoole and instead, bought out the founders to take full control of the business.
Britain's largest supermarket acquired a 49 per cent interest in the chain in 2012 and has backed it through a rapid expansion that saw the number of stores nearly double last year, from 23 to 43. However, the rollout has come at a cost and losses for the 12 months to March 2015 doubled from £12.8m to £25.6m.
With Tesco in the middle of a back-to-basics turnaround to stem a loss of market share to discounters Aldi and Lidl, analysts had speculated it would seek to ditch Harris + Hoole and its other non-grocery brands, notes The Guardian. This followed the sale of non-core units such as its profitable Homeplus unit in Korea and could have included the Giraffe restaurant chain, which lost £4m last year.
But while previous chief executive Phil Clarke had bought Harris + Hoole to boost footfall to Tesco's giant out-of-town Extra superstores, where 29 of the coffee chain's branches are located, new boss Dave Lewis seems to believe it is in the group's interest to retain the diversity Harris + Hoole and Giraffe offer at time when grocery shopping appears to have irrevocably fragmented.
Spending in coffee shops, restaurants and bars has been surging in recent times, so the supermarket may believe these brands will be increasingly lucrative in the years ahead.
Both The Guardian and the Daily Telegraph confirmed Tesco had exercised an option in its original deal to buy out founders Andrew, Nick and Laura Tolley, but said financial details of the transaction had not been disclosed. Staff will be unaffected by the ownership change, the group added.
Tesco's turnaround has broadly focused on managing prices, rationalising a bloated product range, shutting loss-making stores and abandoning costly building projects, as well as improving the in-store experience for shoppers. There is evidence this is paying off, with the decline in rolling quarterly sales falling and overall transaction volumes increasing.
Another supermarket to embrace non-grocery diversification amid the shake-up of the sector is Sainsbury's, which recently acquired the parent company of catalogue retailer Argos.

Continue reading for free
We hope you're enjoying The Week's refreshingly open-minded journalism.
Subscribed to The Week? Register your account with the same email as your subscription.