Tesco ends sale of 5p single-use carrier bags
Customers will have to buy 10p bag-for-life if they don't bring their own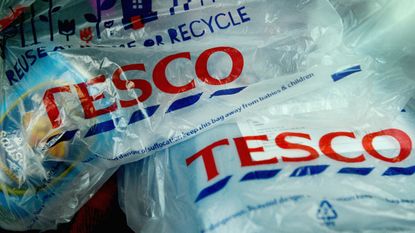 (Image credit: Jeff J Mitchell/Getty Images)
Tesco gives ground to soften staff pensions blow
01 September
Tesco has moved to mollify staff anger at the closure of its "generous" final salary pension scheme by pledging to increase contributions to the money purchase fund that will replace it and hike life insurance cover.
According to The Independent, during the 90-day consultation "more than 60,000 visits were made to the Tesco pension website, 27,000 calls were made to its helpline and 3,000 comments were made by staff", with the company admitting in its response that the "clear preference is to keep the existing defined benefit pension scheme – and not to close it".
Subscribe to The Week
Escape your echo chamber. Get the facts behind the news, plus analysis from multiple perspectives.
SUBSCRIBE & SAVE
Sign up for The Week's Free Newsletters
From our morning news briefing to a weekly Good News Newsletter, get the best of The Week delivered directly to your inbox.
From our morning news briefing to a weekly Good News Newsletter, get the best of The Week delivered directly to your inbox.
The supermarket group announced the planned closure in April as chief executive Dave Lewis stepped up efforts on a major performance turnaround, having said at the time of his appointment one year ago that reducing a pension deficit estimated at £3.9bn was a top priority. Reducing contributions estimated at 11 per cent is also critical to bringing down costs after last year's record losses.
Under the revised plans, the company will pay a contribution of between four per cent and 7.5 per cent instead of a flat five per cent and will make a "one-off payment to boost pensions". The company has also said it will up the life cover offered to staff "from four to five times their salary".
The final salary scheme, which pays a set amount based on how many years an employee has worked, will still be closed. New recruits and future accruals from existing members will go into the replacement scheme that, like most private sector pensions, does not guarantee a set payout.
The changes will lessen the cost saving for Tesco, but will still amount to a substantial saving on its current outlay. Crucially, it will also help to begin to close the yawning deficit into which the company has already pledged to plough £270m this year.
The moves come at the end of a difficult first year for Lewis, who has had to deal with the fallout from an accounting scandal and continued assault on its market share from discounter rivals. The Guardian says city investors have "bought into" a five-year plan to turn around the supermarket group which is still by far the UK's number one, but that with shares having fallen 17 per cent during his tenure he is under pressure to "show more evidence" it is "slowly getting back on its feet".
Ex-Tesco boss Clarke to face SFO investigators
28 August
Former Tesco chief executive Philip Clarke has been called in for questioning as part of a long-running investigation by the Serious Fraud Office into an accounting scandal worth as much as £326m, according to widespread reports.
The watchdog launched its probe last October, a month after revelations first came to light that Tesco had overstated profits by around £263m. The Guardian explains that this was the result of "incorrectly booked payments from suppliers... for reasons such as marketing costs or reaching sales target", and that further mis-statements of around £60m were later found relating to its Irish businesses.
The Daily Mail reports that the scandal, which it says could have involved total profit overstatement of £326m, has already seen "nine senior managers… suspended – of which at least six have been dismissed". There has thus far been "no suggestion" Clarke knew of the alleged scam, but the supermarket has said it will seek to recoup a golden handshake worth around £1.2m if he is found guilty of misconduct.
Tesco has been trying to turn itself around in recent months under the leadership of Clarke's replacement Dave Lewis, but sales have continued to fall. Latest industry figures put its market share at 28.3 per cent, the lowest level for a decade, although this still makes it Britain's largest grocer by some margin.
Shares have fallen steadily from a 2007 high of 492p and were one per cent down on Friday morning at 190p.
Tesco posts biggest loss ever recorded by a UK retailer
22 April
Trading profits for the year were £1.4bn, in line with market expectations, but the company was weighed down by £7bn of one-off charges. These were largely related to its property portfolio, including the £925m cost of scrapping 49 stores already in the development pipeline, as well as £416m in restructuring costs. The overall result for the company was a record loss.
The slide into the red adds to an "annus horribilis" for Tesco, in which it replaced chief executive Philip Clarke with Dave Lewis after its worst sales performance in 40 years, says the Financial Times.
Today, Lewis admitted it had been a "very difficult year" for Tesco, with the results reflecting "a deterioration in the market and, more significantly, an erosion of our competitiveness over recent years".
He added that the company was already seeing "early encouraging signs" after seeking to draw a line under the past. But he warned that the market was still "challenging and we are not expecting any let up in the months ahead".
City traders appeared to take the news in their stride, says the Evening Standard, with Tesco shares rising by 1.15p or 0.5 per cent to 236.275p this morning.
While the loss was worse than many expected, Bruno Monteyne, from investment research and management firm Bernstein, told the newspaper that Lewis had made "the right initial steps on the long journey to potentially stabilising the company". He added that "Tesco has a fighting chance of regaining some of its former glories."
Tesco faces third investigation over alleged supplier 'bullying'
5 February
Tesco is facing yet another investigation amid concerns that it has mistreated suppliers, but the supermarket giant is likely to escape financial penalty.
Groceries Code Adjudicator (GCA) Christine Tacon said she had "reasonable suspicion" that the Groceries Supply Code of Practice had been breached. The GCA will be looking into the supermarket's profits and delays in payments to suppliers in a probe that is expected to take up to nine months.
Tesco is already being investigated by the Serious Fraud Office and the Financial Reporting Council in the aftermath of its £263m profit misstatement.
The Financial Times says the retailer will now face a series of allegations, including the "bullying of suppliers", invoicing discrepancies and demanding rebates in exchange for prominent positioning on its shelves.
The announcement comes just days after parliament passed legislation to give the GCA the power to fine large retailers of up to one per cent of their annual UK turnover if they are found guilty of mistreating suppliers.
In the case of Tesco, this would amount to £480m, says The Times. However, Tacon has said she will not be able to fine Tesco as any offences would have been committed before the powers came into place. Other sanctions amount to little more than "naming and shaming" errant companies, says the newspaper.
Business Secretary Vince Cable urged anyone with evidence of wrongdoing to come forward by 3 April and promised that their anonymity would be protected by law.
"This is a historic day for the Groceries Code Adjudicator and shows we have created a regulator that has real teeth," he said.
A Tesco spokesperson said it had been working closely with GCA to put in place strong compliance processes.
"An internal review we carried out and shared with the GCA identified some areas of concern," said the spokesperson. "We have taken action to strengthen compliance and, as we have announced, we are changing the way we work with suppliers."
Tesco faces Serious Fraud Office investigation
29 October
The Serious Fraud Office is to mount a criminal investigation into accounting irregularities at Tesco.
The supermarket revealed last month that it had overstated profits by £250m. Last week it revised that estimate up to £263m, after the accountancy firm Deloitte completed an investigation into the misstated figures.
The SFO "could confirm as soon as this week that it is opening an inquiry, adding to separate investigations by the City regulator and the accounting watchdog", Sky News reported.
Soon after the story broke, Tesco announced that the SFO would look into its accounting practices and said that it would cooperate fully with the investigation.
Since the accounting irregularity came to light, eight Tesco executives have been suspended and the company's chairman, Sir Richard Broadbent, said he will step down next year.
Tesco says that no one appears to have benefited personally from the misstatement of profits.
Why is Tesco in trouble?
The supermarket was already in difficulties when its accounting irregularities emerged last month.
The supermarket began losing ground in 2011 and was forced to close stores in the US and Japan. Last year Tesco announced its first annual profit drop in two decades due to strong opposition from discount supermarkets such as Aldi and Lidl and competition from Waitrose at the other end of the market. Chief executive Philip Clarke quit in July after his £1bn turnaround plan failed to revive the company and was replaced by Unilever's Dave Lewis.
But the news that the company had overstated profits by more than a quarter of a billion pounds led shareholders to take fright.
"When empires fall, they tend to do so quickly, violently and comprehensively," writes the Daily Telegraph's Allister Heath. Tesco shares have lost more than half their value over the past year, plunging to an 11-year low last month, and have since fallen by a further five per cent to 174p.
What caused the profit overstatement?
The problems resulted from deals Tesco had done with suppliers. While there was nothing unusual in the deals themselves, the BBC says, "it appears Tesco had been booking returns from those promotions too early, while pushing back the costs". The result is that the accounts published by the company did not give a true picture of its finances.
What has the reaction been?
Clive Black, analyst at Shore Capital, told the Telegraph that he was "flabbergasted" that this could happen at a FTSE100 company and warned that these are "serious times" for the retailer.
"Rather than fix the underlying problems, they have been playing around with their numbers to try to make things look better," Crawford Spence, professor of accounting at Warwick Business School told the Guardian.
The overstatement of profits "smacks of the kind of amateurish desperation indicative of an organisation trapped in a spiral of decline", writes Allister Heath.
What is Tesco doing about it?
The company's new chief financial officer Alan Stewart was "parachuted" in to start work in September, instead of beginning in December. Tesco had been without a finance director since Laurie McIlwee stood down in April. Last week Lewis said that he had three immediate priorities: to recover Tesco's "competitiveness" in the UK; to protect and strengthen its balance sheet; and to "begin the long journey back to building trust and transparency" in the business and brand.

Continue reading for free
We hope you're enjoying The Week's refreshingly open-minded journalism.
Subscribed to The Week? Register your account with the same email as your subscription.