Tesco ends sale of 5p single-use carrier bags
Customers will have to buy 10p bag-for-life if they don't bring their own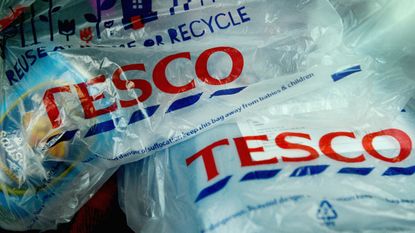 (Image credit: Jeff J Mitchell/Getty Images)
Tesco buys Budgens and Londis ownder in £3.7bn deal
27 January
Tesco shares soared this morning after it announced a surprise deal to buy Booker Group, the country's biggest food wholesaler, for £3.7bn.
The firms said the merger would create the country's biggest food business, says the BBC. It also extends Tesco's reach "beyond its traditional food retailing business… into the restaurant and takeaway food sectors".
Subscribe to The Week
Escape your echo chamber. Get the facts behind the news, plus analysis from multiple perspectives.
SUBSCRIBE & SAVE
Sign up for The Week's Free Newsletters
From our morning news briefing to a weekly Good News Newsletter, get the best of The Week delivered directly to your inbox.
From our morning news briefing to a weekly Good News Newsletter, get the best of The Week delivered directly to your inbox.
Booker owns and supplies the Budgens and Londis convenience store brands, which are managed and run by individual franchisees.
In total, it supplies 700,000 convenience stores, grocers, pubs and restaurants, as well as running the UK's largest network of wholesale cash and carries.
Shareholders reacted positively to the news, trading its shares up nine per cent to 206p.
Tesco chief executive Dave Lewis said it was a "low risk" deal that should not face any challenge from competition regulators as it "will not result in Tesco owning any more stores".
However, because Britain's largest supermarket group will now own a wholesale brand that supplies a number of its rival small stores, the BBC says it will certainly "attract the attention of the competition authorities".
Mark Brumby, at Langton Capital, told the Financial Times the Competition and Markets Authority would have "a field day with this", although he suggested the deal would ultimately progress as one company is a retailer and one a wholesaler.
Bruno Monteyne, an analyst at Bernstein, said the two firms could be forced to relinquish some stores as part of the deal.
The FT says: "The deal values Booker at 205.3p a share, or £3.7bn, a premium of 12 per cent on its closing price of 183.1p a share on January 26."
Booker shareholders will receive 42.6p in cash and a 16 per cent stake in the combined company, while chief executive Charles Wilson will join the combine group's board and executive committee.
Tesco fights back against 'vague and amorphous' damages claim
24 January
Britain's biggest grocer has mounted a robust defence against a damages claim brought by more than 100 shareholders, which could be worth in excess of £100m.
Institutional investors, including pension and insurance funds, the Church Commissioners and the American Red Cross, are demanding the redress in relation to Tesco's 2014 accounting scandal, says The Times.
They allege that misleading financial statements persuaded them to invest – and that they lost out badly when the grocer's share price plummeted after the scandal broke.
In a 42-page defence filed at the High Court yesterday, Tesco vigorously defends itself, dismissing the "vague and amorphous" allegations.
It says the accounting mis-statements, which resulted in profit being routinely overstated, are not in dispute – and were not "material" to its overall performance.
Critically, Tesco argues that the investors have "virtually nothing to say" to prove these errors were relied upon when they made the decision to buy shares.
"It thus appears that the claimants have chosen to devote many pages to establishing a point which is not in issue… in an attempt to draw attention away from the critical allegations on which their claims depend," Tesco says.
The group also states that investors have not proved, as they must, that executives including former boss Philip Clarke "had any knowledge of or were 'wilfully blind' to" the issues.
Tesco admitted in September 2014 it had overstated its profits by as much as £326m. When the story emerged in the press, more than £2bn was wiped off the group's value in a single day.
In the first quarter of 2015, and partly as a result of write-downs relating to the scandal, Tesco reported the biggest loss in British corporate history.
Tesco gains market share for first time since 2011
12 January
Tesco has joined the ranks of retailers reporting positive Christmas sales figures, but this failed to prevent its share price from losing ground.
Britain's number one grocer reported that like-for-like sales rose 0.7 per cent over Christmas, driven by strong performance in fresh food lines, says the BBC.
Figures for the third quarter of its financial year, covering the 13 weeks to 26 November, showed a 1.8 per cent advance in like-for-like sales.
Reuters says this translate to the first rise in market share for the supermarket giant since 2011, confirming estimates from industry consultant Kantar Worldpanel at the end of October.
Chief executive Dave Lewis has been restructuring under Tesco after it was blighted by an accounting scandal in 2014 and reported a record UK corporate loss in early 2015.
A number of unprofitable stores have been closed, it has sold non-core assets such as the Giraffe restaurant chain and swaths of competing product lines have been culled. Meanwhile, it has launched a range of new fresh food brands.
Despite further evidence of the turnaround plans bearing fruit, Tesco's shares dropped more than two per cent today, falling below 204p.
The BBC says this could be in part because beyond food, sales of clothing and takings across international businesses both dropped over Christmas.
Nicholas Hyett, from investment supermarket Hargreaves Lansdown, said there had been a sales slowdown since last year, when Christmas sales rose 1.3 per cent. The 0.7 per cent advance was roughly what analysts expected.
But Reuters reports shares had risen ahead of the results today and that the price remains around 2.5 per cent up for the week.
Richard Hunter, of Wilson King Investment Management, said: "Following a strong set of numbers across the rest of the sector, Tesco has completed the supermarket sweep.
"The much publicised potential damage to the UK economy following Brexit is an area where the UK consumer seems not to have read the script. For Tesco, this has translated into a solid Christmas performance."
Tesco to make 1,000 redundancies in distribution shake-up
10 January
Tesco is to make more than 1,000 redundancies as part of a plan to simplify its distribution network across the UK.
It is closing a grocery warehouse in Welham Green, Hertfordshire, and a clothing hub in Chesterfield, and transferring their activities to existing depots in Reading and Middlesbrough, respectively.
The move will reduce the number of Tesco-owned warehouses in the UK from 25 to 23.
In addition, the supermarket is ending a partnership with DHL based at its distribution centre in Daventry, Northamptonshire, with operations moving to its own nearby clothing hub in the town.
Bosses told the Daily Telegraph the closures would result in the loss of 444 jobs at Welham Green, and 207 at Chesterfield, with 364 going from its head office.
Some 533 new jobs will be created, but "the majority of these new roles will be based… more than 100 miles away, and some will require different skills". Tesco's headcount will be reduced by 482.
The changes are part of a transformation plan that has been rolling for two years, during which dozens of unprofitable stores closed, product lines were removed and non-core assets such as the Giraffe restaurant chain were sold.
It's all in response to the sector upheaval caused by the rapid rise of discounters Aldi and Lidl, as well as the boom in online shopping.
Tesco's strategy appears to be bearing fruit, with the grocer reporting its fastest sales growth in three years at the end of last year. It is also expected to report positive Christmas trading figures this week.
But retail analyst Steve Dresser tweeted the warehouse cuts were "a risk", says the BBC.
He said: "One has to hope it's not cost-driven and is naturally occurring… Taking away depots and logistics flexibility whilst also taking store night-fill away could leave things very tight indeed."
Tesco 'seals turnaround' with fastest sales growth in three years
15 November
After years of rocky trading, Tesco's "turnaround appears to have been sealed", says the Daily Telegraph.
Having last month recorded its first market share rise in five years according to new sales figures produced by the market researcher Kantar Worldpanel, Britain's largest supermarket has just recorded its "fastest sales growth in three years".
Takings at Britain's largest supermarket group jumped 2.2 per cent for the 12 weeks to 6 November compared to last year, increasing market share from 27.9 to 28.2 per cent.
"Tesco's continued sales acceleration and it winning market share is the key feature this month, despite it having a declining share of retail space," HSBC analyst David McCarthy told Reuters.
McCarthy has upgraded Tesco to a "buy" – and investors are doing just that, trading its shares up four per cent today to 214p.
Kantar's Fraser McKevitt says that Tesco's improved performance reflects a new focus on own-brand lines, especially at the upper end of the price spectrum. The sales strategy has been successful at luring "affluent shoppers" to the brand.
The rapid rise of the discounters Aldi and Lidl has triggered an intense price war on branded goods and reduced profit margins across the supermarket sector.
But it has also segmented the market, with evidence of volume sales growth being shared among those brands that are able to offer bargains on staples and affordable luxury elsewhere.
Sainsbury's has for some time been the best performer of the big four. This month it saw a comparatively modest drop of 0.7 per cent, sending its share price up 3.2 per cent.
Morrisons saw sales fall 2.4 per cent, but this largely reflects store closures over the past year. Its underlying performance has in fact been improving for some time. The supermarket's shares were up five per cent.
Asda has been the big loser, as it has been unable to match discounters' prices and has failed to win over shoppers with its premium ranges. The stores's sales fell a hefty five per cent, following its worst quarterly performance ever in the summer.
Aldi and Lidl continue to lead the way with growth of 10.2 and 6.1 per cent respectively, but those rates are down on last year.

Continue reading for free
We hope you're enjoying The Week's refreshingly open-minded journalism.
Subscribed to The Week? Register your account with the same email as your subscription.