Virginity 'testing': why the traumatising practice continues
The invasive tests are a gross violation of women's rights but are still openly carried out in many societies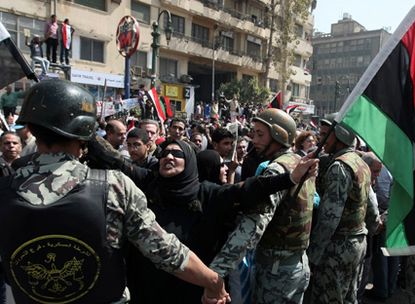 Virginity "testing" is regarded as a form of sexual assault in most of the west, but the practice still continues in several countries for a variety of cultural, economic and religious reasons.
The invasive test to check for evidence of sexual activity is often carried on young girls and typically involves inspecting whether the hymen is still intact, leaving victims feeling traumatised and humiliated.
The International Rehabilitation Centre for Torture victims describes it as a "gross violation of women's rights and one that may amount to ill-treatment and torture under international law."
Subscribe to The Week
Escape your echo chamber. Get the facts behind the news, plus analysis from multiple perspectives.
SUBSCRIBE & SAVE
Sign up for The Week's Free Newsletters
From our morning news briefing to a weekly Good News Newsletter, get the best of The Week delivered directly to your inbox.
From our morning news briefing to a weekly Good News Newsletter, get the best of The Week delivered directly to your inbox.
Virginity testing around the world
"The statistics on how many girls get tested remain sketchy," but the practice typically occurs in deeply traditional or religious societies where virginity is highly prized, says the charity Stop Violence Against Women.
Indonesia
Women hoping to become police officers are forced to undergo what is described as an "abusive two-finger test" before they are considered for the job, according to Human Rights Watch. The practice was reportedly abolished after a series of complaints in 2010, but campaigners say it remains commonplace. "I feared that after they performed the test I would not be a virgin anymore," said one 24-year-old officer. "They inserted two fingers. It really hurt. My friend even fainted because ... it really hurt, really hurt."
South Africa
Virginity testing was outlawed in South Africa in 2007 but the practice remains widespread, particularly in rural areas. Community leaders argue that the test helps promote abstinence and therefore reduces the risk of contracting HIV/Aids or getting pregnant.
The practice is most common among Zulus, South Africa's largest ethnic group, and is typically carried out by an elderly woman from the community. The girl is laid down on a mat, often in front of relatives, while her genitals are inspected to check if her hymen is still intact. President Jacob Zuma publically backed virginity testing while serving as deputy president in 2004, saying a girl's chastity is her family's greatest "treasure".
South Africa's Commission for Gender Equality has condemned the degrading "public spectacle" of the test. "This practice, important as it may have been in the past, no longer serves our society," Nomboniso Gasa, the commission's chair, told the Washington Post.
India
Some communities in India use several methods to test if a bride is a virgin on her wedding night, including using a piece of thread to detect the presence of a hymen. A ceremony called Paani ki Deej (purity by water), during which a woman is expected to hold her breath under water while someone walks a hundred steps, is also used, as is Agnipariksha (trial by fire), in which a bride is expected to carry a red-hot iron in her hand. Women who cannot complete the tasks are considered "impure".
"Brides who fail the tests are beaten and forced to disclose the names of sexual partners, who are then required to pay the bride's parents large sums of money," says Stop Violence Against Women. But police in India say their hands are tied and that the issue is a moral matter, not a legal one. "Virginity tests are not covered under the Indian Penal Code and as such cannot be considered a crime," S. Jain, Deputy Inspector-General of police in Jaipur told News 24.
Egypt
The Egyptian military has been accused of carrying our virginity tests on female protesters arrested in Tahrir Square during the Arab Spring uprising in 2011. One 20-year old woman said she was stripped naked in prison, with male guards leering, laughing and taking pictures of her while a man inspected her genitalia and threatened her with prostitution charges, the BBC reports. Amnesty International said the purpose of the horrific tests was simply to "degrade women because they are women." An Egyptian court ruled that the practice was illegal and a violation of women's rights and an assault on their dignity, but the doctor was later acquitted and the practice continues.
The UK
During the 1970s, British government officials conducted virginity tests on more than 80 female migrants hoping to enter the country on marriage visas. The Home Office said the practice was carried out on women arriving from India and Pakistan in order to weed out bogus immigration claims, but the tests drew worldwide condemnation and were denounced as "an outrageous indignity" and "tantamount to rape," The Guardian reports. Despite coming under pressure from the press and campaigners, the government has not publicly apologised to the women affected.
What can be done?
The World Health Organization has repeatedly called for an end to virginity testing, asserting that not only is a penetrative test a human rights violation, but it has "no scientific validity". Most medical experts agree that there is no way to conclusively determine virginity as there are many reasons why a woman's hymen may not appear to be intact. The abusive tests will only be abolished through education, say campaigners.
"Governments and doctors should abide by the WHO guidelines to ensure that they conduct themselves ethically, respect women's privacy and dignity, and take steps to educate their peers to end the scourge of 'virginity testing'," said Human Rights Watch's director of women's rights, Liesl Gerntholtz.

Continue reading for free
We hope you're enjoying The Week's refreshingly open-minded journalism.
Subscribed to The Week? Register your account with the same email as your subscription.