Ashley Madison: nearly all female accounts were fake or dormant
Out of 5.5 million female accounts, 'roughly zero per cent had ever shown any kind of activity at all'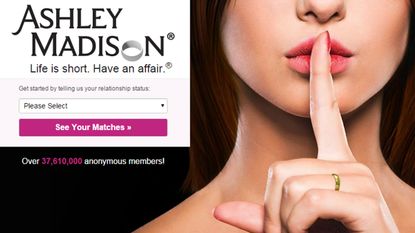 (Image credit: AshleyMadison.com)
Almost all the female profiles on the illicit affairs dating site Ashley Madison were never used, according to a comprehensive data analysis by tech news website Gizmodo.
The site ran numerous tests on stolen data leaked by hackers earlier this month and found that thousands of the profiles registered to people identifying as female appeared to be fake, and millions were never used at all.
According to the site's editor-in-chief, Annalee Newitz, the evidence overwhelmingly suggests Ashley Madison "is a site where tens of millions of men write mail, chat, and spend money for women who aren't there."
Subscribe to The Week
Escape your echo chamber. Get the facts behind the news, plus analysis from multiple perspectives.
SUBSCRIBE & SAVE
Sign up for The Week's Free Newsletters
From our morning news briefing to a weekly Good News Newsletter, get the best of The Week delivered directly to your inbox.
From our morning news briefing to a weekly Good News Newsletter, get the best of The Week delivered directly to your inbox.
Early news reports in the wake of the hack suggested that 90 to 95 per cent of the female accounts were fake, but little evidence was offered to support the theory. Gizmodo undertook a huge investigation of the dumped user data to work out if there was any truth in the figure.
Gizmodo filtered the data in several ways, looking at how many profiles were registered with an ashleymadison.com email address, suspicious patterns in the accounts' IP addresses and how frequently accounts were registered with unusual names or anomalous birthday details. All of these searches suggested that among the profiles, there were at least several thousand fakes.
But the really damning evidence was discovered when Gizmodo looked into when each member had last checked his or her messages. The site discovered that approximately two-thirds of the men – 20.2 million of them – had checked into their messages at least once, whereas only 1,492 women on the entire database had ever checked their messages.
This pattern was supported by a scan of how many male and female members had engaged in chat. Roughly 11 million men had done so compared to just 2,400 women.
"Overall, the picture is grim indeed," Gizmodo said. "Out of 5.5 million female accounts, roughly zero per cent had ever shown any kind of activity at all, after the day they were created."
"Ashley Madison was a far more dystopian place than anyone had realised," Newitz said. "This isn't a debauched wonderland of men cheating on their wives. It isn't even a sadscape of 31 million men competing to attract those 5.5 million women in the database.
"Instead, it's like a science fictional future where every woman on Earth is dead, and some Dilbert-like engineer has replaced them with badly-designed robots."
Ashley Madison hack linked to suicide and extortion, police say
25 August
Two people associated with the Ashley Madison hack attack have committed suicide and thousands of others have been subjected to extortion attempts and hate crimes after data from the infidelity dating site was leaked online, Toronto police say.
"This is not fun and games," said Toronto police Staff Superintendent Bryce Evans at a news conference yesterday.
Ashley Madison, a dating website that helps people in long-term relationships have affairs, was attacked by a group of hackers calling themselves Impact Team. The group, which claims to be a "hacktivist" consortium, exposed the personal information of tens of millions of users after accusing Ashley Madison's parent company Avid Life Media of "fraud, deceit and stupidity".
After hacking into the site, Impact Team threatened to leak the data of millions of users if Ashley Madison and its sister site Established Men were not taken down. When a deadline had passed, the hackers followed through with their threat and dumped 9.7 gigabytes of information on the "dark web", which has subsequently been exploited by extortionists threatening to expose customers of the site, police said.
Investigators declined to comment on media reports that a police captain in San Antonio, Texas, killed himself after the leak linked his email address to an Ashley Madison dating profile, The Star says.
Members of the site have also been targeted with a range of other "spin-offs of crimes and further victimisation", Evans said. "Criminals have already engaged in online scams by claiming to provide access to the leaked websites. The public needs to be aware that by clicking on these links you are exposing your computers to malware, spyware, adware and viruses."
Evans called on members of the hacking community to help bring Impact Team to justice. "The Impact Team has gone over the line and I'm just asking them to use their moral judgment and their values to help us if they can through their ways on the deep dark web."
Avid Life Media has stepped up its own efforts to track down the hackers, offering a £240,000 reward for information that could help the police inquiry, the BBC reports.
Police have also set up a Twitter account, @AMCaseTPS, and hashtag, #AMCaseTPS, to encourage members of the public to help gather information on the attack.
Ashley Madison: adultery site user details 'posted online'
19 August
The hacking group calling itself Impact Team appears to have posted online the data it stole last month from adultery website AshleyMadison.com, revealing the names and personal details of millions of registered users.
While experts scramble to verify whether the leak really is what it appears to be, the site's parent company, Avid Life, has issued a statement condemning the data theft as "not only an act of hacktivism [but] an act of criminality".
Wired magazine says a data dump of 9.7 gigabytes that "appeared to include account details and log-ins for some 32 million users" was posted on the so-called 'dark web' on Tuesday morning, along with seven years' worth of payment records.
The data apparently includes names, addresses and phone numbers for users. While Wired points out many may not have used their real details, it says genuine addresses and names will be available from files containing credit card transactions.
Ashley Madison functioned as a database allowing people wanting an extra-marital affair to meet each other. It has the tagline: "Life is short. Have an affair." Avid Life also owns a similar site, Established Men.
Sky News spoke to a "hacking expert" called Vinnie, who believed the database was legitimate. He said: "I don't think they would be able to fake the size of this database.
"A friend of mine already has it – she's already going through the emails and stuff and it all looks very legit. I know for a fact that these people always release the databases. They usually release them if they can't find a buyer or they have found a buyer."
The data dump includes a statement by Impact Team, which has previously said it targeted the site because it is a "scam" and charges users a fee to delete their personal data, something the hackers say is unethical.
Now they have accused Avid Life of "fraud, deceit and stupidity". The statement says: "Time's up! Avid Life Media [ALM] has failed to take down Ashley Madison and Established Men... Now everyone gets to see their data.
"Find someone you know in here? Keep in mind the site is a scam with thousands of fake female profiles... Find yourself in here? It was ALM that failed you and lied to you. Prosecute them and claim damages."
Avid Life said the FBI was now investigating the hack.
Ashley Madison: dating site for cheats compromised by hack
20 July
A site which connects married people looking for an affair has been hacked by a group that is threatening to publicly "out" millions of users unless the site is permanently closed.Ashley Madison, which operates under the tagline "Life is short. Have an affair", and claims to have 37 million members, was the target of an attack by a hacking group calling themselves Impact Team. Established Men, another dating website owned by the same parent group, Avid Life Media, has also been threatened in a manifesto published by Impact Team.But it's not respect for the sanctity of marriage that has got the hackers riled up. Rather, they are targeting Ashley Madison for what they see as the site's unfair and deceptive deletion policy. Although members can opt to hide their profile, if they want assurance that all traces of their presence on the site have been erased, they have to shell out a £15 "full deletion" fee.The hackers say that paying this fee doesn't remove the site's credit card payment records, meaning that users' personal details remain on the site's database. Now the collective says it is prepared to publish millions of user records, including real names and addresses, unless the both websites are taken offline.The group's manifesto stated: "Avid Life Media has been instructed to take Ashley Madison and Established Men offline permanently in all forms, or we will release all customer records, including profiles with all the customers' secret sexual fantasies and matching credit card transactions, real names and addresses, and employee documents and emails."Avid Life Media's chief executive confirmed to information security journalist Brian Krebs that the leak was genuine. Claiming that the data theft was almost certainly an inside job, Biderman said that the company believed it had identified the culprit.
"At this time, we have been able to secure our sites, and close the unauthorised access points," Avid Life Media said in a statement. "We are working with law enforcement agencies, which are investigating this criminal act. Any and all parties responsible for this act of cyber–terrorism will be held responsible."
The company said this afternoon that it had taken legal action to ensure that web pages publishing personal information were deleted.

Continue reading for free
We hope you're enjoying The Week's refreshingly open-minded journalism.
Subscribed to The Week? Register your account with the same email as your subscription.