Npower hits out at government green schemes as it confirms cuts
Around a fifth of UK workforce to go after company racks up losses of £106m in 2015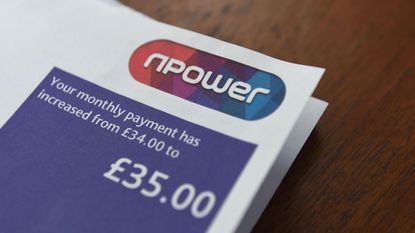 (Image credit: Paul Ellis/AFP/Getty)
"Big six" energy supplier Npower has blamed its long-running billing woes for its loss of £106m last year – and its decision to cut around a fifth of its UK workforce.
However, it does not point the finger solely at its own door. German parent RWE also argues that UK government schemes requiring established utility companies to fund green energy commitments are preventing it from competing effectively with its smaller peers, who are rapidly gaining market share.
"Under [the] Energy Company Obligation, major UK energy firms such as Npower are obliged to finance measures to increase the energy efficiency of households and are therefore at a cost disadvantage compared to smaller providers, which do not have such obligations", the company said.
Subscribe to The Week
Escape your echo chamber. Get the facts behind the news, plus analysis from multiple perspectives.
SUBSCRIBE & SAVE
Sign up for The Week's Free Newsletters
From our morning news briefing to a weekly Good News Newsletter, get the best of The Week delivered directly to your inbox.
From our morning news briefing to a weekly Good News Newsletter, get the best of The Week delivered directly to your inbox.
According to its annual results today, Npower made a loss of €137m (£106m) in 2015, which the BBC says compares with €227m profit in 2014. Trouble with its billing procedure contributed to the loss of more than 350,000 customers over the 12 months, while it had to offer deep discounts to keep many of those that didn't leave.
The company has been struggling with a new system that has prompted an avalanche of complaints, its poor handling of which saw it slapped with a record fine of £26m in December. The problems are predicted to carry on throughout this year.
Some of the beneficiaries of the deluge of customer departures have been the independent suppliers who are mounting a growing challenge to the "big six" at the top of the sector.
"First Utility has around a million customers and Ovo [is] not far behind," the BBC notes. Npower has slipped from second place to sixth with a customer base of 4.7 million.
The company also generates power in the UK and is struggling in the face of ultra-low oil prices.
Npower also confirmed it will cut 2,400 jobs will go from its 11,500 workforce, which is made up of both directly employed staff and contractors. The majority of employees work across its main hubs in the Midlands, Yorkshire and the north-east, which The Guardian says it will maintain but with fewer employees than before. The Midlands is likely to be worst affected.
Npower to cut a fifth of UK workforce as profits slump
7 March
Energy supplier Npower is expected this week to announce it is cutting around a fifth of its UK workforce.
The Daily Mail reports that 2,500 internal and contractor posts will go, mainly in marketing and sales divisions. The company has a total employee base in the country of 11,500.
Npower, one of the so-called "big six" energy suppliers that dominate the retail market, has so far refused to comment. However, the BBC says the cuts will be confirmed when it publishes its full-year results tomorrow.
There could also be confirmation of the poor performance that lies behind the decision. The company made losses of £48m for the first nine months of last year, while its German parent company, RWE, is struggling so much that it has suspended its dividend for the first time since 1950.
These figures might come as a surprise for many, given the complaints over the big energy suppliers not sufficiently reducing charges in response to the fall in wider oil prices. But Npower is an energy producer as well as supplier so the oil price is eating into its generation activities.
It has also had a spate of unique problems with customer service and complaints handling that last year saw it handed a record find of £26m. It has said the poor service has cost around 200,000 customers.
One worker, speaking anonymously to the BBC, said the job cuts have been on the cards since last year, when staff were told to begin looking for alternative work.
Unions bemoaned the hit to a workforce that Unite's Kevin Coyne described as "loyal" and had "worked hard to turn Npower's record on customer service around in the last year".
Eamon O'Hearn, of the GMB union, added that as the jobs likely to go are mostly based in the north of England and Yorkshire, they would make "a mockery of George Osborne's rhetoric about a northern powerhouse".
Npower complaint woes prompt record £26m fine
18 December
Npower has been rapped again for its poor complaints handling and billing issues, this time agreeing a record settlement with the UK energy watchdog.
The company, owned by German power giant RWE, will pay £26m for "failing to treat customers fairly", says the BBC. Some of the money will go directly to compensating some of the worst affected customers, with the remainder going to charitable causes.
Billing issues have been plaguing Npower since it adopted a new computer system in 2011. Regulator Ofgem says 500,000 people were affected between September 2013 and December 2014, with many bills arriving late, being inaccurately calculated or charging for energy use after the period the law says it must be written off.
But it was its handling of more than two million complaints it received in the same period that is the reason for the severity of the fine, which is more than double the next highest of £12m issued to E.on in 2014.
"Complaints were recorded incorrectly, leading to unresolved issues being recorded as resolved, and multiple records created for one complaint," says the BBC. Sky News cites cases including that of Morgan Sproxton of Shipley, West Yorkshire, who "didn't receive bills… even when she requested them, was overcharged hundreds of pounds and eventually chased by a debt collection agency while the bill was being disputed".
Npower has been handed three fines previously, including another £2m over complaints handling in 2012, and separate charges of £1.1m and £3.5m in 2014 for misreporting data under environmental obligations and mis-selling.
The company reported a fall in profit of 65 per cent in the first half of 2015 from £109m to £38m, while Sky News says for the first nine months as a whole it has made a sizeable loss. It has lost at least 200,000 customers due to the ongoing problems and said issues with the computer system may not be fully resolved until the end of 2016.
Simon Stacey, managing director of domestic markets for Npower, said: "The last few years, since we changed the systems that support our domestic business, have been very disappointing for our customers – and for Npower. We are very sorry about what has happened and that is why we have agreed this significant package of customer redress."
Npower loses 300,000 customers to billing woes
14 August
One of the so-called 'big six' energy suppliers has revealed ongoing errors with its billing system have hammered half-year profits as 300,000 customers moved to rivals, with problems set to continue until potentially the end of next year.
The Daily Mail reports that Npower's profits slumped 65 per cent in the first half of 2015 from £109m to £38m, dragging down earnings at German parent company RWE by 11 per cent to €2bn (£1.4bn). According to the BBC the problems with billing, which include "customers receiving multiple bills and others receiving none", dented UK profits by 38 per cent last year.
Some 300,000 customers left and the company pointed to the additional hit from those who remain switching to cheaper tariffs. The BBC noted remarks that, due to the loss of customer goodwill, it was "often only able to retain residential customers with expired contracts by offering them new contracts with more favourable conditions". It added customers are also using less energy as efficiency measures take hold.
Npower has said it is getting on top of issues, but that they may not be fully resolved until the end of next year.
Billing problems have been compounded by poor complaints handling. Last month the energy regulator Ofgem confirmed that a number of Npower customers who have had to wait more than the maximum 28 days for a ruling by the energy ombudsman to be implemented will have their debts written off, or free energy provided, mimicking an action against Scottish Power earlier this year.
Npower ordered to give customers free energy
22 July
Another of the big six energy companies is to give customers free energy after complaints about complaint handling and customer service.
Energy regulator Ofgem has confirmed that a number of Npower customers who have had to wait more than the maximum 28 days for a ruling by the energy ombudsman to be implemented will have their debts written off, or free energy provided.
According to a statement quoted by Sky News, Npower said the agreement applies to around 1,000 customers. The company had previously admitted a series of issues with a new payments system that led to problems with around 700,000 customer accounts, although many of these have now been rectified.
Ofgem says its investigation is ongoing, which means Npower could face more punishments including a sales ban or a fine.
Earlier this year Scottish Power became the first of the big six to be subject to a telesales ban for 12 days after it failed to deal with a backlog of complaints, the Daily Telegraph reports. The company also agreed to give free energy to around 2,000 customers.
According to the Daily Mail, energy suppliers have up to eight weeks to resolve consumer complaints internally, after which time a customer can take their case to the ombudsman. The ombudsman can require the company to correct the problem and apologise, and can award compensation to the customer of up to £10,000.
Suppliers must implement the ombudsman's decision within 28 days or place affected customers on 'interim remedies', such as free energy.

Continue reading for free
We hope you're enjoying The Week's refreshingly open-minded journalism.
Subscribed to The Week? Register your account with the same email as your subscription.