VW Scandal: Emission fix leaves thousands with problems
VW Group car owners report power and fuel issues following 'Dieselgate' solution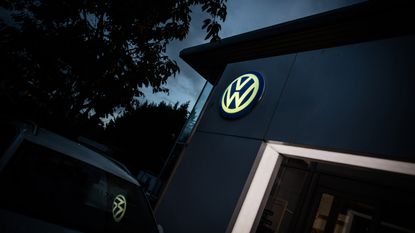 (Image credit: 2015 Getty Images)
Sign up to our 10 Things You Need to Know Today newsletter
A free daily digest of the biggest news stories of the day - and the best features from our website
Thank you for signing up to TheWeek. You will receive a verification email shortly.
There was a problem. Please refresh the page and try again.
Volkswagen boss: we'll bounce back in 'two to three years'
16 October
Volkswagen's new chief executive, Matthias Muller, has given an upbeat message to company managers and pledged it will bounce back from the global emissions scandal in "two to three years".
During a speech to staff in Leipzig setting out his strategy for the world's largest car maker in the wake of the crisis, Muller admitted Volkswagen "must become leaner and take decisions more rapidly", the Daily Telegraph reports. He also sounded a defiant tone when he added that "competitors are only waiting for us to fall behind on technology matters because we are so preoccupied with ourselves but we won't let that happen".
Subscribe to The Week
Escape your echo chamber. Get the facts behind the news, plus analysis from multiple perspectives.
SUBSCRIBE & SAVE
Sign up for The Week's Free Newsletters
From our morning news briefing to a weekly Good News Newsletter, get the best of The Week delivered directly to your inbox.
From our morning news briefing to a weekly Good News Newsletter, get the best of The Week delivered directly to your inbox.
Muller's comments about the prospect of cutbacks come a few days after the company announced it would look to make savings of around €1bn a year as it prepares for the huge cost of recalls, fines and litigation. Volkswagen has so far set aside €6.5bn to fix vehicles that cheated emissions tests, but the overall bill will almost certainly be much higher.
The idea that the company might be able to turn around in just two years might therefore be considered optimistic.
Volkswagen has now effectively been forced to instigate a mandatory recall of 8.5 million cars in Europe, after German regulators refused a proposal for a voluntary scheme, and at a time when shares are languishing around 40 per cent lower than they were before the scandal broke. Add in the likelihood that more rigorous regulation could kill diesel technology in the years to come and you have a potentially fatal mix.
But many analysts are backing the company to survive. Arndt Ellinghorst, automotive head at Evercore, said most companies "come out of crisis mode stronger than before" and that "VW has a huge opportunity to fix the diesel issues, tackle its morbid culture, cut costs and return revitalised".
That Volkswagen has pledged to combine its cost savings with a refocusing of investment into electric cars, which will get a huge boost from the scandal, will only contribute to this optimism. German ministers are among those already pledging incentives to speed electric car development, Reuters notes.
In the short-term, however, the situation will remain difficult. Figures for September show an immediate, albeit modest, 0.3 per cent drop in market share for Volkswagen in a month when European car sales rose markedly, The Guardian reports. The scandal only emerged in the third week of last month, so it is likely that much worse figures will come in the months ahead.
Emissions scandal: VW boss blames 'rogue engineers'
9 October
The head of Volkswagen's American operations yesterday pinned the blame for the company's widespread efforts to cheat emissions testing on "a couple of software engineers", as he appeared before a congressional committee.
Michael Horn, the car marker's US president and chief executive, conceded that VW had lost the trust of its customers, the car industry and regulators, but insisted that knowledge of the illegal "defeat devices" was limited to a handful of rogue employees.
His claims were met with scepticism, the Los Angeles Times reports. "It sure does cause you to scratch your head," James Womack, an industry expert, told the paper.
"We have this software that just happens to be in 11 million cars and no one in the whole company noticed it. I hope someone figures it out," he added.
Horn acknowledged that he was informed about a "possible emissions non-compliance" in the spring of 2014. But he said he first learned about so-called "defeat devices" being installed on VW diesel cars at the beginning of September, just before the scandal was made public.
During a tough grilling, Democrat committee member Peter Welch compared the Volkswagen to cycling's Lance Armstrong and said the scandal is "on the scale of Enron or Madoff".
The Daily Telegraph adds that Welch asked Horn: "How do you sleep at night?" The embattled executive responded simply: "I don't sleep at night."
In separate developments, the company said it would halt delivery of its 2016 Jetta, Golf, Passat and Beetle diesel models in the US – and police raided Volkswagen offices across Germany.
Prosecutors in Lower Saxony, said raids were carried out in Wolfsburg, where VW has its headquarters, and in other locations around the country. They said officers intended to "secure documents and data storage devices" that may help to identify those involved in the emissions data manipulation.
Last month the German car giant admitted that four-cylinder diesel cars produced from 2009 to 2015 had software that helped them cheat emissions tests.
The admission came after the company was confronted by the US Environmental Protection Agency and California regulators, sparking an international scandal involving 11 million vehicles.
Volkswagen halts sales of diesel models in UK
2 October
Volkswagen has removed around 4,000 diesel vehicles from UK showrooms, after it emerged franchises had continued to sell cars fitted with the "defeat devices" at the centre of a global emissions scandal.
European Union rules currently allow car makers to sell off more polluting 'Euro 5' engine models to clear stock, explains the Daily Telegraph. But the decision by franchise owners to continue selling new models affected by the emissions imbroglio for up to 12 days after news of the scandal broke will raise eyebrows.
The company has pledged to recall 11 million cars already sold worldwide and 1.2 million that are on the road in the UK.
Volkswagen said the affected stock was being returned to a UK factory plant where it will be fitted with the same "fix" software as those vehicles that are being recalled. It called the move a "voluntary measure" that affected around three per cent of its cars currently on sale in the country.
The news comes on the day it emerged regulatory investigations into the issues were spreading. The BBC reports authorities in Italy and France have opened probes into Volkswagen diesel sales following complaints from consumers. The Italian competition watchdog is asking whether now disputed emissions claims influenced purchasing decisions, while the prosecutor in Paris said it was investigating suspicions of "aggravated deception".
Elsewhere the Financial Times notes the US watchdog that first exposed the test rigging is to widen its own review, to include "more than two dozen diesel car models made by BMW, Chrysler, General Motors, Land Rover and Mercedes-Benz".
The Environmental Protection Agency is using cars from rental agencies or borrowing them from owners it identifies via vehicle registration databases. It will test one car each of 28 models in total, representing most of the small diesel market in the US, and will widen this should it uncover any results it deems suspicious.
Volkswagen shares were down more than five per cent on Friday afternoon to €91.34.
It's not just Volkswagen – or just cars – in the spotlight over energy tests
1 October
Anger over Volkswagen's cheating of diesel emissions tests is fast evolving into a major critique of European testing standards that's now spreading beyond the car manufacturing industry.
The Independent reports that tests carried out by Adac, the German motoring organisation that is the second-largest in the world, found a number of diesel cars from a range of manufacturers exceeded legal European emission limits for nitrogen oxide (NOx), in some cases by more than 10 times.
Adac used a new test standard that is due to come into force in 2017 and found in particular that the Volvo S60, Renault's Espace Energy and the Jeep Renegade were among the most in breach of legal limits. The Nissan-made X-Trail was the worst emitter, but the company said Adac tested "a pre-production vehicle designed to meet previous EU NOx limits" and were thus comparing "apples with pears".
Other brands, including Mercedes, BMW, Mazda, Fiat, Ford and Peugeot, were all also implicated.
There is no suggestion that any of the companies manipulated tests in the way Volkswagen did by using devices to lower emissions during test conditions. Rather, Adac claims that the results highlight the inadequacy of the current tests. "All diesel car manufacturers have managed to meet this requirement," even though "it is widely accepted that the 'real-world' NOx emissions… are substantially higher than the certified limit".
It's not just cars that are now in the cross hairs for campaigners. The Guardian notes that tests by an EU-funded research group called ComplianTV submitted a report in February that found that some Samsung televisions "appear to use less energy during official testing conditions than they do during real-world use".
At issue is a software feature that reduces screen brightness when it detects certain content. "The lab studies found that Samsung's 'motion lighting' feature reduced the TV sets' brightness – and power consumption – under international electrotechnical commission test conditions… but under real-world viewing conditions, no reductions in power consumption were registered".
Such issues are not entirely new. The Swedish Energy Agency complained about problems with energy tests for televisions earlier this year, while the UK told the European Commission three years' ago that it had received evidence that some devices were fitted with software to cheat tests. The commission has said that it will investigate all the claims and has pledged to outlaw so-called "defeat devices".
Samsung has strongly denied that its "motion lighting" feature is designed to fool energy tests and says it "reduces screen brightness in response to numerous types of real-world content including fast-moving action movies and sports, and slower moving footage such as weather reports".
As for Volkswagen, it continues to face a mounting bill over the devices it fitted to 11 million vehicles in order to cheat tests. The Daily Telegraph says that lawyers have already written to the company on behalf of thousands of UK drivers, alleging that the mass recall of 1.2 million vehicles could leave motorists fitted with the new devices with lower fuel efficiency and higher CO2 emissions, and thus higher road tax, than advertised.
The AA has even said that Volkswagen may opt to "overhaul" the exhaust system, which could add costs to cars' annual services and make exhaust systems expensive to replace. "It's downright unfair that the customer should be paying out more for an add-on that they haven't bought in the first place," said a spokesman.
Volkswagen says 1.2m UK cars cheat emissions
30 September
Around 1.2 million Volkswagen drivers in the UK can expect to be contacted by the German car giant in the coming days, after it revealed how many cars sold here are exposed to the ongoing emissions scandal.
The BBC reports that 1,189,906 diesel vehicles sold in the UK were fitted with so-called "defeat devices", which can detect when the car is in test conditions and trigger a lower emissions setting. In some cases real-world emissions were 40 times higher and well in excess of legal limits. The total number of affected vehicles is spread across its Volkswagen (including commercial vans), Audi, Skoda and Seat brands.
Volkswagen will "in the coming days" give the vehicle identification numbers to retailers and offer a process for owners to check if they are affected. It will then contact drivers over a mass recall to switch on test condition emissions at all times.
Of course, this will not be an end to the problems facing the world's largest car maker. Thousands of drivers have already joined class action lawsuits that will claim they were mis-sold cars that will most likely suffer a drop in performance and fuel economy, once the true figures become known.
Volkswagen's management team, led by new chief executive Matthias Mueller, is hastily trying to draw a line under the global scandal, which affects some 11 million cars worldwide. The scandal has already prompted criminal probes and cast a shadow over the whole diesel industry, as well as the efficacy of emissions testing.
One board member even pointed the finger at staff who "allowed this to happen, or who made the decision to install this software" and said they should take personal responsibility. Olaf Lies told the BBC the board itself only found out about the issue, which had reportedly been the subject of a warning from supplier Bosch as long ago as 2007, at its last meeting.
Previous chief executive Michael Winterkorn is being investigated by German state prosecutors and several other senior staff have been suspended pending internal investigations.
Volkswagen shares remain low at €96, down more than a third since before the crisis.
Continue reading for free
We hope you're enjoying The Week's refreshingly open-minded journalism.
Subscribed to The Week? Register your account with the same email as your subscription.
Sign up to our 10 Things You Need to Know Today newsletter
A free daily digest of the biggest news stories of the day - and the best features from our website