Angela Merkel: Twelve years in power and still an enigma
The Week traces the German Chancellor's rise to lead Europe's largest economy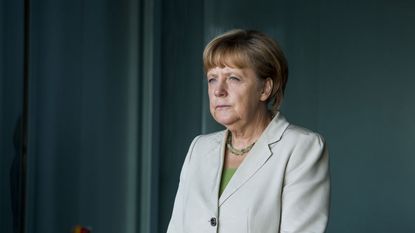 (Image credit: Jochen Zick - Pool / Getty Images)
If Angela Merkel steers her Christian Democratic Union (CDU) party to victory in the German federal election on Sunday, she will be on course to lead the country for a fourth consecutive term.
The CDU has maintained a steady, double-digit lead over its closest rival, the centre-left Social Democratic party, throughout the campaign. Merkel is in pole position despite her open-arms refugee policy, which led to an influx of more than 1.1 million migrants to Germany in 2015 and 2016.
After Donald Trump's election last year, many commentators even dubbed Merkel the new leader of the free world in recognition of her global clout compared to his political inexperience.
Subscribe to The Week
Escape your echo chamber. Get the facts behind the news, plus analysis from multiple perspectives.
SUBSCRIBE & SAVE
Sign up for The Week's Free Newsletters
From our morning news briefing to a weekly Good News Newsletter, get the best of The Week delivered directly to your inbox.
From our morning news briefing to a weekly Good News Newsletter, get the best of The Week delivered directly to your inbox.
How did she get here?
Brought up in socialist East Germany, the 61-year-old former chemist was involved in the democracy movement before reunification and worked her way up the CDU ranks to become a reunited Germany's first female chancellor in 2005.
What about her personal life?
In spite of her three terms in office, Merkel remains an enigma when it comes to her personal life. Her husband, fellow chemist Joachim Sauer, keeps a low profile.
Sauer doesn't speak to the media and rarely accompanies his wife in public, beyond their annual visit to a Bavarian Wagner festival. That's why the German press have dubbed him the Phantom of the Opera, Reuters reports.
And her political technique?
In politics, Merkel also keeps her cards close to her chest. Pragmatic and risk-averse, she sees herself as a problem-solver rather than a world-changer, focused on reading the national mood and responding accordingly, rather than imposing any grand political ideology.
"In a recent cartoon, the daily Berliner Zeitung depicted the Chancellor as a shapeless amoeba, methodically swallowing and digesting its prey," says Time. Her talent for changing without appearing to change makes her an extraordinary slippery opponent, as rival politicians have frequently discovered.
Merkel offered a masterclass in her signature style earlier this year. Having long remained firm on her party's opposition to gay marriage, in June Merkel signalled her willingness to allow MPs to have a free vote on the subject.
Social Democrats, who had positioned themselves as the party of gay marriage, found the wind snatched from their sails. Days later, a motion to introduce gay marriage passed in the German parliament.
What has she done for the German economy?
When Merkel came to power in 2005 the country's economy was weak, with sluggish GDP growth and more than 10 per cent unemployment. Twelve years on, it now "anchors" the eurozone, with unemployment under four per cent – but do Merkel and the CDU deserve the credit?
Philip Oltermann, writing in The Guardian, pointed out that unemployment started falling before Merkel came to power and suggested the unpopular policies of her predecessor, Gerhard Schroeder, might have started the turnaround.
However, Merkel has actively pursued closer links with China, making it Germany's fourth-largest export market. That allowed Germany to weather the 2008 financial crash relatively unscathed.
Germany's status as western Europe's strongest economy has also had the political side-effect of making it resistant to the lure of populism. The country's economic transformation "allows Merkel to run on the view that globalization benefits everyone, even as President Donald Trump and others disagree", says Bloomberg.
What about the world stage?
Germany's status as the whirring industrial hub of Europe has catapulted the country into a new era of influence, with Merkel taking a visible role in everything from brokering an agreement on the Greek debt crisis to resolving the conflict in Ukraine.
It is a role Merkel has exercised with shrewdness, prudence and restraint. Her taciturn, buttoned-down demeanour has been the target of derision and parody, but has enabled her to become a global influencer without alienating voters. Merkel's uncompromising attitude during Greek bailout negotiations received a thumbs-up from 55 per cent of Germans.
Does she like dogs?
Although steadiness and reserve have been the hallmarks of Merkel's leadership on the international stage, she is not afraid to speak her mind when pushed. In 2007, Vladimir Putin brought his dog to a press conference with Merkel, who has a deep aversion to the animals. Her response to the power-play was withering.
"I understand why he has to do this – to prove he's a man," she told reporters. "He's afraid of his own weakness. Russia has nothing, no successful politics or economy. All they have is this."
How did she handle the refugee crisis?
As a divided Europe mulled over the burgeoning humanitarian crisis created by thousands of displaced people in Syria and beyond, it was Merkel who took a decisive stand, opening her country to the refugees. It was one of the Chancellor's boldest decisions, leading to scenes of refugees arriving in Germany with chants of "Mama Merkel".
Many Germans were caught up in the initial enthusiasm for Merkel's plan, with thousands volunteering to help welcome the new arrivals, but as the scale of the crisis and its potential impact on Germany became clear, Der Spiegel reports, the elation largely wore off.
Merkel's approval rating - long steady in the 60s and 70s - fell to a four-year low of 54 per cent in late 2015, and a few months later the New York Times was contemplating "The End of the Merkel Era". How did Merkel weather this storm? The answer is as prosaic as the Chancellor herself: she stayed the course, says Politico.
While other politicians might have succumbed to the temptation of making glib, short-term promises, Merkel understood that what Germans really wanted was a wider reassurance of order and security in the long-term.
Is she bound to win the election?
Merkel's path from third to fourth term is not completely without its challenges. There is a good chance that the far-right Alternative for Germany party, now enjoying a second wind after its initial rise on a tide of anti-migrant sentiment in 2015, will become Germany's second or third-largest party. AfD was polling at 11 per cent on Tuesday and saw a surge of support in recent week, despite being mired in political scandal.
"After decades on the political fringe, Germany's far-right is set to enter parliament and could even be the main opposition party following the country's election this Sunday," the Huffington Post says.
But unless there is a major upset, Merkel can rest comfortably, knowing she will wake up on Monday ready to begin her fourth term as Chancellor.

Continue reading for free
We hope you're enjoying The Week's refreshingly open-minded journalism.
Subscribed to The Week? Register your account with the same email as your subscription.